When it comes to lodging, there's a lot to choose from when you visit Put-in-Bay. Sometimes it can get a little overwhelming and you need advice before you hop on the Bay ferry.
Do you want the standard hotel experience, or would you prefer an island vacation rental to feel a little more at home? Do you want to be in the bustling downtown Put-in-Bay area, in the shadow of the famous Perry's Victory and International Peace Memorial, or right next to the gorgeous DeRivera Park?
Maybe what you are looking for is a little off of the beaten path by Perry's Cave, or even relaxing right on the water's edge? Whatever it is that you seek, there are enough Put-in-Bay hotels, cottages, resorts, condos, and vacation rentals to find exactly what you need.
Great Put-in-Bay Lodging Resorts and More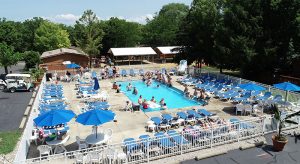 If you're looking for a Put-in-Bay resort in the center of the downtown area, you should consider the Commodore Resort or the Put-in-Bay Condos. Staying at the Commodore grants you access to MIST Pool Bar, and staying at the Put-in-Bay Condos gets you into all the downtown pool bars, collectively two of the best of the Put-in-Bay swim-up bars.
This is something that Put-in-Bay is very well known for, and you'll definitely want to make a pool bar a part of your trip. At the Commodore, you'll also be right next door to Mr. Ed's, one of the island's most famous nightlife hotspots. Most vacations to the island involve visiting some of the Put-in-Bay bars and pubs, and one of the best is right on your doorstep!
There is even a Put-in-Bay taxi service to get you to the downtown area.
Lodging Off of Put-in-Bay's Beaten Path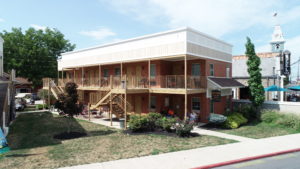 Maybe you'd like something just a little quieter, perhaps for a romantic getaway with your husband or wife, boyfriend or girlfriend. Consider then the Put-in-Bay Victory Station Hotel. This boutique hotel is the perfect spot for a couple to relax and unwind for a weekend. Located only a few steps from downtown, next to the Put-in-Bay Golf Cart Depot (a great choice for golf cart rentals!).
You will be just a stone's throw away from all of the bars, dining and shopping offered on the main strip as well as the Lake Erie Islands Historical Society Museum next door. However, you'll also be detached enough that you can have quiet peaceful romantic moments to yourself.
Put-in-Bay Ohio Vacation Rentals
Put-in-Bay is also a famous group destination, and if you're bringing a group, it's time to start looking at vacation rentals. Your Put-in-Bay bachelorette party, bachelor party, or family reunion will be so much better with everyone under one roof, and you can make that happen at the Island Club or Put-in-Bay Condos.
When you're welcoming family and friends from local places like Cleveland, Toledo, and Sandusky, but also bringing people in from all over the country, it is so nice to have everyone not just in walking distance, but actually under the same roof!
The Island Club and Put-in-Bay Condos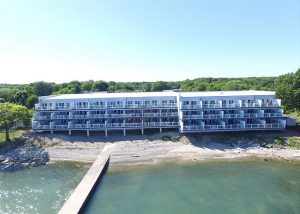 The Island Club is a Put-in-Bay legend, offering rental homes on the island for decades. If you're a South Bass Island regular, chances are you stay at the Island Club. There's a reason they have so many repeat customers, and it's not just the famous swimming pool. An Island Club rental offers all the amenities of home, like simple check-in and free WIFI at a price per person that you just can't beat at Put-in-Bay. With over 70 properties available, you'll be able to find the perfect fit for your group. Some even have a garden tub!
The Put-in-Bay Condos are lakeside, right up against the water by the Put-in-Bay Airport, providing astonishing views of Lake Erie. The Waterfront Condos is the newest place to stay at Put-in-Bay, and each has its own private Lakeview patio for you to enjoy the view you richly deserve! In 2021, every summer weekend until August 20th was booked solid by May!
There is also the original Put-in-Bay Poolview Condos for those on a budget!
More Lodging Choices Than You Can Imagine
This is only scratching the surface of what's available to you at the Bay. You could also check out places like Birds Nest, or smaller individual properties like A Place at the Bay. Wherever you stay, the gem of the Lake Erie islands will be yours to explore! See if you can join us on the Battle of Lake Erie weekend for a special treat! View the Best Put-in-Bay Events this season as well as upcoming events that are family fun by visiting our Event Calendar.
The Next Step to Booking Your Put-in-Bay Vacation

As you can see, there's a lot to consider. You can't go wrong with any of the places mentioned above, but there are also some great individual specialty properties to consider.
Click on the property above to learn more, or give us a call at 216-898-9951 if you have any questions about an individual accommodation on our site, we are here to help!
And once you've got your reservation, you can start to dream about that ferry ride from the Catawba docks in Port Clinton to the best destination in the United States, Put-in-Bay Ohio!
Other Put-in-Bay Lodging Options
We feature only the best of the best on our website in terms of overnight accommodations. There are other options scattered around the island for those who seek alternatives. When the big popular resorts, hotels, and houses highlighted above are all booked up, people seek the next best and some of them are noted here:
Hotels & Resorts
Islander Inn – Caribbean-style hotel with two swim-up bars, a large jacuzzi, and a tropical-themed pirate ship bar.
Bay Lodging Resort – Bay Lodging Resort offers mostly hotel rooms but also some two-bedroom units with full kitchens, continental breakfast, and Wi-Fi.
Bayshore Resort – Bayshore Resort offers suites with kitchenettes, balconies, three outdoor pools, a tiki bar, a full-service restaurant, and golf cart rentals.
Put-in-Bay Resort & Conference Center – Put-in-Bay Resort & Conference Center is one of the island's full-service conference centers, offering complimentary continental breakfast most days, a DJ on weekends, and a bar.
Park Hotel – Park Hotel is a Victorian-era hotel offering affordable lodging with shared bathrooms attached to the Roundhouse Bar in the center of downtown.
Grand Islander Hotel – The Grand Islander offers a downtown location with a 600-seat, full-service conference facility. Facilities at Islander Inn are available to Grand Islander Hotel guests.
Motels, Homes & Houses
Anchor Inn – Anchor Inn Boutique Hotel is a small, intimate hotel, close to downtown. You'll experience a classy (not stuffy) place to stay including a full breakfast as well as daily housekeeping and turn-down service.
All-Star Ohio House – The All-Star Ohio House is a spacious six-bedroom, three-bathroom, Ohio-themed, a Victorian vacation home located literally right behind the Roundhouse Bar so you can hear the musical entertainment all night long.
Harriets House – Townhouses, a little house, suites, and single rooms await your arrival at Harriett's House, which are clean, modern, and one block from downtown. Reasonably priced.
Edgewater Motel – Edgewater Hotel is centrally located in the main downtown area amidst non-stop nightlife, restaurants, attractions, and shopping.
South Bass Island State Park – Campsites, some with lakeside views. Nearby jet ski rentals, jungle gym, and a snack shack. Conveniently close to the best kept secrets on the island: Joe's Bar & Restaurant and Swipe Right Pizza!
FREQUENTLY ASKED PUT-IN-BAY LODGING QUESTIONS
What is the cheapest way to book Put-in-Bay lodging?
Book Direct of course! Use our website to learn more about the various lodging options, and then contact them directly. Not only can you avoid third-party fees that are tacked on by sites like Airbnb or Booking.com, but often hotels and vacation rental companies will have promotions and specials that you can only get by reaching out to them.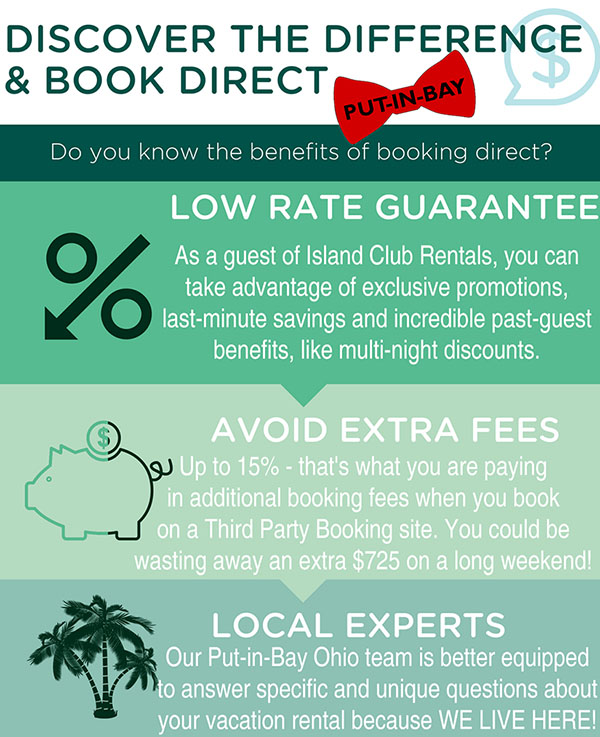 Is Put-in-Bay lodging good for bachelor/bachelorette parties?
Yes! Put-in-Bay is famous in the Midwest as the best place to throw a bachelor or bachelorette party. Big, group lodging accommodations are the best for this because they get everyone under one roof and provide a base of operations for your weekend. We specifically recommend the Island Club for bachelor and bachelorette parties!
Where can I find Put-in-Bay lodging discounts?
Put-in-Bay is not often known as a discount destination. Coupons and discounts and specials are hard to come by so when you find one, take advantage of it! There are three places that we know of for discounts: the Island Club Homes and Condos Specials page, the Put-in-Bay Coupons website, and the Commodore Resort downtown Discounts.

What are Put-in-Bay lodging options?
Put-in-Bay has a lot of different choices for travelers. There are downtown hotels like the Commodore Resort that are right in the thick of the action, and some like Victory Station which is a little quieter and makes for a romantic couple's getaway. There are big Island Clubhouses perfect for bachelorette parties, family reunions, and work retreats, and there are the Put-in-Bay Condos, where you can live in the lap of luxury with a balcony overlooking Lake Erie's shores. Whatever your needs and whatever your budget, there's a way to come enjoy the Bay!
Is Put-in-Bay lodging kid-friendly?
Absolutely. While the weekends at Put-in-Bay might be slightly less of an all-ages experience than it is during the week, all-island lodging will accommodate guests of any age 7 days a week. Check out the putinbay.com attractions page to learn about some of the family-friendly activities on the island, because there are so many things to do in Put-in-Bay!
What should I pack for a trip to Put-in-Bay?
Ohio weather can be unpredictable on occasion so we do recommend a hoodie or light jacket regardless of the time of year. We also recommend swimwear as that is a big part of the Put-in-Bay experience, whether you choose the relaxation of a swim-up bar or the adrenaline of jet-skiing or boat rentals! Aside from that, bring whatever you need to feel happy and comfortable so that you can focus on having a great time!
More Info
Put-in-Bay lodging choices include hotel rooms, conference centers, rental homes, resort hotels, luxury suites, and more. Want a drink poolside? stay at the Commodore Resort and check out "The MIST" outdoor pool and swim-up bar. You can find also find tiki bars at select resorts such as Bird's Nest Resort. Bird's Nest also features golf cart rentals onsite.
Put-in-Bay Island is the Key West of the North! Resorts such as the Island Club and the Put-in-Bay Waterfront Condos have spacious living rooms, guest rooms, and queen beds standard. Island Club has golf carts and occasionally bicycle rentals available exclusively to guests. Come over on the Jet Express or Miller Ferry. Click here to check availability. Book your Caribbean-style getaway today!