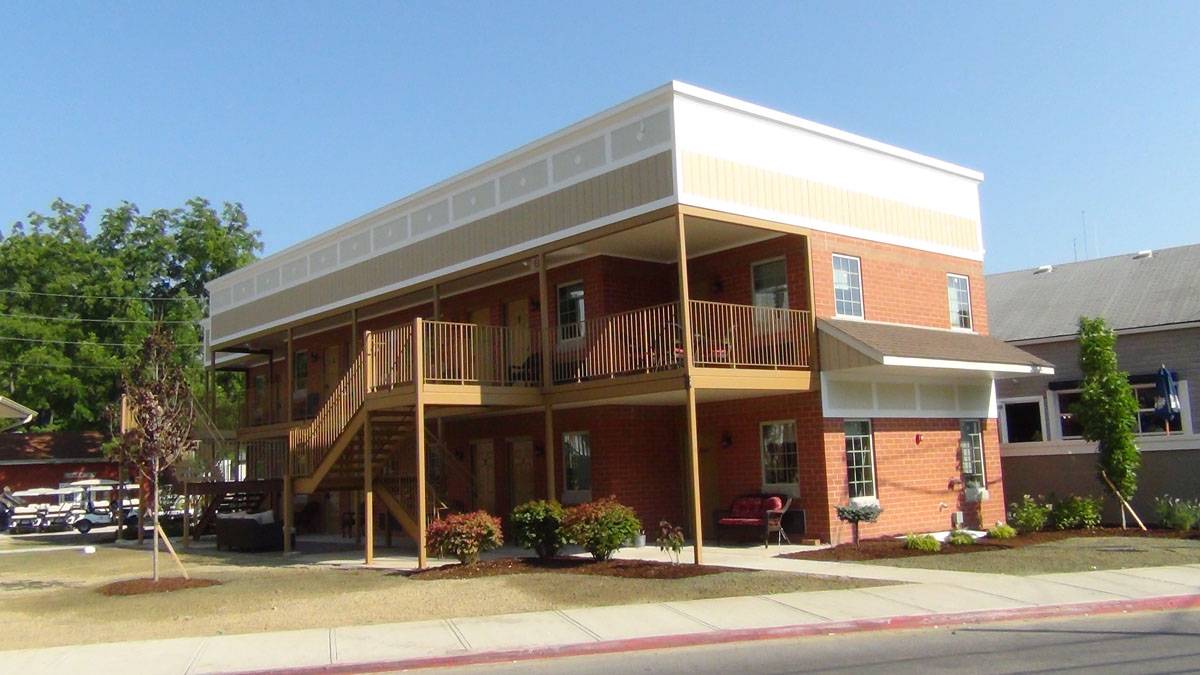 The Victory Station Hotel on Put-in-Bay, is located in the very heart of downtown. Built in 2013, the Victory Station is the newest and most modern hotel offering on the island, but still displaying the old world charm. Furthermore, the lodging maintains the Victorian feel of the island and is not a "party" hotel.
Victory Station Hotel Charm
Guests will be taken back to Put-in-Bay's early days. When stepping into your hotel room, the ambiance is remarkable. Moreover, all of the modern conveniences of home are available including a flat-screen TV for catching the news or the big game.  The location is ideal, a short stroll from the Jet Express Put in Bay Ferry Dock.
The Put-in-Bay Golf Cart Depot is located onsite.  Here, they offer golf rentals on an hourly, daily, or overnight basis. Check with our reservation staff for the current 2 and 3 day specials available to Victory Station Hotel guests. Furthermore, you can book your golf cart reservation online before you arrive. This will guarantee your own personal transportation around South Bass Island.
Guests at the Victory Station Hotel are invited to use the facilities at the Commodore Resort, our sister hotel. This resort features the Mist swim-up Pool Bar and Mr. Ed's Bar and Grille. Mist is home to one of the island's best party pool bars. A large full service bar under a tiki hut keeps the drinks flowing. There are even bar stools in the water so guests can swim right up for an icy libation. Also, there is a Subway Restaurant located here for a quick bite to eat. Fast, fresh and affordable could best describe this island favorite. So, with a stay at Victory Station Hotel, there is much added value to gain. Old World charm and many great amenities and features.
Testimonials
Nathan S: "The hotel is right around the corner of downtown so you can walk to most places on the island. The walls are sound proofed so when you want to call it a night the craziness of island life is quiet. If you are a smoker every room has a place to smoke on a balcony. Clean fresh rooms. They must have just painted when I was there."
Kate S: "We just stayed the weekend here. We had the single queen room with the patio upstairs. This was a very nice hotel. Perfect for the price. The room was clean and was supplied everything we needed. Even though we were close to town, we had no problem with noise. The fan unit in the room covered all sounds and kept the room perfectly cooled. Thank you for a nice stay and we hope to stay here again."
Kelly M: "I recommend this place when my family or friends want to stay and visit! Clean rooms, close to everything but far enough away that you can sleep!"
Dom D: "My wife and I stayed at this hotel a couple of days ago. The service, location, and proximity were all very favorable. At one point, a bottle of perfume was broken. When I went to the office, I was not only greeted warmly, but when I asked for a broom and dustpan, the woman actually offered and was ready to come up and clean it for us immediately. I insisted on cleaning my own mess, however she said she was going to go up after we had a chance to leave and mop for us. The whole experience was awesome and we plan on returning in the future."