For generations, people have been flocking to Put-in-Bay for Fishing & Boating and to cast their lines in the waters of Lake Erie. After all, Put-in-Bay is the Walleye Capital of the World!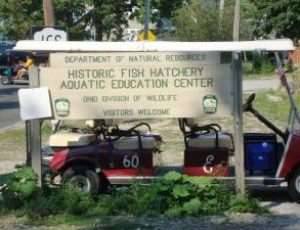 The Aquatic Visitors Center is made possible via the Ohio Sea Grant. This freshwater field laboratory is owned by The Ohio State University.  Guests can expect an informative visit at this Put-in-Bay attraction.  Learning and having fun together. Aquatic Center History Here, the State of Ohio used to use this building as a Fish Hatchery. …
More Information
Quick Info:
760 Bayview Avenue, The Ohio State University Stone Laboratory Peach Point Campus, Put-in-Bay, OH 43456, USA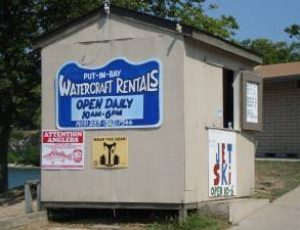 Put-in-Bay Watercraft Rental is an awesome way to get active on Lake Erie.  Here, guests have options on watercraft to rent.  There are jet skis, boats and kayaks available.  Put yourself on the water for a memorable experience. Put-in-Bay Watercraft Location This great Put-in-Bay Attraction is located next to South Bass Island State Park.  This…
More Information
Quick Info:
1500 Catawba Avenue, Put-in-Bay, OH 43456, USA
The Put-in-Bay Yacht Club is a private social organization that promotes boating on the island.  This includes sailing, power boating and all aquatic sports.  So, this is the group for those who love Lake Erie. Put-in-Bay Yacht Club History This yacht club is one of the oldest on Lake Erie.  Originally, the club began as…
More Information
Quick Info:
520-562 Bayview Avenue, Put-in-Bay, OH 43456, USA
Countless groups of fishermen, from pros that travel the country to amateurs on a family vacation or bachelor party trip, have tried their luck on our waters. If you're looking to join them, read on to learn about our Put-in-Bay fishing charters, watercraft rentals, and more. Everything that you'll need to get out there on our beautiful Lake Erie and land the big one!
Put-in-Bay Fishing & Boating, a Lake Erie tradition!
Put-in-Bay attracts fishermen from all over the country to take part in great Lake Erie fishing. People come in the winter to do ice fishing, setting up shanties on the lake, and in the Springtime, Put-in-Bay is a fisher's paradise. Professionals and amateurs alike come for as long as 3 weeks at a time, fishing every day and enjoying scenic Put-in-Bay in the evenings. While you might not be able to join us for that long, if you're only here for a couple of days there are still great options to get out onto the water and land some fish!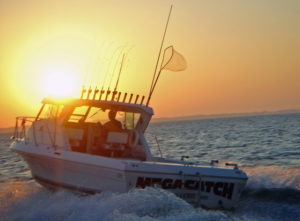 Put-in-Bay Fishing Charters
Put-in-Bay fishing charters will take you out to the best spots on the lake to help you land the big one! There are quite a few different charters to choose from, all with their own little touches to make the experience great. They can accommodate anything from bachelor parties to business trips, to family outings and everything in between. It's a great way to partake in some fishing without all the headache of organizing gear, renting a boat, and all of that. All that you'll need is an Ohio fishing license, which you can find at the Wharfside or Put-in-Bay Gas Station, right here on the island for your convenience!
Canadian Boaters Information
If you plan to visit Canada, you need to contact Canadian Customs. If you touched Canadian soil and come back to Ohio via private boat, you have to report to U.S. Customs (1-888-523-BOAT). For more info, please visit:
Travel To and Re-Entry From Canada by Boat
Shore Fishing on South Bass Island
Some of the Put-in-Bay beaches also offer shoreline fishing spots for people to cast their lines into the lake from dry land. If you know much about Fishing & Boating you'll know that you aren't quite as likely to land anything good like this, but it's worth a try, sometimes you'll get lucky and a big ol' Walleye will be snooping around near the shore looking for a bite!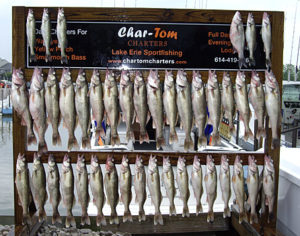 The Walleye Capital of the World!
The waters around Put-in-Bay are most famous for the amount of Walleye. In fact, this area is referred to as the Walleye Capital of the World, and with good reason. It's almost as if they'll jump right into your boat! Marine researchers are predicting one of the best Walleye spawns ever in 2019 and 2020, so we expect that most of our Springtime guests are going to be very pleased with their haul!
Marine Weather for Fishing & Boating
For an up-to-date Open Lake Forecast for Lake Erie, please Click Here. Data is provided by the National Oceanic and Atmospheric Administration.
Lake Erie Fishing Report
Put-in-Bay Ohio is also known as the Walleye Capital of the world. Put in Bay in Ohio's western basin of Lake Erie is the fishing destination of choice for smallmouth bass, yellow perch, and walleye. If it's top-notch Lake Erie fishing, you'll find it here!
For up-to-date fishing reports, lake maps, perch, walleye, trout, and steelhead information, and much more visit:
The Ohio DNR Fishing Reports and Forecast
More Than Just Fishing
There's a lot of different ways to enjoy some time on the lake landing some fish, but they all have one thing in common. You'll need a place to stay! Check out our lodging page for all of your different choices in Put-in-Bay lodging and check the Put-in-Bay weather forecast for a clear day for some angling!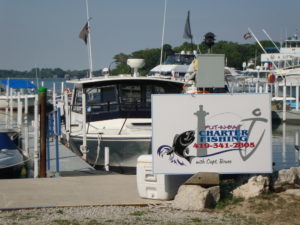 PIB OHIO Fishing & Boating
Hello anglers, you need to study those Western Basin fishing reports, print out your fishing guides, grab your fishing gear because it's time to do some Walleye fishing. Don't want to bring your own boat? That's no problem at all because we have several Lake Erie Charter services. Our two favorite charter boats are Char-Tom Sport Fishing Charter and Put-in-Bay Charter Fishing Service with Captain Bruce! Fishing Licenses are required by the State of Ohio and if you don't have one you will be stopped by the U.S. Coast Guard or Ohio Department of Natural Resources as they patrol the waters in tandem and make frequent checks the same way if not more so than they do near Port Clinton, Cleveland, or Sandusky.
You can expect to catch Smallmouth Bass, Walleye, and Lake Erie Perch, and Yellow Perch on your fishing trip. Boat ramps are located downtown Put-in-Bay as well as the South Bass Island State Park. Need lodging during your Fishing & Boating trip? check out some home rentals from the Island Club, where they provide golf cart rentals as well as their own taxi service, or the Bird's Nest Resort as they both cater well to the fisherman. Staff can provide information on Put-in-Bay restaurants, Island events, the best bars downtown, or any other questions about upcoming events on the island.&