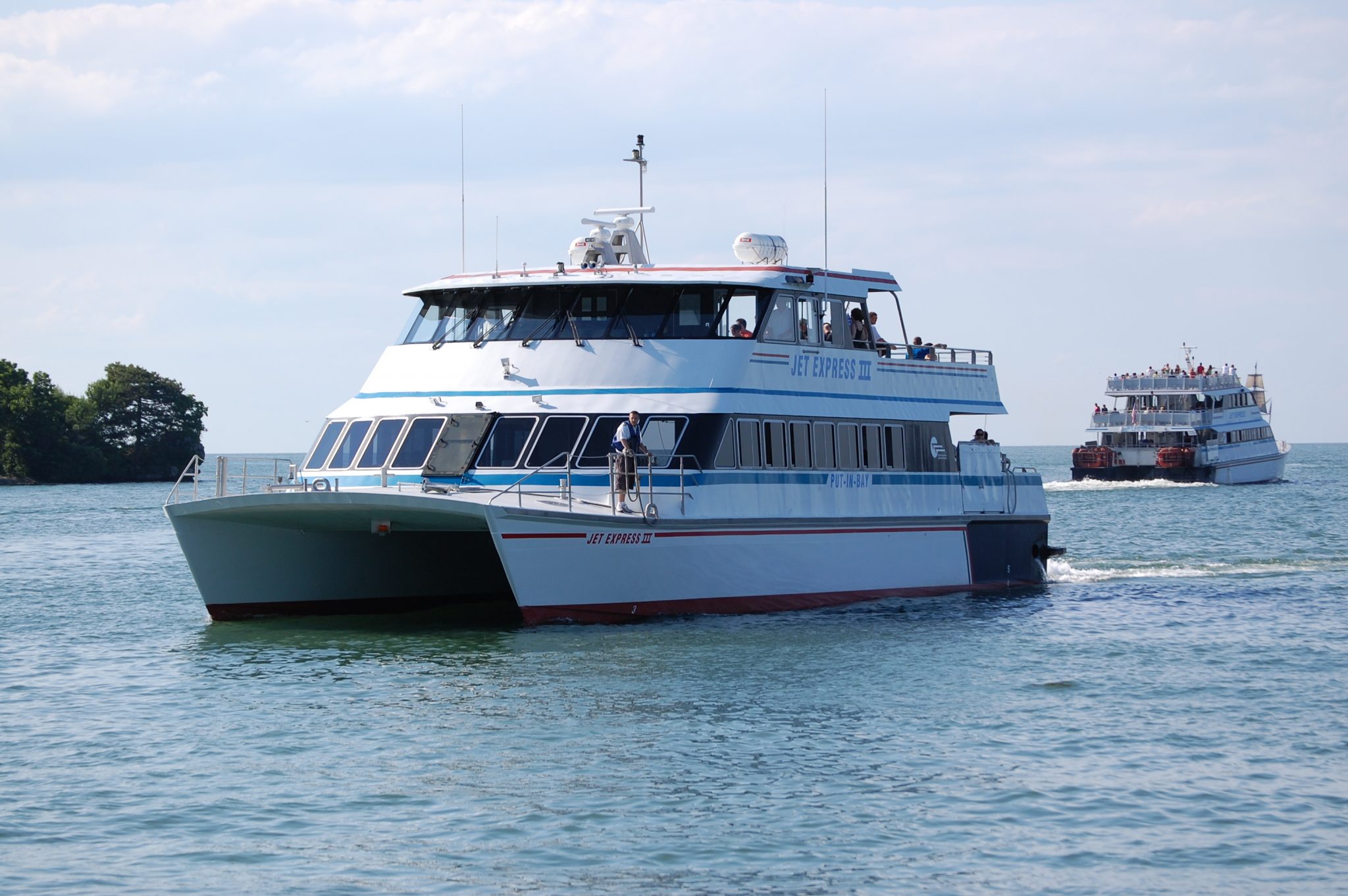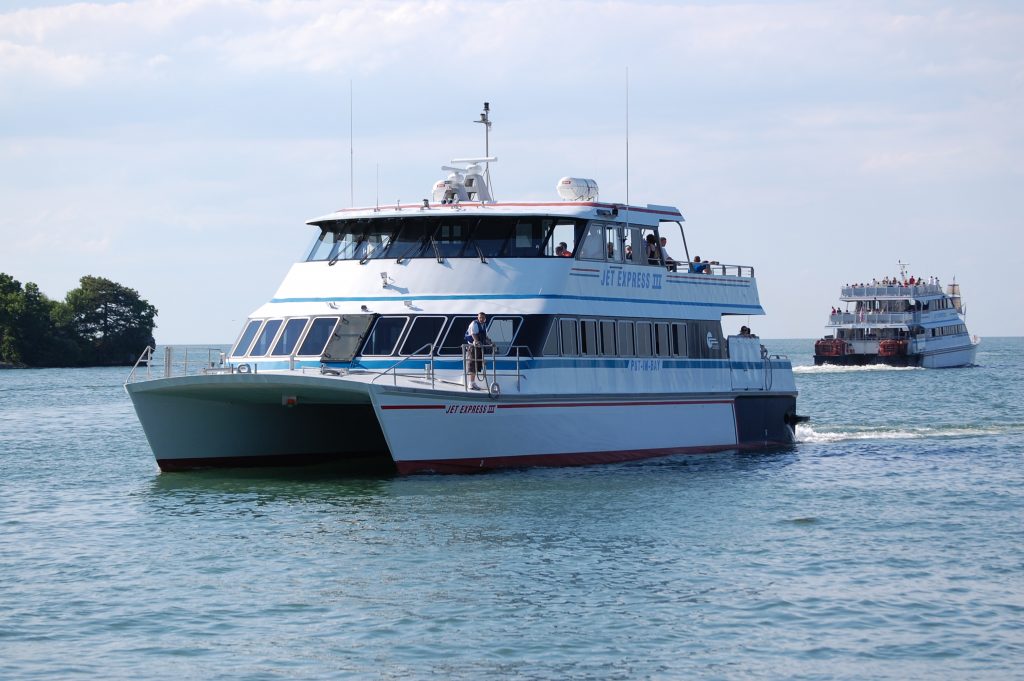 Travel to Put-in-Bay in quickly and smoothly with Jet Express Ferry. The best ferry service to the island, the Jet Express offers high speed travel directly to the heart of downtown Put-in-Bay. They also provide the only late night ferry service on the island so you can take in all the things to do in Put-in-Bay.
Need a Put-In-Bay Taxi from the Jet Express?  Call 419-285-5466.
The Jet Express Ferry Details
The ferry is designed exclusively for passenger service and light freight. This is a passenger ferry only and does not transport vehicles. Passengers can board in from several mainland docks including Port Clinton, Ohio, Sandusky, Ohio, or Cedar Point, Ohio. They also offer inter-island service to Kelly's Island. Purchase an Island Hopper ticket for $50 to easily travel between islands for a fun day trip.
This attractive vessel travels at 42 miles per hour making it the fastest boat ride to Put-in-Bay. Children under five travel free. Special pricing is now available for children ages 12-16 who can ride for $7.50 each way. Reservations are available for Port Clinton Ohio since it is often the most popular. It is highly recommended you make a reservation on Saturdays. Other ports offer sales at the ticket booth.
The Port Clinton dock is also home to the Jetbar. Start off your vacation right with a cocktail or glass of wine before heading to visit Put-in-Bay.
The Jet Express has a long history of serving travelers to the Put-in-Bay islands. Established in 1988, The Jet Express has been an important means of transportation for guests headed to island events for decades. The current fleet of the Jet Express ferry is comprised of four catamaran vessels. This Put-in-Bay ferry boat offers the quickest ride to the islands.
Whether this is your first time visiting the islands or you are one of our many adored annual visitors, the Jet Express has a commitment of excellence that will make for a memorable trip.
Round Trip Jet Express Fares from Port Clinton
Adults: $24
Youth (12-16): $15
Child (6-11): $6
Special Packages
Jet Express makes travel to and on the island a breeze with their special package deals. Golf carts are the preferred mode of transportation on South Bass Island. Purchase a package that includes ferry fare and all-day Put-in-Bay golf cart rental
Jet and Cart for 2: $100
Cart and Jet for 4: $165
Jet and Cart for Families: $125
Why Ride the Jet Express?
The Jet Express boat line offers passengers a quick and comfortable mode of transportation. The dual hulled catamaran easily traverses the waters of Lake Erie. Overall the ride is quite smooth due to the ferry's specialized design.
The interior of the ferry is air-conditioned and well-appointed. For those wanting a view, the upper deck gives way to expansive views of the surrounding area. Passengers can see nearly all of the Lake Erie Islands and on clear days, the Canadian Islands are visible in the distance. The top deck is outdoors, the best place to catch a few rays and soak in the lake breezes.
Put-in-Bay is famous for its exciting nightlife. Day-trippers can enjoy an evening of dining and drinking on the island at such spots as The Keys and Mr. Ed's Bar and Grille. Easily return home with this ferry line's late-night service. The last ferry runs at 12:00 am.
Each mainland port offers parking options. Port Clinton includes a long term lot and Sandusky has free parking during the day. Make sure to check the parking at your preferred dock before planning your trip.
Jet Express Discounts
With every paid ticket, passengers also receive a value-packed coupon sheet. This includes savings for some of the best Put-in-Bay attractions. Look for $5 off golf cart rentals and mopeds. There are also Kids Eat Free coupons and amazing discounts on restaurants and attractions.
Gift certificates including an all-season pass for $415 make great presents for those planning an amazing vacation to Put-in-Bay.
The Jet Express now offer tickets online. Simply visit their website and purchase yours today.
Special Excursions in 2020
DETROIT FIREWORKS CRUISE
June 22, 2020 Depart Port Clinton: 6:45pm • Arrive back in Port Clinton: 1:30am
PUT-IN-BAY FIREWORKS CRUISE
July 4, 2020 Depart Port Clinton: 8:30pm • Arrive back in Port Clinton: 11:00pm
PELEE ISLAND WINERY DINNER
August 7, 2020 Depart Port Clinton: 5:15pm • Arrive back in Port Clinton: 10:45pm
LIGHTHOUSE AND ISLANDS CRUISE
*Passport required for entry to Canadian Islands LIGHTHOUSE AND ISLANDS TOUR September 20, 2020 Depart Port Clinton: 9:00am • Arrive back in Port Clinton: 5:00pm
Frequently Asked Questions:
Where is the drop-off point for the Jet Express on Put-in-Bay?
The Jet Express dock is conveniently located downtown near many of the Put-in-Bay attractions. Once on the island, taxis can bring you and your group to the hotels & resorts or any Put-in-Bay lodging that you have reserved.
What is the address for the Jet Express?
The Jet Express has two locations on the mainland:
Port Clinton, Ohio: 49 Jackson St., Port Clinton, OH 43452
From Port Clinton, the ferry ride is only about 25 minutes. Direct service to downtown Put-in-Bay is offered.
Sandusky Ohio: 101 W. Shoreline Dr., Sandusky, OH 44870
From Sandusky, the ride is only about 45 minutes. Service to both Put-in-Bay and Kelley's Island are available from this location.
Are there restrooms on the ferry boat?
Yes, each catamaran has restrooms available on board. The ferry docks at Port Clinton, Sandusky, Cedar Point, Put-in-Bay, and Kelleys Island all have restrooms as well.
How late does the Jet Express run?
The Jet Express offers late night service between Put-in-Bay and Port Clinton. Typically on Fridays and Saturdays, the last boat will depart Put-in-Bay around 11:45pm.
What is the fastest way to Put-in-Bay?
The fastest way to Put-in-Bay is to take the Jet Express as the ferry travels at 40 miles per hour over 12 miles of Lake Erie waters. Meanwhile, the Miller Ferry covers less distance but travels at a slower pace.