You can bring a car via the ferry service to Put-in-Bay island if you like, but we don't recommend it. You can rent a golf cart on the island, too, but once you've had a couple of adult beverages in the downtown area of Delaware Ave that's no good. And you'll also have to get to and from the cart rental location. The point is, at some point during your time on the island, you're likely going to need a ride from the Island Club taxi.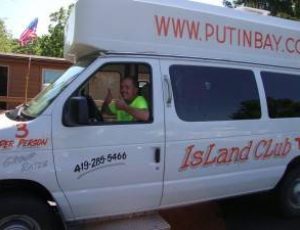 Island Club Taxi Service in Put-in-Bay Ohio is the island's preferred transportation provider. We want your visit to be a pleasurable experience.  Our drivers strive to give the best service with a smile possible. To get a ride now, call 419-285-5466! Staying at the Put-in-Bay Condos? Call 419-285-2227 for a Put-in-Bay Condo Taxi! Island Club…
More Information
Quick Info:
177 Sandcastle Road, Put-in-Bay, OH 43456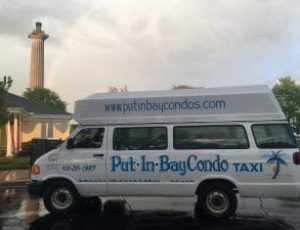 The Put in Bay Condos Taxi is the favored way to get to the newest place to stay on the island, according to past guests.  With exceptional views of Lake Erie and ample space for  large group, it is easy to see why this is an excellent Put-In-Bay Lodging choice.  Onsite, guests can opt for…
More Information
Quick Info:
1240 Tri-Motor Dr, Put-In-Bay, OH 43456, USA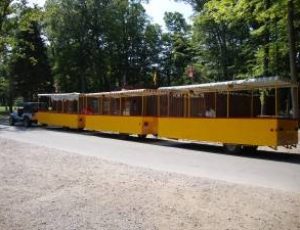 The Put-in-Bay Tour Train is an outstanding way to see and learn about the island.  Enjoy the island breezes while embarking on a one hour guided tour.  The open air trolley is easily visible with its yellow color scheme. Boarding the Tour Train Tickets are available at the Downtown Bus terminal.  This is located at…
More Information
Quick Info:
244-248 Toledo Avenue, Put-in-Bay, OH 43456, USA
At some point during your vacation, somewhere on the entire South Bass Island, you will probably need a ride from one of the best Put-in-Bay taxi companies. That's where these Put-in-Bay taxis come in! They'll take you wherever you need to go, often for just a few bucks per person! Use them to hit up all of the Put-in-Bay restaurants and bars at night! During the day, you can also pick up one of the passenger vans to see the Put-in-Bay airport, light house, or family fun center.
Put-in-Bay Taxis Things to Know
We often get asked, "How much does it cost to ride in a Put-in-Bay Taxi?". All Put-in-Bay Condos and Island Club taxi vans will take you anywhere on the island for just $3 per person. Give them a call at 419-285-5466 should you need a ride. The taxi vans have the capacity to carry over 12 passengers. For any groups larger than 12, please make the driver aware when calling for a ride so we can pull up with multiple vans. Bachelorette parties and family reunions are our specialty!
For those visiting without a Put-in-Bay golf cart rental, the best put way to get around Put-in-Bay is by Taxi. The Island Club and Put-in-Bay Condo taxi driver are very fun to ride around town with and will be happy to play your favorite songs as you go around your favorite island. Put-in-Bay Ohio is an interesting place for sure. Our taxis just add joy and safe transportation to your South Bass Island experience. 
Lodging
Put-in-Bay has plenty of things to do for all ages! You may find yourself needing more than one day to experience everything that the island has to offer. There are plenty of lodging options and Put-in-Bay hotels for everyone from the Put-in-Bay resort to the Island Club Home Rentals. Get your putinbayreservations in early. We have your transportation needs unlike other taxi companies.
Make sure that you also check out the hotels and condos on South Bass Island! No matter what you are looking for, Put-in-Bay has accommodations for everyone! The sooner you book, the sooner you can get on a Put-in-Bay Ferry (Jet Express or Miller Ferry), enjoy one of our bubble tops, and see the island!
Put-in-Bay Taxi Questions
How much does a taxi ride cost?
A ride in a Put-in-Bay taxi will cost you $3 per person. Ride fares must be paid in cash and tips are greatly appreciated by all Put-in-Bay taxi drivers. Credit cards are not accepted.
Where do the taxis take you to?
Put-in-bay taxi vans can take you anywhere on the island. Just call when you and your group are ready for a taxi at 419-285-5466 and the van will be there to transport you safely. Call the Put-in-Bay Chamber of Commerce for other assistance.
Will there be a taxi waiting for me at the Put-in-Bay ferry dock?
Once you get off the Put-in-Bay ferry boat and arrive on Put-in-Bay, there will be multiple Island Club Taxi and Put-in-Bay Condo Taxis waiting for you to jump in! Once in the van, ask your driver to play your favorite song and have a great ride.
How long does it take to get to downtown Put-in-Bay from the Miller Ferry?
From the Miller Ferry dock or by boating, the ride to downtown Put-in-Bay takes roughly 5-8 minutes. The fun-filled taxi rides will be some of your favorite vacation memories!
Who comes to Put-in-Bay?
We have visitors from as near as Catawba and Port Clinton to as far as Cleveland, New York, and CHicago! Everyone enjoys our Put-in-Bay taxi service.
How many people can fit in the taxi vans?
 At Put-in-Bay, the taxi vans have the capacity to carry up to 12 passengers. In the event you are traveling with more than 12 people, just give us a call and we can arrive with multiple taxi vans to provide you island transportation.