Put-in-Bay bars & pubs are a highlight on South Bass Island in Ohio. No matter what your preferred drink is, you are bound to find it at one of the bars on the island!
After a long day of visiting all the Put-in-Bay bars & pubs and maybe even a pool bar (swim-up bar) or tiki bar, some rest will be in order. Reserving a Put-in-Bay Cabin or a Put-in-Bay resort or hotel is a great respite.  Here, the comforts of home beckon guests to relax and unwind.  So, set the watches to island time and watch the worries fade away. Besides, with so much to do on the island, you may want to spend an extra night so you can get the full island experience! Make sure you book fast because bay lodging on the weekends tends to fill up fast in the summer. The sooner you book, the sooner you can get on a Put in Bay ferry!
Just make sure you've got someone sober to drive your golf cart home! So make the drive from Cleveland, get on a Put-in-Bay ferry, find a rental home, condo, or hotel room depending on how big your group is, and put an island in your life! You can't go wrong in the Lake Erie Islands! Even Admiral Perry said so!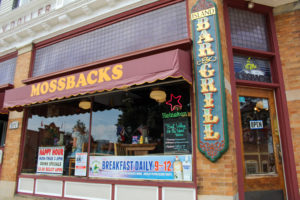 Put-in-Bay Bars & Pubs to Enjoy
The party isn't over when the sun goes down on South Bass Island. In fact, some of the coolest things (literally!) happen once the sun starts setting. So grab your pals and head out to experience Put-in-Bay after dark! The downtown Put-in-Bay bars, and especially at The Keys, have icy concoctions available in every flavor and color which may seem tough to choose from at first, but once you've sampled and mixed them, you're sure to find your perfect match.
On the other side of the bay is Rita's Cantina, a laid-back restaurant, and bar with tacos that is a favorite of locals and visitors alike. Grab a seat on the roof deck and raise your glass at their nightly sunset cannon blast. You will find all sorts of other bars & pubs in the Boardwalk complex as well.
Across the park is Mr. Ed's Bar and Grille, the perfect place to catch a game, enjoy some easygoing conversation or listen to local musicians strum the night away. Hang out at the beach bar and sip a tasty daiquiri or a cold beer at the quaint straw hut bar and soak up the scenery of Mojito Bay. Further uptown at the Reel Bar, karaoke, neon lights, and hip music make the atmosphere one for partygoers of all kinds. If dancing isn't your scene, perhaps good old-fashioned Keno is!
There four major roads on the island you need know. First is Langram Road. This road will take you all the way from Miller Ferry, past Put-in-Bay Airport, to downtown Put-in-Bay! Next is Catawba Avenue. Catawba Ave runs parallel to Langram. It will take you from the state park to downtown. Next you have Delaware Avenue. This road connects Catawba and Langram and is the hotspot of the island's nightlife. You can find the Put-in-Bay Brewery & Distillery at the corner of Delaware and Catawba Ave. Lastly you have Bayview Ave. This road runs parallel to Delaware and also connects Catawba Ave and Langram Rd. As you drive down this road you will see the boat docks as well as a beautiful view of the sunset!
From Work to Play – Bars & Pubs
South Bass Island is home to dozens of privately-owned bars, pubs and restaurants serving up seafood, American, island cuisine, southern favorites, and even exotic, eclectic fare. You'll find that this is the kind of town where tourists and locals alike ditch the heels and Dockers in favor of flip-flops and topsiders and enjoy their meals in some of the most laid-back waterside restaurant bars around. So put on that swimsuit, enjoy a day in the sun and pools but don't forget to bring your appetite! Your mouth will be watering as you take a look through our Put-in-Bay bars and restaurants and find just the right spot for you and the family to savor a meal that is just right!
While a day on South Bass Island consists of fun and sun, a bit of adventure, and a lot of relaxing, it is no surprise that the island's carefree atmosphere combined with tropical scenery creates some great night vibes for a sunset toast at one of our bayside or downtown bars, or an energetic evening at one of the island's hot nightclubs. If you are looking for the perfect place to grab drink specials and happy hour, try your hand at karaoke, cheer on your favorite team at a sports bar, enjoy a night of live music at a waterfront bar, or dance the night away at a dance club, there is something for everyone in Put-in-Bay.
You will not find better pool bars anywhere in Ohio. From the Mist Pool Bar to Put-in-Bay Resort pool bar, all swim up bars will be packed all summer long. Most pool bars even host special events on Fridays and Saturdays. This makes South Bass Island the ideal weekend getaway for you and your friends. Just because the sun goes down does not mean the party is over either. Go back to your hotel room or vacation rental and take a power nap because your day is just getting started! Grab a bite at any of Put-in-Bays phenomenal restaurants before starting round two of your day. Once you have satisfied your hunger, it is time to head to the bars. We recommend heading downtown where you will the best bars on the island. The best thing about downtown is all bars are within walking distance of each other. So you do not need to drive your golf cart or take a taxi once you are downtown. Also once you are all partied out finding a ride back to your room, house or condo is easy! Simply walk outside and you will see multiple taxis roaming downtown waiting to give you a ride.

Other Great Put-in-Bay Restaurants, Bars & Pubs
Swipe Right Pizza (BRAND NEW)

Hooligans Irish Pub

Fishbowl (island bar)

Joe's Bar (next door dive bar)

Hooligans Irish Bar

The Round House Bar (live entertainment)

Frosty Bar

Margaritas on the Rocks (appetizers)

The Boathouse Bar (nightlife)

The Fish Bowl

Biergarten (outdoor seating)

The Goat Soup & Whiskey (walleye)

Topsy Turvey (Caribbean)

Mossbacks (great food)

Big Mans Burrito Stand

Boardwalk (lobster bisque)

DJ's (Ice Cream)
Google Bars & Pubs
If you want to check out how many great spots there are, just Google "Put-in-Bay Bars & Pubs" on your Samsung or iDevice and watch the listings come down. Or you can just use the address of Put-in-Bay, OH 43456. Most of the best bars & pubs are located on Delaware Ave around DeRivera Park in the heart of downtown Put-in-Bay Ohio.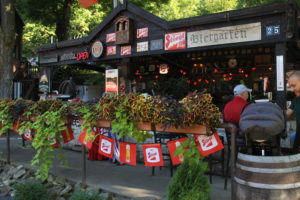 Silly Ohio Drinking & Other Laws
The maintainers of PutInBayOnline.com want to make sure you are safe and within the law, while visiting our island, so please remember the following advice while drinking, as it is THE LAW!…
Ohio state law prohibits getting a fish drunk. So avoid doing so at your next boating outing

In Oxford, OH, it's against the law for a woman to take off her clothing in the presence of a man's picture.

In Bexley, OH, Ordinance number 223, of 09/09/19 prohibits the installation and usage of slot machines in outhouses.

If you ignore an orator on Decoration day to such an extent as to publicly play croquet or pitch horseshoes within one mile of the speaker's stand, you can be fined $25.00.

In Cleveland, OH, women are forbidden from wearing patent leather shoes.

In the State of Ohio, it is illegal to set a fire under your mule.

A hunting license is required for anyone who plans on catching mice.

It is illegal to run your horse over five mph. Ride Mr. Ed at a safe speed (and please, do not attempt to ride the real Mr. Ed, purveyor of Put-in-Bay hotspot Mr. Ed's Bar & Grille, as he probably would not appreciate it!!!).

The Ohio constitution bans idiots from voting (back when the Ohio constitution was written in 1802, the mentally ill were referred to as idiots rather than the more politically correct terms used today. So, it was written in the constitution that idiots were banned from voting. However, such provisions did not apply to those running for office, so it's possible to elect an idiot into office.).

Standing on the roof of a moving taxi cab is strictly prohibited.

You must obtain permission from the park superintendent before playing a game of leapfrog with your best friend.