Put-in-Bay Pool Bar Experience
Put-in-Bay pool bars are one of the most memorable things about the island. This is something that you just can't experience many other places this far north.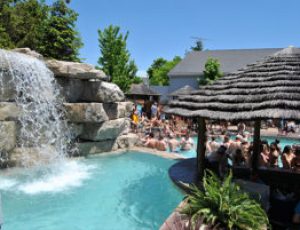 MIST Pool Bar is the island's hottest wet spot!  Here, guests can immerse themselves in the beautiful setting.  The sounds of the waterfalls crashing sets the tone.  Swim right up for a hand crafted cocktail while enjoying the scene.  Weekends feature outstanding local DJ's spinning tunes.  The scene is electric!  Weekdays offer a more relaxed…
More Information
Quick Info:
272 Delaware Ave, Put-In-Bay, OH 43456
Pool bars are the domain of the Bahamas, South Beach, and Las Vegas… not the Midwest. Except at Put-in-Bay! Imagine being able to float around, with music bumping and a cold beverage in hand, and then think, "This is Ohio!" You can enjoy this completely unique vacation experience at any of the pool bars below!
Where to Stay?
Put-in-Bay is a very fun place and can be as relaxing, romantic, or wild as you want it to be. There is lodging in Put-in-Bay for every type of traveler, just as there are things to do no matter your age or your type of fun! We have some of the most extravagant hotels, condos, resorts, and rental homes with beautiful tropical landscaping and free-form pools with swim-up bars. Some of the places make you think you are in an oasis on a tropical island in the Caribbean. You may find it hard to believe you are really in Put-in-Bay Ohio!
The Commodore Resort 
The Commodore Resort
is home to MIST Swim-up/Pool Bar. Located just steps away from downtown Put-in-Bay, The Commodore is the ideal place to enjoy your Put-in-Bay pool bar experience!
The Island Club Home Rentals
The Island Club
is located around 1 mile away from the downtown area. Don't worry they have private golf cart rentals and taxi service to make sure you don't miss out on any Pool bar fun! Give their reservation team a call and book now before it's too late!
The Put-in-Bay Condos
The Put-in-Bay Condos
offer amazing waterfront views at the brand new resort property located near the Put-in-Bay airport. Similar to the Island Club, here you can also rent golf carts or hail a taxi to make sure you can still enjoy the MIST Pool bar.
The Bird's Nest Resort
The Bird's Nest Resort is a quaint and peaceful resort tucked away near the Put-in-Bay airport and Joe's Bar. Here, guests can enjoy affordable lodging. Again, golf carts and taxi service will help guests get to see all the downtown Put-in-Bay action!