We may be a little biased, but here at Put-in-Bay Online, we think you should come and spend some time at beautiful Put-in-Bay Ohio and enjoy one of the many Things To Do.
If you've found your way here to this page, you're already thinking about it. But you may be wondering what exactly there is to do at Put-in-Bay. You can find things down low in Perry's Cave or up high on Perry's Victory Memorial.
Vacations are all about the memories you create with the people you love. These are the places that you'll be making those memories! Visit one of our wineries, amazing caves, beautiful green spaces, and more. Then hit up the Put-in-Bay restaurants and bars after a fun-filled day! There are so many great things to do in Put-in-Bay, you'll be planning your next visit before your first one is even over! Check out all that Put-in-Bay has to offer and start planning your South Bass Island itinerary.
What makes this place worth spending your precious vacation time? Well, aside from the nightlife, famous all over the Midwest. And the acres and acres of incredible green spaces for the public to enjoy. And the calendar full of exciting Put-in-Bay upcoming events. Well if somehow those Things To Do aren't enough for you, just read below about all of the amazing things to do at Put-in-Bay!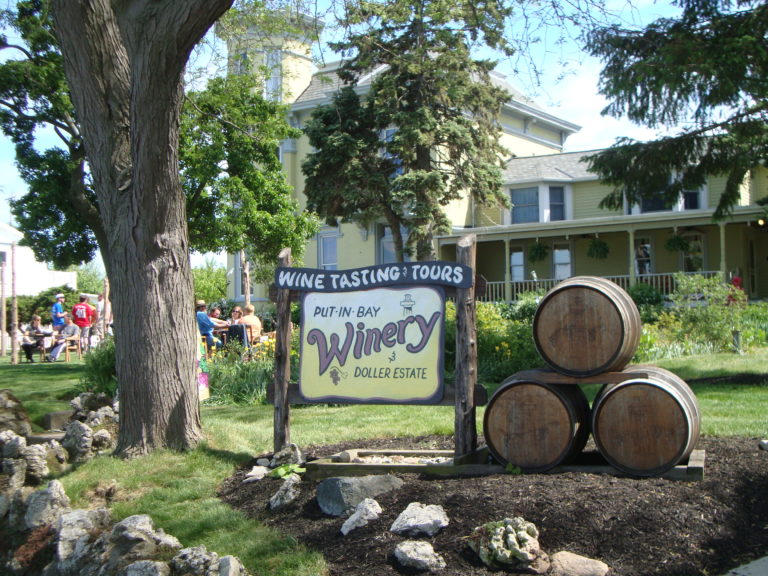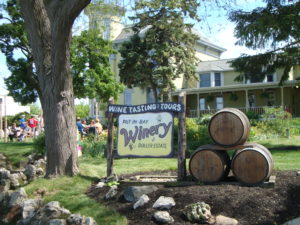 Put-in-Bay Things To Do
When it comes to things to do at Put-in-Bay, the only problem you will have is how to get as many as possible into your vacation time! There are so many different attractions for so many different hobbies. You could check out a history museum, play a round of golf, visit a park. Whatever your interests, and however you like to spend your free time, Put-in-Bay doesn't just have one thing for you, it has scores! What are the top things to do in Put-in-Bay? Every attraction in Put-in-Bay is a great thing to do!
Visitors come from all over the United States, but most come for a local staycation. You can make it a multi-stop vacation as you explore Toledo, Port Clinton, Catawba Island, and Cleveland either before or after your island visit. Many families also stop at Cedar Point Amusement Park for a day of roller coaster fun and thrill ride adrenaline!
Put-in-Bay Lodging
Our favorite Put-in-Bay Resorts are the Island Club, Put-in-Bay Condos, and the Bird's Nest Resort. Looking to stay in downtown Put-in-Bay? Make sure to check out the Commodore Resort – Home of Mr. Ed's Bar & Grille and MIST Swim-Up Bar! We also have Condos and Bed and Breakfast's. 
Put-in-Bay simply has too much to do to see everything in one day. We highly recommend changing your day trip plans to a weekend stay or take advantage of our many weekday specials. As previously mentioned, The Island Club and Put-in-Bay Condos are two places that are great for the accommodation of larger groups. Both lodging locations are popular for family vacations during the week. Meanwhile, the weekends on Put-in-Bay attract the likes of bachelorette and bachelor parties. 
Shopping at Put-in-Bay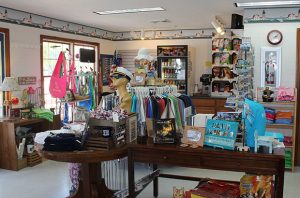 Put-in-Bay shopping is incredible. You can literally shop until you drop! The main street downtown is loaded with all kinds of unique shops where you can buy gifts for your friends and family back home. Or just scoop up a bunch of stuff for yourself! We're not here to judge. The island stores have a little something for everyone.
From nautical-themed decorations to Put-in-Bay branded novelty clothing, and even wine that is made, from vine to bottle, at Put-in-Bay on South Bass Island, you won't believe all of the things that you'll find in this shoppers' paradise! Del Sol is famous for its line of clothing, jewelry, and nail polishes that change colors in the sun. Also, try out the new Local Color shop down by the Jet Express and Keys.
Pool Bars: Put-in-Bay Classic Things To Do
One of the things Put-in-Bay is most famous for is its pool bars. Nowhere else in the northern half of America is more synonymous with the pool bar. When you swim up and order a cold beverage to enjoy without even leaving the pool, you'll think you're hanging out on South Padre Island, not in the middle of Lake Erie! This is of course for adults only, but if you are an adult, even if you aren't a big partier, we recommend you check a pool bar out, if only for a minute because it's a totally unique experience you'll likely never get again!
We recommend checking out MIST Swim-Up Bar located right next to the Commodore Resort. You can also check out SPLASH Pool Bar.
Are there public swimming pools on the island? Yes, all hotel and resort pools on the island are open to the public. A notable exception is the Crews Nest pool and kids complex, but that is a private members-only club. It is one of the Things To Do that you might not be able to do. Bring a towel and your bathing suit; you will have fun. Call a Put-in-Bay Taxi to get you from your rental home to downtown quickly.
Family Fun at the Bay!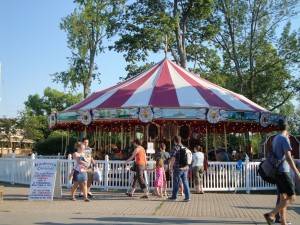 But Put-in-Bay isn't all about the party scene, far from it. During the week Put-in-Bay is a relaxing haven for vacationers of all ages to kick back and decompress for a few days. And Put-in-Bay has all of the family activities needed to fill the time, and then some. You can also filter our attractions to only family/all-ages attractions. Grab an ice cream cone at the Chocolate Museum or explore the world's largest geode in the Crystal Cave.
Kids will spend lots of time at Perry's Cave Family Fun Center, one of the hottest Put-in-Bay attractions. Here they can climb a rock wall, go down in a cave, and do some gemstone mining. More mellow kids can tour the Butterfly House, check out the antique car museum, and play a round of putt-putt mini-golf (aka miniature golf). Make sure to take the family to the War of 18 holes mini golf course. No trip to this center would be complete without challenging yourself in Fort Amaze'n. Stop by the gift shop on the way out. Once down at the Family Fun Center walk over to Heineman's Winery and take a tasting tour. Grape juice is provided for those to young to partake. Another great winery option the Put-in-Bay Winery found downtown.
Some other great family options are the helicopter tour and renting jet skis for water sports. Also check the South Bass Island Lighthouse found in the state park. Visit Put-in-Bay today!
Perry's Monument is THE Highest of the Things To Do
The one thing to do that every Put-in-Bay visitor of any age should do is visit Perry's Victory and International Peace Memorial and National Park Visitor Center. This is Put-in-Bay's most famous landmark and with good reason! Perry's Victory & International Memorial is so tall you can see Middle Bass island, Sandusky, and even Canada from the the top! You can learn about Commodore Oliver Hazard Perry, the War of 1812, and the Battle of Lake Erie while having fun. Stop by Lake Erie Islands Historical Society to learn more about the island's rich history. Come during Pyrate Fest for some awesome reenactments!
Beautiful Lake Erie Ohio
This is all leaving out perhaps the greatest draw of Put-in-Bay Ohio, its beautiful surrounding waters. The harbors are filled with boats, and you can join them out on the water on a jet ski, or on a paddleboard to explore the Lake Erie Islands. You can also sail high above them all while parasailing! Many of the islands nature preserves have great views of Lake Erie. Check out Massie Cliffside Preserve for an amazing view of the sunset.
Or you can hop onto a downtown Put-in-Bay charter and enjoy some of Put-in-Bay's incredible fishing out on the lake. Put-in-Bay attracts hoards of professional and amateur anglers in the spring for the Walleye spawn, which is the most abundant in the world. You can even catch great fish from the pier out at the South Bass Island State Park. The catch remains great all year long so don't fret if you're joining us in the fall!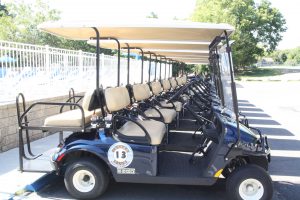 Golf Cart Rentals, Taxis & More Things To Do
There are so many things to do in Put-in-Bay, all over the island that you will need to get there somehow. So how do you get here? Take a Put-in-Bay ferry! Boat to the island on the Miller Ferry or Jet Express. Easily call a Put-in-Bay taxi to get you to and from (419-285-5466). Get a Put-in-Bay golf cart rental for sightseeing. Leisurely explore Put-in-Bay island on the tour train. Go kayaking to Gibraltar Island downtown in a kayak rental. Jet Ski out from Put-in-Bay Watercraft Rentals at the State Park. Go round and round riding the carousel. Ride high at the Put-in-Bay Airport. Float aloft while parasailing over Put in Bay harbor. Do all the Things To Do on your trip!
Put-in-Bay Has It All!
The wonderful thing about Put-in-Bay is how much variety is squeezed into our tiny little slice of heaven. Whether you're coming to have a party, to have a relaxing getaway, to soak up the sun, catch some waves, or land the big one, Put-in-Bay is the perfect place for your summer vacation!
Looking the heart of Put-in-Bay? Head to the downtown area where you will find plenty to do around Derivera Park. Stop by the Boardwalk and check out the observation deck where you can see the boaters come and go from the harbor. Looking for the night life? Delaware Ave is the best place to start. There you will find Mr. Ed's Bar and Grille, the Roundhouse Bar and many more great bar options.
What is the best Put-in-Bay Attraction? That really depends on what you like to do. Send us a note and tell us what YOU think is the best Put-in-Bay attraction! Your vote will help in choosing this year's Best of the Bay award winner.
Google Put-in-Bay, Ohio 43456 for Things To Do.
Frequently Asked Questions
Is there Family-Friendly Attractions on Put-in-Bay?
There are plenty of family-friendly attractions to show the family. Our most recommended attraction for families is the Perry's Cave and Family Fun Center. Once there, you'll be able to tour the cave, play mini-golf, go gemstone mining, and much more! 
Does Put-in-Bay close for the winter?
Put-in-Bay is accessible all year round via plane. However, once the lake freezes over during the winter, a large majority of the island's businesses close until late March. The island's tourist season is from Mid-March to Halloween. After Halloween, the island is inhabited by locals and seasonal workers helping close down for the winter months.
Can you rent golf carts on Put-in-Bay?
Golf Carts are available for rent at various golf cart rental agencies throughout the island. For guests staying at the Island Club or Put-in-Bay Condos, we recommend taking advantage of their brand-new carts. These carts are privately rented out exclusively for guests. For those coming for the day or staying at other Put-in-Bay lodging locations, we recommend renting from the Put-in-Bay Golf Cart Depot.
Can you swim at Put-in-Bay?
Yes, you can swim at Put-in-Bay. The island is full of fun swim-up bars and outdoor pools at Put-in-Bay hotels. In addition to that, guests can also swim at the South Bass Island State Park. The state park is the only public beach on the island and is home to Put-in-Bay's only campground.
Are there public swimming pools on Put-in-Bay?
Yes, most Put-in-Bay hotels have outdoor swimming pools that are open to everyone.  Be sure to check out the island's favorite Swim-up Bar. MIST is located in the heart of downtown Put-in-Bay at the Commodore Resort. It is also located right behind the Treehouse Bar and Mr. Ed's Bar & Grille.
Can you walk around with alcohol in Put-in-Bay?
Please note that walking around South Bass Island with open containers of alcohol is strictly prohibited. This regulation applies to all the Lake Erie islands, including Put-in-Bay, Ohio. Just like any other city in Ohio, consuming alcoholic beverages in public areas and on golf carts is illegal. However, you can still enjoy your favorite drinks at the numerous bars and restaurants in downtown Put-in-Bay near Derivera Park. Many of these establishments provide outdoor seating where you can savor your alcoholic beverage in a permitted and enjoyable setting. Additionally, several Put-in-Bay condos and vacation rentals offer balconies or decks, allowing you to relax and unwind while enjoying a drink in the comfort of your accommodation.
What street are bars on in Put-in-Bay?
Discover the vibrant bar scene on South Bass Island at Put-in-Bay, Ohio! While there are bars scattered throughout the island, the majority of the Put-in-Bay bars are conveniently located in downtown Put-in-Bay on Delaware Ave, near Derivera Park. Here, you'll find popular establishments like Fishbowl, Frosty Bar, Mr. Ed's Bar & Grille, and many others. What makes these bars even more exciting is that they are all within walking distance of each other, allowing you to easily explore and hop from one lively spot to another. Experience the energetic atmosphere and enjoy a fantastic night out at the bustling bars of Put-in-Bay, South Bass Island.
Can you smoke at Put-in-Bay?
When it comes to smoking regulations on South Bass Island, it's important to note that, like other cities in Ohio, smoking is permitted in public areas. However, it's crucial to be aware that most hotels and lodging facilities do not allow smoking within their residences. We strongly advise reviewing the rules and regulations of your chosen accommodation regarding smoking policies.
Furthermore, smoking is prohibited in Put-in-Bay bars. If you find yourself downtown and want to smoke, we recommend taking a short walk to Derivera Park. This outdoor area provides a designated space where smoking is permitted. Enjoy your smoking break while exploring the scenic surroundings of Derivera Park in downtown Put-in-Bay, South Bass Island.
Are there cars on Put-in-Bay?
While cars are allowed on South Bass Island in Put-in-Bay, Ohio, golf carts are the preferred mode of transportation due to the island's small size and crowded downtown area around Derivera Park. Multiple cart rental businesses can be found at the ferry docks and throughout the island, making it convenient to explore the 1.7-mile stretch from the state park to Perry's Monument. Embrace the popular choice of using golf carts to maneuver easily and enjoy the sights of Put-in-Bay, Ohio.
How long is the ferry ride at Put-in-Bay?
The Miller Ferry Line offers a scenic 18-minute journey from Catawba Island to Put-in-Bay, Ohio, while the Jet Express takes approximately 25 minutes from Port Clinton and 45 minutes from Sandusky. During the Miller Ferry ride, enjoy picturesque views of Perry's Monument and other Lake Erie islands. Once on the island, don't miss Taco Bay for mouthwatering nachos and burritos.
On the Jet Express, you may even catch a glimpse of Cleveland in the distance. The convenience of docking downtown Put-in-Bay allows you to dive right into the action. Downtown offers a plethora of fantastic restaurants such as The Keys, Upper Deck on the Boardwalk, Hooligans, and the Boathouse Bar. You'll also find popular bars like Mr. Ed's Bar and Grille, Mossbacks, Frosty Bar, and the Reel Bar. Enjoy the vibrant dining and nightlife scene of downtown Put-in-Bay after a satisfying Jet Express ride.