A Place to Stay at the Bay!
Finding lodging on our beautiful little island can occasionally be a little more complicated than, say, booking a hotel in Cleveland or Detroit or Chicago or anywhere else. There are some nuances about island lodging that make it best to consult our expertise. You may wish to stay downtown near Derivera Park only to end up out by the South Bass Island State Park! Please
CALL US
for assistance!
Want to save money for the fun things to do on our island? It may not be the best choice to hop onto a third party booking site like Expedia or VRBO and book there. Here at Put-in-Bay Online, we attempt to get you some of the information that you need to make an informed decision about the best place for your group to stay when you visit put in bay, whether it be a Put-in-Bay resort and conference center, downtown hotel, or vacation rental home. Plan your next island vacation today!
Put-in-Bay Hotels: So Many Choices
Seeking Put-in-Bay hotels and resorts can be a bit of an adventure for a first time visitor. Because we only have guests a few months of the year, large hotel chains do not operate on the island. What you'll find instead is locally owned small businesses, who take the time to make vacations special for their guests. 
Many of the downtown hotel rooms have amenities like pool bars with a poolside tiki bar and Put-in-Bay golf cart rentals. You will find some of the best options around Derivera Park downtown. Some of the hotels include Bird's Nest Resort, Grand Islander Hotel, and the Islander Inn! Put-in-Bay hotels outside of downtown work to cater to guests who don't want to be in the hustle and bustle for their entire stay. They usually have an outdoor pool, 24-hour front desk, living room, full kitchen, and are more family friendly. Whatever it is that you're looking for in your Put-in-Bay lodging, we're confident that you'll find it here!
Put-in-Bay Hotels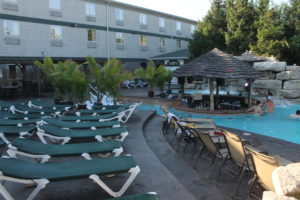 In your search for lodging at Put-in-Bay, you've likely come across all sorts of different places to stay. From resorts, to lakeside Waterfront Condos overlooking Lake Erie, to Put-in-Bay VRBO options in a great location, you might feel overwhelmed. Who's at 439 Loraine Ave? What lodging is at 1490 Put-in-Bay Rd? Are there Condos at 1240 Tri-Motor Dr?
There are many great options, but you might just be seeking something a little more familiar. What you are likely most familiar with, in that case, is the hotel, and Put-in-Bay has no shortage of them. We offer customer favorites like the Commodore Resort, as well as other options like the Park Hotel, Bayshore Resort, or even the Put-in-bay resort & conference center with the overcrowded blue marlin bar and fitness center. Book your family fun getaway today!
These hotels range from sprawling downtown Put-in-Bay hotspots right in the heart of the action to boutique hotels off the beaten path. A place like the Commodore Resort or the Edgewater Hotel are right in the thick of everything, and the Victory Station Hotel (no bachelorette parties) and Bay Lodging Resort (some suites have a kitchenette) are just detached enough from the downtown scene to be peaceful, while still being in touching distance to enjoy Put-in-Bay's famous nightlife (our favorite spot is Mr. Ed's!)
Put-in-Bay Room With a Poolview!
Most of these hotels also grant you access to one or more of Put-in-Bay's famous pool bars. That's great news because visiting a PIB swim-up bar is one of the absolute must-do's of Put-in-Bay bars. Bring your sunscreen and sunglasses.
This isn't something you can find anywhere else in this area of the country but Put-in-Bay. Swim-up bars are typically the territory of Caribbean resorts. Then again, that's the vibe you'll find at Put-in-Bay as a whole. Much different than Kelleys Island.  If you are there on a day with good weather, you'd be forgiven for mistaking it for Key West.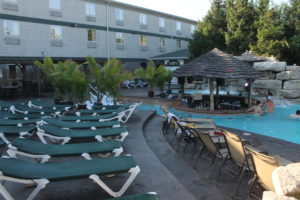 Alternative Put-in-Bay Ohio Lodging Options
From the shadow of Perry's Victory and International Peace Memorial to off the beaten path, there are vacation rentals all over the island. Spend your getaway at the Put-in-Bay Condos or Island Club Rentals and get your entire group together under the same roof. Check in is as simple as punching a code into the door! Most have many queen beds so you can get comfy.
The lakeside condos have an incredible lakeview and both have their own private swimming pool and free wifi. If you are looking for a lakefront view check out Put-in-Bay Waterfront Condos. These rental homes are often within walking distance of many attractions like Perry's Cave, and a short taxi ride from the rest. Take a quick ferry ride from Catawba Island in Port Clinton, a stone's throw away from Cedar Point in Sandusky, and enjoy a family getaway or Put-in-Bay vacation at the Bay. Experience the Lake Erie Islands as they were meant to be seen, as one of the premier vacation spots, not just for people from Cleveland or Toledo, but anywhere in the United States!
Put-in-Bay Hotels Amenities
Many of the best hotels also offer amenities like golf cart and moped rentals onsite to help you get around the island with ease. You can park your cart right out front! Of course if you're only coming to the island for the nightlife, from some of these hotels all you'll need to get around is your feet. And if that isn't the case at your particular hotel, there are Put-in-Bay taxis all around the island to get you where you need to go, often as cheap as $3 a person!
Your Source for Put-in-Bay Lodging
We hope you find this Put-in-Bay hotels and resorts information helpful. We want to match every guest on our island to the best Put-in-Bay fit for them. Because there are too many things to do on South Bass Island to only take a day trip. You need to come enjoy a couple summer nights at the Bay, aka the Key West of the Midwest!

Put-in-Bay Cabins
When you come stay at Put-in-Bay, you generally have two styles of lodging you can choose from: Hotels/resorts, or cabins. Cabins offer a lot more privacy and whether that means more peace and quiet or less, you can choose which you prefer. With companies such as the Island Club to rent a cabin from you should have absolutely no problem finding a place best suited for you.
Put-in-Bay cabins are also great if you're staying with a group of friends because more of you can stay together at once, and you can also rent cabins next to each other and have a really great time hanging out between the two. Cabins often offer a hot tub or jacuzzi as well. Also, just because you're getting a cabin doesn't necessarily mean it's in the woods! Lots of great options can be found in town as well! You can also find stand-alone or grouped cabins just the same. Looking for a spot to camp? Then South Bass Island State Park is the place for you!
VRBO Put-in-Bay
VRBO is a great agency to book through, however you must understand we highly recommend booking directly with owners as you will pay anywhere from 8-10% extra in hidden fees through their website or app. If you still plan on using them simply search "VRBO Put-in-Bay" and all available listings should pop right up! It's possible that some hotels may come up as well so if you're looking for a cabin make sure that's what it really is.
Once on their website, you choose your location and a calendar will pop up where you can enter the dates you desire to book. Once you've entered this information all of the available listings will pop up and you can browse around until you find one that seems right for you! Choose one that looks appealing and read below for extra information on the owner and how you can book.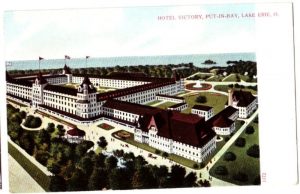 Frequently Asked  Put-in-Bay Hotel Questions
Where can I find Put-in-Bay hotels information?
Aside from the listings above, we recommend consulting putinbay.com, which has up-to-date information and detailed listings for all of Put-in-Bay's best hotels. You will also find information on attractions, upcoming events and more!
What Put-in-Bay hotels have a 1-night stay?
While hotels policies can change from year to year, at present, we are unaware of any hotels that allow one night stays. Island Club and Put-in-Bay Condos are alternative lodging options that offer single night reservation in select parts of the season. Contact them directly for more information at 216-898-9951.
What are the best Hotels with a pool at Put-in-Bay?
We recommend the Commodore Resort in downtown Put-in-Bay, as it is home to MIST Pool Bar, Put-in-Bay's most famous swim-up bar. Put-in-Bay is known for its swim-up bars, as this is pretty much the only place in the northern United States to find them. A swim-up bar should definitely be on your Put-in-Bay checklist, and MIST is the best of the bunch!
Which hotels on Put-in-Bay are pet-friendly?
None as far as we know of. The only place on the island that we know of that permits pets is the Island Club, which allows them for stays from Sunday-Thursday.
How can I get to my hotel from the ferry?
If you ride the Miller Ferry, when you disembark, follow the crowd up the hill, where you will find a row of bubble-top taxi vans ready to take you anywhere on the island. If you come to Put-in-Bay via the Jet Express, taxis will frequently pass the downtown dock. At neither location should you expect to wait more than a minute or two for a ride regardless of time of day. Whether you are from Cleveland or Detroit, Put-in-Bay is not far away!
Miscellaneous Put-in-Bay Island Info
Resort hotels, luxury suites, and rental homes are some of the things you can come to expect when you stay for your bay vacation. You can click our lodging tab to check availability on all hotels, resorts, and guest rooms available for rent. Bicycle rentals and golf cart rentals can be found all over the island.