Put-in-Bay Ohio is a famous vacation spot offering Put-in-Bay Condo Rentals. Perfect for large group outings and located just a short drive away from Toledo and Cleveland, this is the only real lodging option right on the water.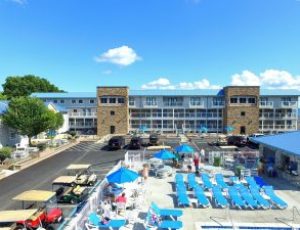 Put-in-Bay Waterfront Condos The Put-in-Bay Waterfront Condos are the premier lakefront Put-in-Bay lodging choice for your Lake Erie island getaway. CHECK AVAILABILITY! We are close to home in body but also far away in spirit. How often can you plan a party weekend with your friends or a small vacation with your family on an island surrounded…
More Information
Quick Info:
1240 Tri-Motor Drive, Put-in-Bay, OH, 43456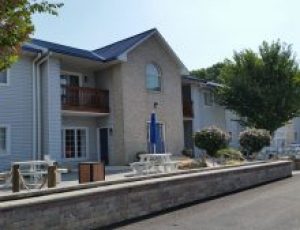 Put-in-Bay Poolview Condos The Put-in-Bay Poolview Condos have the cozy lodging and ideal location for your group. CHECK AVAILABILITY! This property is adjacent to the Put-in-Bay Waterfront Condos. The highlight of this property is the fact that is located right on the lakeshore of Lake Erie. So, stay near the lake while on the island.…
More Information
Quick Info:
1240 Tri Motor Drive, Put-in-Bay, OH 43456, United States
The island has been hosting bachelor and bachelorette parties, work retreats and family vacations for decades. Visitors from all over head to Put-in-Bay and stay in one the various rental options. Put-in-Bay also hosts recreational sports events like soccer and volleyball tournaments where entire teams come to compete and have fun.
Getting your whole group under one roof makes these getaways so much more fun. Close enough to downtown Put-in-Bay, but far enough away to feel like a bay vacation. Look at these poolview and waterfront  condo vacation rentals to minimize your expenses and maximize your fun!
Visitors from all over the United States come to see Perry's Victory and International Peace Memorial, Perry's Cave and more in Put-in-Bay as well as to enjoy the nightlife and swimming pools.  Rental condos in Put-in-Bay book up well advance with family reunions and business outings midweek, and bachelor/ette groups on weekends. Read through the various Put-in-Bay rental options below before it's too late!
Put-in-Bay Condo Rentals: The Best Put-in-Bay Resort
For inquiries regarding availability call 216-898-1105.
GPS address: 1240 Tri-Motor Drive, Put in Bay, OH 43456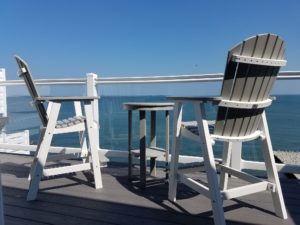 The newest lodging at Put-in-Bay also has the best views of Lake Erie that you'll find anywhere, not just on the island, but in Ohio!  The Put-in-Bay Waterfront Condos have individual balconies, each with a beautiful lake view. There is lots of room and relaxation to enjoy the waves rolling onto the shore from the Lake Erie Islands. The Put-in-Bay Poolview Condos offer the same amenities as the waterfront condos except for the lakefront view.
These brand new condos are the Island's favorite vacation spot and are maintained to provide a luxury experience that other Put-in-Bay lodging can't match. Ideally suited for larger groups, with couples recommended to check out the Commodore Resort downtown by the bay. Either lodging choice will guarantee a good time.
Vacation Condo Rentals
It's hard enough to plan a vacation for a large group without having to worry about details like pool access and golf cart rentals. Rest assured, we are a full service lakeside lodging! Having to book multiple hotel rooms makes things even harder so just get a condo or two and have multiple full baths, a full kitchen, outdoor pool, a private deck with lake view, and more.  Opt in for a spacious rental condo that fits everyone in your party at PIB.
In addition, hotel rooms don't have kitchens.  This means every meal will have to be eaten at a restaurant in downtown Put-in-Bay. Consequently, eating out every meal can be expensive. You can save some money on your vacation by cooking some meals in your fully equipped kitchen in these vacation rentals. You can eat those meals surrounded by everyone in your group out on your private deck.  Meanwhile, you will be making bay vacation memories that will last a lifetime at Put-in-Bay.
Getting to the Condos
The Catawba Island ferry dock to PIB is a quick and fun drive from most of the upper midwest. Only a half hour drive from Sandusky and Port Clinton, about an hour from Toledo and Cleveland, and within 5 hours of Chicago, Indianapolis, Detroit, Columbus, Cincinnati, Erie, and Pittsburgh.
Hop onto a Put-in-Bay ferry to South Bass Island, call a Put-in-Bay taxi, Rent a Golf Cart and check in at one of the island's condo rentals for a weekend.  Put-in-Bay Island offers a vacation that every person in your group can enjoy together even if you have to stay in one of the Put-in-Bay hotels downtown! A small handful of visitors even fly their own planes in to the Put-in-Bay airport. Others also motor their boat across to one of the downtown docks. Check Directions on how to get here.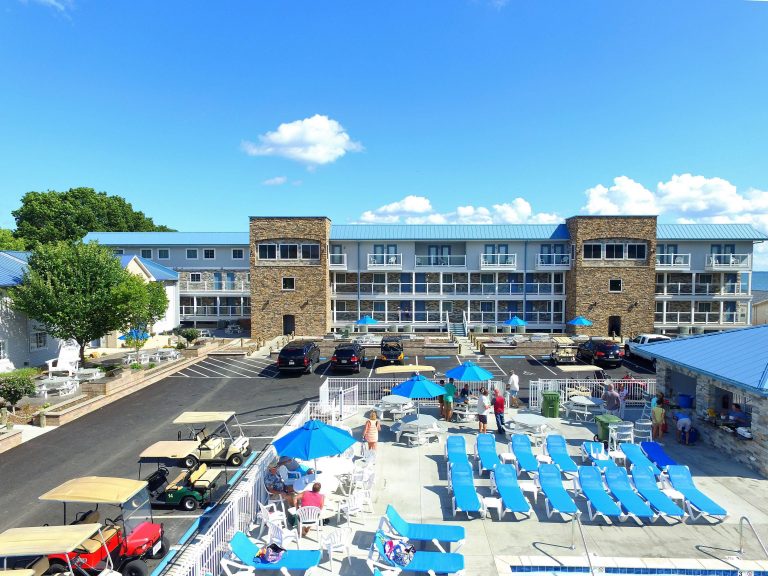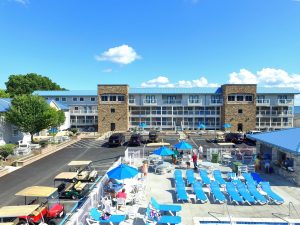 Frequently Asked Questions For Put-in-Bay Rentals
What is the best condo rental option at Put-in-Bay?
The Put-in-Bay Condos offer the best condo rentals on the island and the only vacation rental units that are right on the water. Their homes feature fully equipped kitchens, multiple bedrooms, spacious living rooms, full baths, free wi-fi, flat-screen tvs, and more! The upper level units offer even more majestic views.
How can I get the cheapest price for my Put-in-Bay rental?
When researching for your Put-in-Bay trip it is always best to book directly with the specific rental company.  Booking with online travel agencies (OTAs) like VRBO or Booking.com or Airbnb means that you will have to deal with hidden fees. Those fees are simply for the privilege of using thier websites, and we don't think that is fair!!!  It is always cheaper to book directly with the lodging partner of your choice.
How to get to your Put-in-Bay rental from the ferry?
Once your ferry lands on Put-in-Bay, an Island Taxi will take you right to the doorstep of your Put-in-Bay Condo. The taxis will take you to and from anywhere on the island for just $3 per person, day or night.  The phone number to call an Island Taxi is 419-285-5466 and we recommend calling just before your ferry is about to dock so that you have a private transport waiting.
What Put-in-Bay Rentals offer a one-night minimum policy?
The Put-in-Bay Condos and Island Club Rentals are the only island rentals to offer one-night weekend stays to their guests. Keep in mind that their one-night policy is usually from April 1st through June 15th and September through October. The busy summer season of July and August almost always requires a 2-night minimum. Most guests opt for 2 nights as it allows more time to enjoy the island.
Are Put-in-Bay condo rentals family-friendly?
Put-in-Bay rentals, along with the rest of the island, are very family-friendly during the weekdays. In fact, visitors from Sunday to Thursday are almost entirely families and business or school outings.  However, a word of caution, weekends on the island can get a little bit rowdier with a younger crowd. Please plan appropriately for your particular vacation getaway.
What's the difference between Poolview and Waterfront Condos?
The Put-in-Bay Condos lodging complex originally started life a dozen years ago with the first, Poolview, condo building. This original building houses 8 comfortable condos that sleep up to 8 people each in 2 bedrooms with a view of the pool area. In August of 2016, the brand new Waterfront building was completed with 26 lakeview condos. Each one has a big private deck facing the water, 4 bedrooms, 2 or 3 full baths, and an external elevator for those who need it. The old pool was also removed and replaced with a larger brand new pool and big pool deck to lounge on.
Fun Fact:
Did you know that over 750,000 tourists visit Put-in-Bay each year? Even amidst a year of Covid, the volume of guests has still been incredible!