Put-in-Bay, the Gem of the Lake Erie Islands!
Put-in-Bay may be most famous for its nightlife, but there are also a great many different ways to enjoy Water Activities on beautiful Lake Erie. Fishermen flock to the island all spring and summer, but particularly in April and May for Walleye season.
Home to the Best Water Activities Anywhere in Ohio!
The summer is filled with vacationers jet-skiing, kayaking, and parasailing the day away! It's a crucial component of any awesome summer vacation, and fortunately, Put-in-Bay provides you so many different ways to enjoy the lake, so you don't have to worry about missing out! Read on for some of the most prominent island businesses that will help you get the most out of Put-in-Bay's surrounding waters.
There's no shortage of things to do on land at Put-in-Bay, but let's be honest. If you plan a vacation to an island, you certainly want to enjoy some of what its surrounding waters have to offer. At Put-in-Bay, we know this, and we've got every water activity imaginable available for you to enjoy. Whip around on a jet ski, paddle through the harbor on a kayak, or sail high above the water on a parasail! You can do all these things and more, just read on to find out how!
Lake Erie: The Life Force of Put-in-Bay
There's plenty of things to do at Put-in-Bay for all you landlubbers. But if the weather is cooperative, an entirely new place to have fun opens up, our beautiful Lake Erie. There are so many different ways to enjoy the lake, it's Put-in-Bay's greatest resource! Paddleboarding and kayaking in the waters around Perry's Victory and International Peace Memorial national park are very popular activities, and you can even find some of Lake Erie's water in Perry's Cave, in the form of an incredibly rare underground lake. The Miller Ferry and Jet Express, which depart from Port Clinton, Ohio, are the main highway of transportation to and from the islands, as there is no bridge (or tunnel!) to Put-in-Bay. We're all about water at the Bay, in fact, the only way we don't want you going in the lake is with a Put-in-Bay golf cart rental! All of the tourism in the Lake Erie Islands is thanks to this precious resource!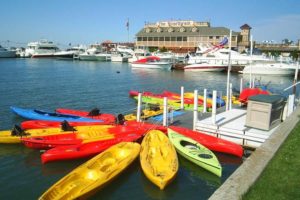 Kayaking Put-in-Bay's Water Trails
For a nice relaxing way to add Lake Erie to your vacation, you can rent a kayak. You can row your way around the island with ease, checking out Put-in-Bay's famous landmarks from the water. You will be kayaking in the same waters where the famous Battle of Lake Erie took place in the War of 1812, making these waters significant landmarks not just regionally, but in the whole of the United States. The South Bass Island lighthouse, on the southern tip of the island, is another great site to view from the water. There are even water trails, routes around the island that are designed to maximize the beauty that you experience. Many of these launch from the amazing South Bass Island state park. This is a great calm activity for one or more.
The Best Jet Skiing Water Activities in Ohio
But maybe a kayak is a little slow for your tastes. Don't worry, Put-in-Bay watercraft rentals have still got you covered. There are multiple places to rent jet skis at South Bass Island so you can whip around Lake Erie with your friends. This is one of the most popular Put-in-Bay attractions. You will see hundreds of like-minded people out there using the jet skis they rented, or maybe bought and hauled over from the mainland. Spray your buddies with water and do some fishtails! Just make sure you're sober!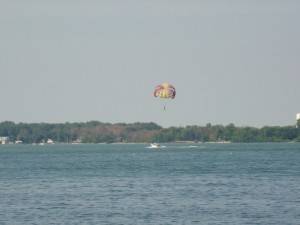 See Put-in-Bay Water Activities in a Whole New Way
You can even use the lake as a way to soar through the skies! Put-in-Bay parasailing will take you hundreds of feet above Lake Erie attached to a speedboat. You can enjoy a whole new perspective of downtown Put-in-Bay from high above the island. You'll have a fantastic view of Saunders golf course, the Boardwalk, and Gibraltar Island. Now that's sightseeing! This is the best view of the island that you can get without an airplane! These adventures embark, unsurprisingly, from the Put-in-Bay airport.
Fish the World's Walleye Capital!
But the water activity is most frequently undertaken on Lake Erie is fishing. The waters around Lake Erie are famous for yielding trout and bass, but most famously walleye. The waters around Put-in-Bay and Catawba are considered the Walleye Capital of the World! They have a higher volume of walleye than any other water in the world. So you've got good odds of landing the big one! And if you strike out, Put-in-Bay restaurants have no shortage of them, fresh out of the lake!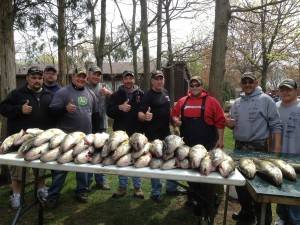 What Are You Waiting For?
Put-in-Bay is the kind of place that can be enjoyed by everyone in any weather. But if it's warm or sunny out, a whole new world of opportunities opens up for your Put-in-Bay island getaway. Just make sure that you budget enough time to check out the inland attractions too, like the Chocolate Museum, Antique Car Museum, Put-in-Bay Winery, and Perry's Cave Family Fun Center to name a few. Perry's Cave in particular is home to amazing activities like a rock wall, mini-golf, the Butterfly House, and gemstone mining (my personal childhood favorite!) You can grab an ice cream cone and take a stroll in DeRivera Park. So book Put-in-Bay hotels or reserve a Put-in-Bay vacation rental for your preferred dates, then cross your fingers and hope for some nice weather so that you can enjoy Lake Erie and experience a Put-in-Bay vacation to the fullest. Rain rain go away!