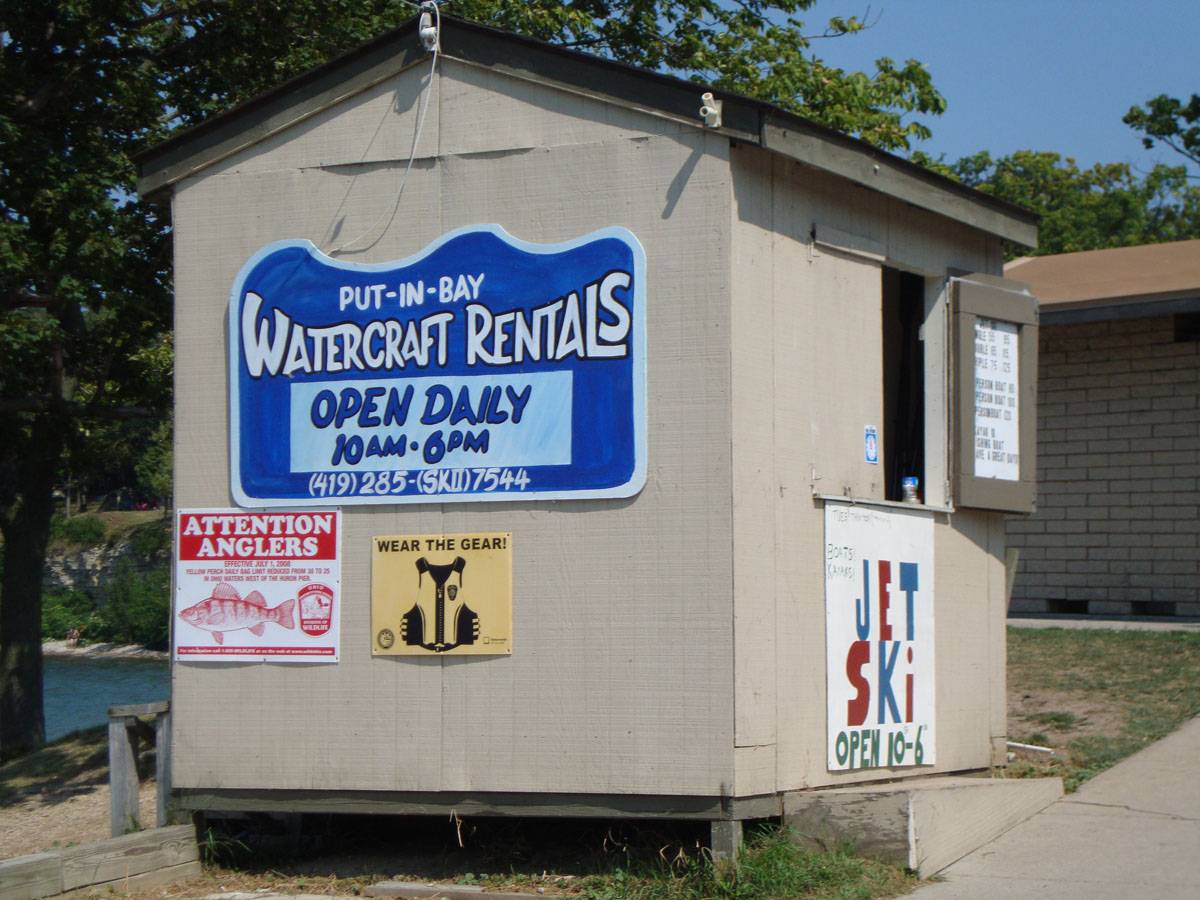 Put-in-Bay Watercraft Rental is an awesome way to get active on Lake Erie.  Here, guests have options on watercraft to rent.  There are jet skis, boats and kayaks available.  Put yourself on the water for a memorable experience.
Put-in-Bay Watercraft Location
This great Put-in-Bay Attraction is located next to South Bass Island State Park.  This state park has several great features and amenities.  This includes a children's plaground, picnic tables, pavilions and a bathing beach.  Catawba Avenue dead ends on the South Side of the island at this location.  Also, Joe's Bar is just a short distance away by Put-in-Bay Golf Cart.
About PIB Watercraft
Since 1992, they have been adding thrills to visitors of Put-in-Bay.  The dates of operation are from Memorial Day to Labor Day.  Furthermore, the hours of operation are 10 AM – 6 PM daily, weather permitting. Choices include jet skis, power boats and kayaks.  Additionally, they offer guided tours to get the most out of the experience.  All participants must undergo safety training.  So, they can act appropriately in the unlikely event of an emergency.
Also, PIB Watercraft has ample safety equipment for anyone who rents watercraft.  Lastly, there is a zero tolerance policy of those wishing to rent impaired.  Anyone who is suspected of being under the influence of drugs or alcohol will not be permitted.  So, safety never takes a day off at PIB Watercraft Rentals.  Lastly, the owner is beloved island entertainer is Bob Gatewood.  So, be sure to look up his schedule and catch one of his shoes.  He is known as the human jukebox!
Plan an Adventure on the Lake
When planning a trip to Put-in-Bay, be sure to check out all of the great attractions.  This one especially promises an exhilarating experience.  So, be sure to consider renting out a watercraft during a visit.  There's nothing quite like being the captain.  Set sail! Visit https://pibjetski.com/ for more information!
Testimonials
Shane J: "This place was fabulous! We originally wanted to get our 15-year-olds on some jet skis with us, but the owner of the establishment very tactfully helped us understand the safety risks of what we were trying to do. After seeing our disappointment, he offered us a free 30-minute session of kayaking FREE for BOTH of our boys. We graciously accepted the offer, and we rented a jet ski for the same 30-minute session. It worked out GREAT! The boys absolutely loved it, and I was still able to enjoy the jet ski I had been hoping to ride. It wasn't what we originally planned, but it actually worked out better for all of us. We will be returning here again the next time we visit Put-in-Bay. This was our second time using their services, and both times have been wonderful! I'd highly recommend them."
Siva G: "Bob & staff are really friendly people. We were a group of 5 and hired 3 Wave runners. We had a really good time, the staff was very friendly and they guided safety instructions very patiently. Bob's store is even cheaper compared to other rental services in the island. I would definitely recommend this rental."
Ruth R: "We were a group of 5 and had a great experience with Put-in-Bay Watercraft Rentals. Bob was great with us. He was very accommodating and made sure we were happy with our skis. He made us laugh the entire time during our interaction with him. I highly recommend this place which is affordable and enjoyable. I will definitely go to this place when I visit Put-in-Bay again."