Are you planning to visit Put-in-Bay on your boat and need directions? Thousands of boaters visit every summer season via powerboat and sailboat. Many even participate in the Regattas that are sponsored by ILYA and the Yacht Club. If you are bringing your boat to Lake Erie by trailer, the Ohio Department of Natural Resources (ODNR) has a partial listing of public launch facilities in Ottawa County (and a lot of other good information and directions for boaters including Canadian in-boating). To ensure a safe trip to the Lake Erie Islands, there is no substitute for a good navigation chart. The waters around the islands can be tricky and depths vary with weather conditions. We strongly recommend that you purchase a chart of the island area at a local marine supply store, or you can order one online from NOAA. Please visit our Boating Page for more Put-in-Bay boating and dockage info. Make sure you contact your desired dockmaster ahead of time to find out about pricing and utilities.
Ferry To Put In Bay From Sandusky & Port Clinton
The Ferry boats leave from two different cities along the Ohio Coastline: Port Clinton and Sandusky. The Jet Express is the preferred ferry service and is a high-speed passenger-only ferry that departs from both Port Clinton and Sandusky. Jet Express routes and mainland departure points are shown on the map with directions.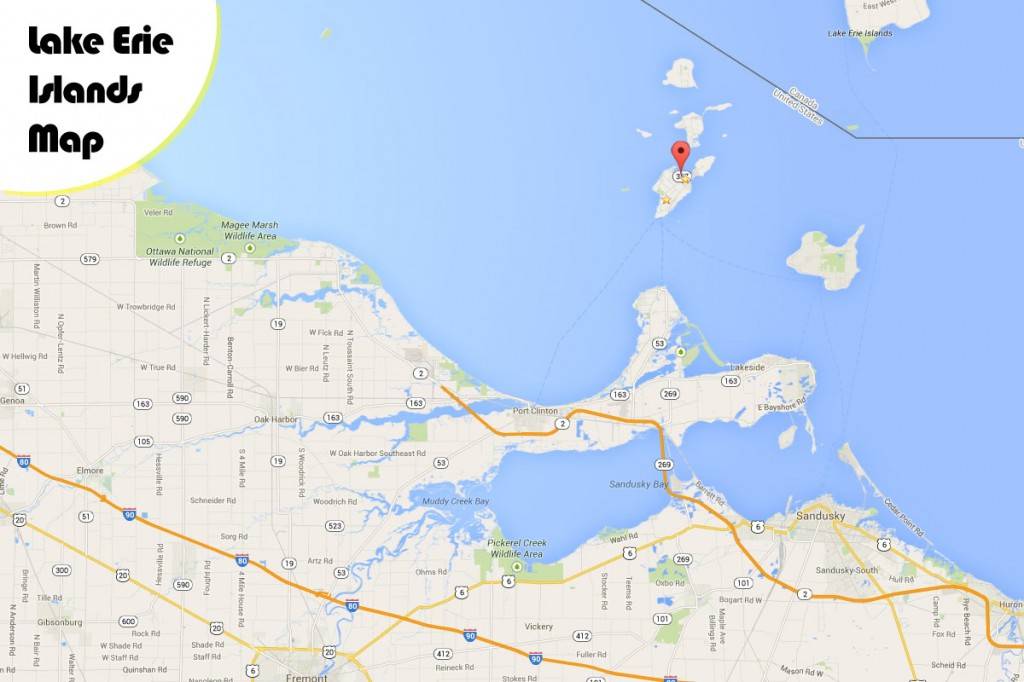 After you determine what Ferry you will be taking simply click below on the proper ferry and city link, type in your directions and hit the get directions button. This will get you very accurate direction to South Bass Island, otherwise known as Put-in-bay:
Driving to Put-in-Bay allows your whole group to build their excitement for this vacation getaway. Whether it is a day trip or a weekend excursion, enjoy the drive up and the ferry ride across Lake Erie. They are both part of the fun!
Getting to Put-in-Bay by Car Directions
Alternately, we have listed the following routes from major Midwest cities to our island of put-in-Bay using simpler, human language, terms. If you can not find directions to suite your taste, please Contact Us and we will be glad to help you with directions on how to get here!
Flying in to the Put-in-Bay Airport
Airport Information
Put-in-Bay Ohio South Bass Island Airport (3W2)
Put-in-Bay airport was renovated with a new runway in 1996 replacing a rather challenging dog-leg narrow landing strip. Our new modern asphalt paved runway is 2870 feet long and 75 feet wide.
The Put-in-Bay Airport is serviced by several small commercial carriers located at the Sandusky Airport (KSKY) and the Port Clinton airport (KPCW) as well a Dairy Air, a local Put-in-Bay based operator.
The Put-in-Bay airport is the main mode of transportation in the winter months when the island ferry services are no longer able to run due to lake conditions. Commercial carriers utilize plane that carry between 1 and 15 passengers. Based out of Sandusky, Griffing Island airlines (http://www.flygriffing.com/) provides scheduled service year round to South Bass, Middle Bass, Peele, and Kelly's Island.
Air transportation was first initiated to South bass Island by Milton ?Red" Hersberger who landed a WACO bi plane on ice in the downtown harbor. The following year, Hersberger started Island Airways and began offering regular service to Put in Bay when awarded a contract do deliver the US Mail to South Bass Island. Air travel to and from the mainland made life easier for island residents.
Hersberger expanded his operations by purchasing 7 Ford Tri-Motor airplanes well regarded for their docile handling characteristics and durability. Islanders were actively involved in clearing the land where the current Put in Bay airport is located. Hersberger was also instrumental in establishing airports on North Bass, Middle Bass, and Kelly's Islands as well as Port Clinton Ohio.
Airport (Put-in-Bay) Information
FAA Identifier: 3W2
Airport Use: Public
Elevation: 590 feet
Location from City: 1.5 miles SW of Put in Bay Ohio
Lights: No lights, No Night time takeoff or Landing
Open: Year Round, times vary with sunrise and sunset
Ramp & parking Fee: Yes, Varies by Aircraft
ARTCC: CLEVELAND
FSS: CLEVELAND (1-800-WX-BRIEF)
LAT/LONG: 41º 38′ 12″ N, 82º 50′ 21″ W
Runway: 2870 X 75 Feet
Runway Condition: ASPH/GOOD
Unicom: 122.8
FBO: Put-in-Bay Township Authority
Additional Comments: No Camping on Airport Property, Touch and go's prohibited, Remain 1000 feet clear of Perry Monument Memorial Column (352 feet tall)
Aviation Resources: NOAA National Weather Service
Aircraft Owners & Pilots Association… AOPA (http://www.aopa.org)