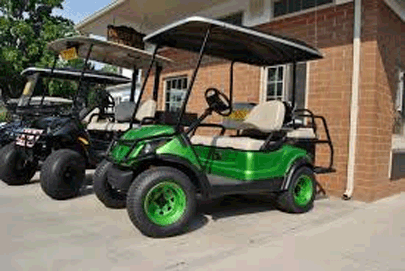 Put-in-Bay Golf Cart Depot Gas Carts
BOOK ONLINE to reserve a Golf Cart Depot cart before your trip or call 419-800-2278 with any questions!
Put-in-Bay Golf Cart Depot with 4 and 6 person golf carts are your best choice for overnight and weekend or all week long rentals. Moreover, we have a newer fleet of Yamaha fuel injected carts that will enhance your visit to our island paradise. At over 35 MPG, running out of gas is never an issue for your multiple day or weekly golf cart rental. See ALL the sights on the island and do all the Things To Do during your visit with a golf cart to get you around. These carts leave all the others eating dust!
This year, they have brand new 2020 Yamaha "Quietech" carts that are fully equipped with goodies. None of those old clunks EZ-go or Club Car carts. These golf carts are so quiet that you'll think they're electric. Past renters all agree that these are the finest golf cars on the island bar none. Each features Noise Reduction Technology to make them "Quietech" and also fat large 21-inch tires for a fast, smooth ride. Extra goodies include independent front and rear suspension, automotive LED headlights, and dual USB ports to keep phones charged. Yamaha carts have the largest seats and legroom in the industry.
Golf Cart Depot also offers: 2 person electric carts, the "best seller" 4 person carts, and also larger 6 person carts for groups and families. Looking for something more laid back and completely environmentally friendly? Check out the FAT TIRE BAJA CRUISER bicycles that are hands down an island favorite. Make your Reservation online before you arrive for best results!


Your Way to See Put-in-Bay!
If you really want to step up your game, try one of the Custom Yamaha Adventurer Sports. These carts offer a 3-inch lift kit, sporty tires and wheels with a fold down back seat for hauling groceries or gear if needed. These are Put-in-Bay's finest Yamaha golf cart rentals, offering a great value in your overall vacation experience. One of the only overnight rentals on the island and much cheaper on a midweek weekday.
They are also offering an Electric Assist Bike Rental for a new way to see the island. Get your exercise but have some help along the way. However, these will be on a limited supply basis, so please call for info about both the Bicycles and the Golf Cart Rentals. Whether you are coming from Cleveland or Chicago, you will appreciate the ease of getting around on a passenger golf cart
Put-in-Bay Golf Cart Depot (Golf Cart Rental Agency) is on Catawba Avenue (not Langram Rd or Delaware Ave), just a short walk from the downtown Put-in-Bay's Jet Express ferry dock, next to the Reel Bar.   When you visit Put-in-Bay, be sure to plan your golf cart reservation ahead. Also be sure to bring an Island Guide with you so you know where to go. Find the best put-in-bay lodging, put-in-bay attractions, bay restaurants, put-in-bay ferry, and put-in-bay hotels.  Call 419-800-2278 for more information.

Rental Rates
Electric Golf Carts

Starting at $15 per hour
$60 per Day 9 AM – 6 PM
Call us for Per Hour Rentals
*overnight carts are due back at 11am

2 Person Sporty

$70 Daily
$90 Over Night
$150 2 Nights
$220 3 Nights
Call us for Per Hour Rentals
*overnight carts are due back at 11am

4 Person

Starting at $15 per hour
$75 per Day 9 AM – 6 PM
$95 For overnight*
$180 for 2 nights* Best Deal
$250 for 3 nights*
Call us for Per Hour Rentals
*overnight carts are due back at 11am

Custom Golf Carts

Starting at $17 per hour
$90 per Day 9 AM – 6 PM
$110 For overnight*
$200 for 2 nights* Best Deal
$280 for 3 nights*
Call us for Per Hour Rentals
*overnight carts are due back at 11am

6 Person Golf Cart

Starting at $20 per hour
$95 per Day 9 AM – 6 PM
$120 For overnight*
$210 for 2 nights* Best Deal
$290 for 3 nights*
Call us for Per Hour Rentals
*overnight carts are due back at 11am

Golf Cart Depot Regulations
You must be a licensed driver, with a valid drivers license, and 18 years of age or older to rent a golf cart or moped.
Put-in-Bay Golf Cart rentals and mopeds are licensed motor vehicles and all applicable traffic laws apply.
When making an online reservation, your card is usually charged the day of your arrival unless you cancel the day prior. A cancellation number will be issued if you cancel.
Your cart or moped is due back by 11 AM the following day. The overnight and morning are included in the day rental rate on any cart. We provide locks for you to secure your cart during your overnight golf cart rental.
Speaking of Ohio Drinking Laws…
You can get the poop straight from the source by going to the Ohio Dept of Commerce, Division of Liquor Control's website and viewing their publications, including "SUMMARY OF OHIO'S 21 DRINKING AGE LAW". Here is a summary of the summary:
A person must be 21 years old to drink beer, wine, mixed beverages or spirituous liquor.
It is illegal for a person under 21 years of age to possess any beer, wine, mixed beverages or spirituous liquor.
It is illegal for ANY PERSON to possess an opened container of beer, wine, mixed beverages or spirituous liquor in any public place.
(A)(1) No person shall operate any vehicle, streetcar, or trackless trolley within this state, if, at the time of the operation, any of the following apply: (a) The person is under the influence of alcohol, a drug of abuse, or a combination of them. (ORC 4511.19 – Operating vehicle under the influence of alcohol or drugs – OVI or DUI.)
It is illegal for any person other than the state to manufacture, sell or distribute in any manner a card or identification card issued for the purpose of establishing a person's age that displays the great seal of Ohio… that represents the card as the official driver's license or identification card of Ohio (a 5th degree felony punishable by 6 months to 5 years in prison and/or a fine of up to $2,500). (ie… no fake IDs please)

Put-in-Bay Miscellaneous Facts:
The population of Put-in-Bay is approximately 128 (2000).
The amount of land area in Put-in-Bay is 1.07 sq. kilometers.
The amount of surface water is 0.463 sq kilometers.
The distance from Put-in-Bay to Washington DC is 370 miles. The distance to the Ohio state capital is 115 miles. (as the crow flies)
Put-in-Bay island is positioned 41.65 degrees north of the equator and 82.81 degrees west of the prime meridian in Lake Erie.
Put-in-Bay is actually a village, not the name of the island, which is South Bass Island.
All businesses in the Village of Put-in-Bay are located at: Put-in-Bay, Ohio 43456 -or- Put-in-Bay, OH 43456
The best Put-in-Bay Condos and home rentals can be found near the Miller Ferry. Book Now for the best deals!
Golf Cart Depot Safety
You can rest assured that each cart is inspected before the season by the Put-in-Bay Police. EVERY cart on the island needs to be inspected and registered. It's the law. Further, each cart features important safety equipment which guests are encouraged to use as it is, again, the law. Each cart has turn signals, taillights, and most importantly… seat belts. Both our partners at Island Club Golf Carts and us take safety as a serious matter. We are also doing extra sanitizing and cleaning this year due to Covid.