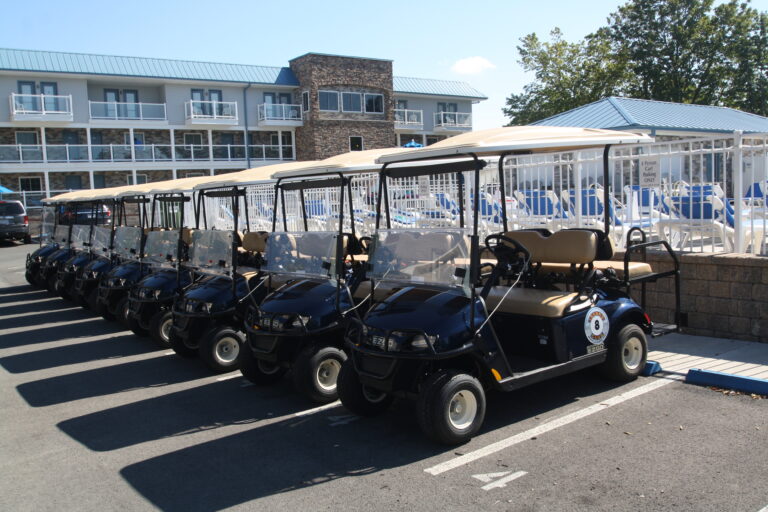 Island Club Golf Carts
PLEASE NOTE: Golf Carts are for rent to Island Club guests only! The Put-in-Bay Golf Cart Depot is our recommendation if you are just coming for the day, or staying elsewhere. You can reach them at 419-800-2278 or visit them online!
Island Club Rentals offer private golf cart rentals specifically to guests staying at the Island Club. Meanwhile, Put-in-Bay Condo guests can enjoy their own private golf cart rentals located right by the Put-in-Bay Condos pool.
With a little over a 1000 golf carts available for rent and over 10,000 people visiting on any given day, reservations are strongly recommended and is available online. Larger Golf Carts in the 6 & 8 passenger golf cart configurations sell out very quickly as they are very limited in quantity.
Overnight rentals are available for those staying at a Put-In-Bay Hotel, Vacation Property or other bay lodging option. Drivers must be at least 18 years of age, have a valid driver's license and sign a rental agreement.  Licensed motor vehicle is the classification for a golf cart.  Therefore, the cart has taillights and turn signals.  In other words, all normal traffic laws apply.
Your Golf Cart Connection!
Island Club Golf Carts are motor vehicles on South Bass Island and driven on public roadways just as cars do. It's the best way to get to all the things to do in Put-in-Bay. They come in 4-, 6-, and 8-passenger configurations rented hourly, daily or overnight. Golf Cart manufacturers include Club Car and EZ-Go. All carts feature tops, windshields, headlights, turn signals and seat belts and are fully licensed and inspected.
All Put-in-Bay golf carts from the Island Club are gas powered models. Furthermore, gas powered carts are faster, run for days on a single tank of gas, and do not get slower as the day goes on (as electric golf carts do). In fact, electric carts were only designed to run for a couple rounds of golf and are usually not as durable as commercially built gas-powered golf carts.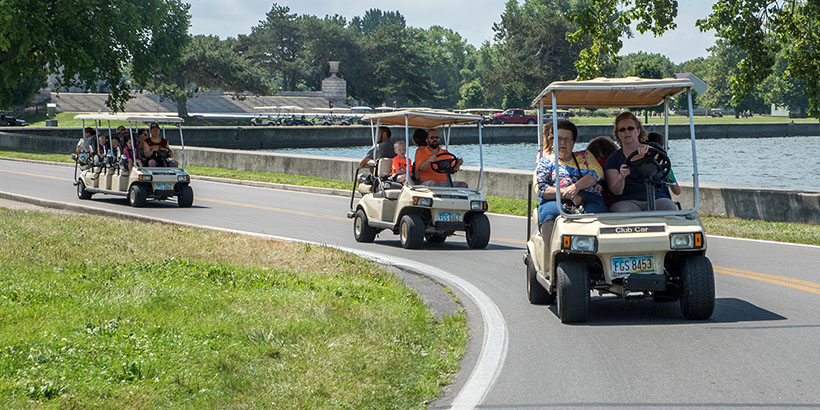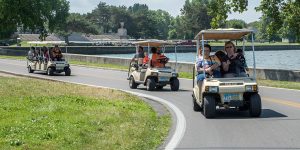 Frequently asked golf cart questions
How many people can fit in the golf cart?
The Island Club golf carts have the capacity to carry up to 8 passengers. We offer 4, 6 and 8 passenger golf carts. However, please keep in mind if you have a group of 5 you must rent at least a 6 person golf carts. The traffic laws on Put-in-Bay state that there must be a maximum of 4 passengers on a 4 seater golf cart. The same goes for the 6 and 8 passenger golf carts.
Where can I pick up my Island Club golf cart?
Once you make your reservation with Island Club Golf Carts, the only thing left to do is arrive at your unit. Your golf cart rental will be conveniently waiting for your arrival. Once you arrive to your rental home, give us a call at 216-898-9951 and we will send one of our staff members to hand over the keys to your golf cart rental.
What is the price of a Island Club Golf Cart Rentals?
Weekday and weekend prices vary throughout the season. Click here to begin the booking process with Island Club Golf Carts. Again, prices may vary between weekend and weekday rental rates. Lastly, stay tuned for offseason lodging and golf cart specials.