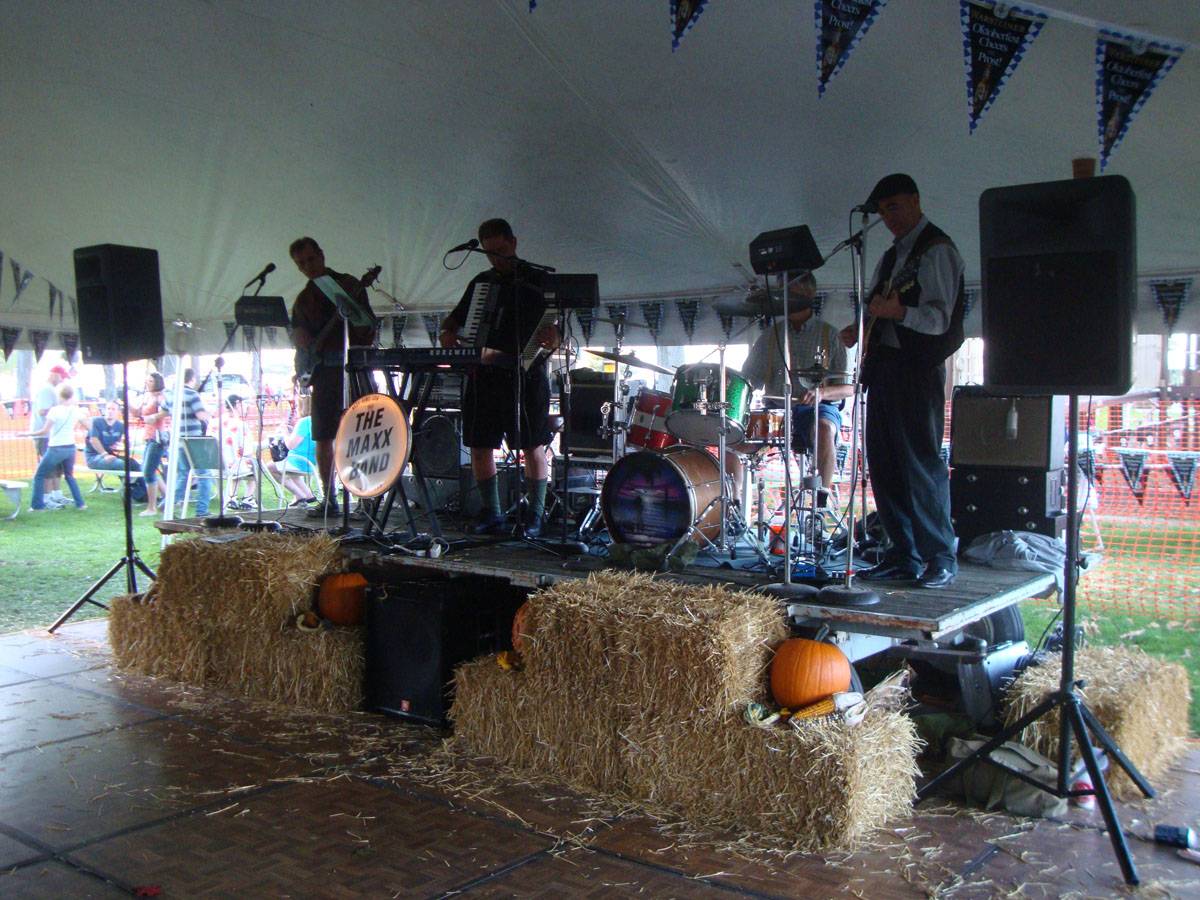 This Put-in-Bay family tradition celebrates Oktoberfest with lots of food, good beer, and live entertainment by the ever-popular Maxx Band. Great family fun is had by all on Saturday from 11:00 AM to 7:00 PM and again on Sunday from 12:00 PM to 5:00 PM. Tables are set up community style so you can make new friends as you eat, drink, and sing along to the Oompah-Loompah polka music.
Come join us and enjoy a wide variety of German foods including spatzel, cabbage rolls, brats, sauerbraten, Wiener schnitzel and all your favorite German sweets! And don't forget the German beer! This event is held under a large tent located on Toledo Avenue across from the BoatHouse Restaurant.
The entry fee is $4.00 for a 1-day pass or $6.00 for a 2-day pass. Children 12 and under are free when accompanied by an adult. For those who have been before, you know it is always a beautiful Fall day at Put-in-Bay under the tent! Make your home or condo reservations online at www.islandclub.com or call 419-285-3101 for hotel rooms at the Commodore.
A Short And Sweet History Of Oktoberfest
No matter where you are in the country, it is likely that you have heard the term Oktoberfest. This massive celebration is more than just a drinking holiday; it's become a truly global event. But besides popular German beers, pub style food, and big warm pretzels, do you know anything else about this wonderful holiday? For those who do want to know, read on and enjoy a small step back in history.
The Basics: Oktoberfest is the world's largest beer festival. It is held every September in Munich, Germany, and attendees come from all over the world to drink beer and have a festive time under the beer tents and in the raucous beer halls.
Oktoberfest Statistics
Every year, 1.5 million gallons of beer, 200,000 pounds of pork sausage, and 480,000 spit roasted chickens are consumed in Munich's 16-day festival alone.
The activities at a truly traditional Oktoberfest, besides drinking, vary from year to year. However, the most traditional activities include tree-climbing, mush-eating contests, wheelbarrow races, and goose chases.
The tradition of Oktoberfest started in 1810 to celebrate the marriage of Bavarian Crown Prince Ludwig to the Saxon Princess Therese on October 12. The Munich townspeople were invited to join in the celebration, which was held in party halls in front of the palace's gates. The party went on for five days, and the main event was a horse race.
Every year after 1810, there was an anniversary celebration in Munich. A few years later, carnival games were introduced, followed quickly by beer halls that were sponsored by local craft breweries.
Why is Oktoberfest in September?
The answer is simple: the weather! Over the years, the celebration was extended for about two weeks and since Munich's climate is feisty, festival goers wanted to push up the date so they could guarantee good weather. For the past 207 years, Oktoberfest has only been canceled 24 times. The main causes were due to a local cholera outbreak and world wars.
All types of beer can be found at Oktoberfest, but of all the popular craft beers, the darker beer Marzen is hands down the most popular. Even though many beer drinkers like to choose their brew depending on the season, this is the most popular as the traditional Oktoberfest brew. It is only served in gallon jugs, and bartenders and barmaids must be able to carry 10 steins at a time.
So while the Irishness of St. Patrick's Day and Mexicanness of Cinco de Mayo may be faded, there is still plenty of time to get in touch with your German side and enjoy a few beers at Oktoberfest. As they say in German… Prost!