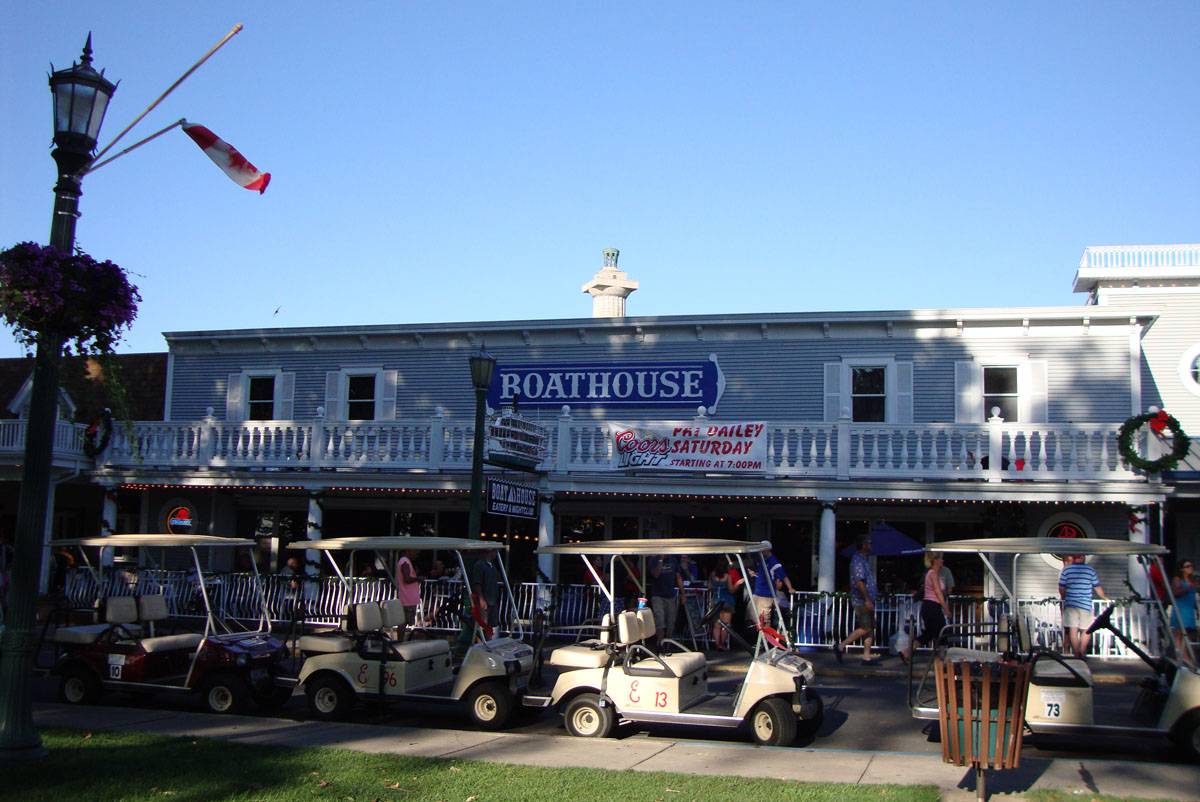 The Boathouse Bar and Grill on Put-in-Bay is ready to serve you.  They have been offering delectable meals and cold drinks for over 50 years.  Additionally, the Boathouse is the proud home of outstanding island entertainment.  Great eats and great bands is their motto and they certainly live up to it.
The location is nothing short of prime.  Located in downtown Put-in-Bay on Hartford Avenue, the Boathouse is near all of the action.  Also, the Jet Express dock and downtown marina is just a short walk away.  So, this is a favorite among boaters due to the proximity to the water.  DeRivera Park is just across the street, as is Kimberly's Carousel.  So, finding this island favorite is a breeze.  Bring your Put-In-Bay Golf Cart Rental and park it along Delaware Ave, in the heart of it all.
Boathouse Tasty Selections
Menu options are aplenty.  First, start a meal off right with a delicious appetizer.  Choices include Smoked Fish Spread, Jamaican Jerk Shrimp and Maryland Crab Cakes.  Also, more standard options are available.  Chicken tenders and mozzarella cheese sticks complete the appetizer selections.  The lunch menu is also very enticing.  Sandwiches piled high are sure to delight.  Also, the burger choices are exceptional.  Guests can also opt to have a taste of the local fare with a Walleye or Perch sandwich.  Dinner entrees include New York Strip Steak, Cajun Jambalaya and Chicken & Waffles.  So, there are tasty options for even the pickiest of eaters.
Diners can choose to eat inside the nautical themed bar or outside on the lovely patio.  High quality people watching can be observed from the outdoor seating area. Tourists flocking to Put-in-Bay can be seen from this island favorite patio.
Lastly, the excellent entertainment lineup at the Boathouse is worth checking out.  Acts include John Salamon, That 80's Band and the Velcro Pygmies.  Be sure to save the entertainment calendar to see your favorite act.
Testimonials
Larry W: "The steak was amazing. But there bread is the best bread I've ever had in my life. I'm not a huge fan of bread or anything but it's delicious. It's kind of pricey but it's definitely worth it here. Great food and our server Ethan was amazing."
Mark D: " 'When in Rome – – -' for us a long standing tradition is when we're at the Bay it's a perch or walleye sandwich at the Boat House for lunch! Hasn't changed, still delicious, good service, (although we are weekday at the Bay people) and of course the view from the outdoor patio!"
Chris H: "I was there twice this summer, Pirate Weekend and last weekend. We had the Mississippi BBQ Shrimp both times. It is awesome. I had A Shrimp Po'Boy sandwich the first time. Also awesome. This last time I had a Blackened Walleye Sandwich. Guess what- awesome. The Mrs. had a burger the first time, and a perch basket the second time. She raved about both. The Rum Runner was great, her Bloody Mary was top notch. Andy was our server. He was friendly and efficient. Great place to people watch. We'll go back for sure."
Jeremy G: "I have been coming to this island paradise getaway for many years and the Boathouse is the primary stop for us! Kathleen behind the bar as well as the staff are always top notch, and right on time to get y'all what ya need . The music line up is always fantastic so sit and have a good time day or night, whichever tickles your fancy! Come to see Acoustic Mayhem play I g the side stage for afternoon mayhem and good music . Mike behind the bar is spot on and makes the best drinks and keeps the bar spotless no matter how many people party spill. The food is wonderfully flavorful and awesomely prepared! Jami is a gem that is also so upbeat and happy and I always expect a smile from her. Definitely make this one of your stops on your island Paradise adventures!"