Call (419) 779-5147 

Welcome to Put-in-Bay, an island in the middle of Lake Erie where golf carts are allowed on roads and is only accessible to the public by ferry. Located just a short drive away from Cleveland, the island sees hundreds of thousands of visitors each year.  The best way to get around the island and see all it has to offer is a Put-in-Bay Golf Cart Rental. As soon as you hop off the Miller Ferry you will see just how different the island is than the mainland.
Our Put-in-Bay golf carts are available during the warmer summer months of the year. We have high-quality brand-new Yamaha Golf Carts that rent out hourly, daily, and overnight. With more than 9 miles of paved mostly flat roadways, riding a golf cart is a fun, easy way to explore things to do in Put-in-Bay and the rest of South Bass Island.
This way you can hit up all the Put-in-Bay restaurants, bars, and shops! Call and book your cart before you get on a Put-in-Bay ferry! 2, 4, 6 and 8 person carts are available at various golf rental locations on the island.
Our 2 person electric carts are a fun and quick way for couples to cruise the island for the day. Therefore, if you're bringing the kids, our 4 seat electric will be a big hit also. Our carts are super safe with retractable seat belts to keep your precious cargo safe and secure. Total relaxation with this smooth and quiet ride. All Put-in-Bay Golf Cart Depot carts power comes locally by Crown Battery, Fremont, Ohio.
Put-in-Bay Golf Cart Depot Gas Carts
Put-in-Bay Golf Cart Depot's 4 and 6 person golf carts are your passport for overnight and weekend or all week long rentals. Moreover, we have a newer fleet of Yamaha fuel injected carts that will enhance your visit to our island paradise. At over 35 MPG, running out of gas is never an issue for your multiple day or weekly golf cart rental. These carts leave all the others eating dust!
Your Way to See Put-in-Bay!
If you really want to step up your game, try one of our Custom Yamaha Adventurer Sports. These carts offer a 3-inch lift kit, sporty tires and wheels with a fold down back seat for hauling groceries or gear if needed. These are Put-in-Bay's finest golf cart rentals, offering a great value in your overall vacation experience.
We are offering an Electric Assist Bike Rental for a new way to see the island. Get your exercise but have some help along the way. However, these will be on a limited supply basis, so please call for info about both the Bicycles and the Golf Cart Rentals.
Put-in-Bay Golf Cart Depot Golf Cart Rental Agency is on Catawba Avenue, just a short walk from the downtown Jet Express ferry, next to the Reel Bar.   When you visit Put-in-Bay, be sure to plan your golf cart reservation ahead.  Call 419-779-5147 for more information.
Island Club Rentals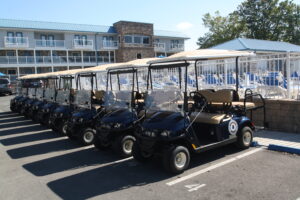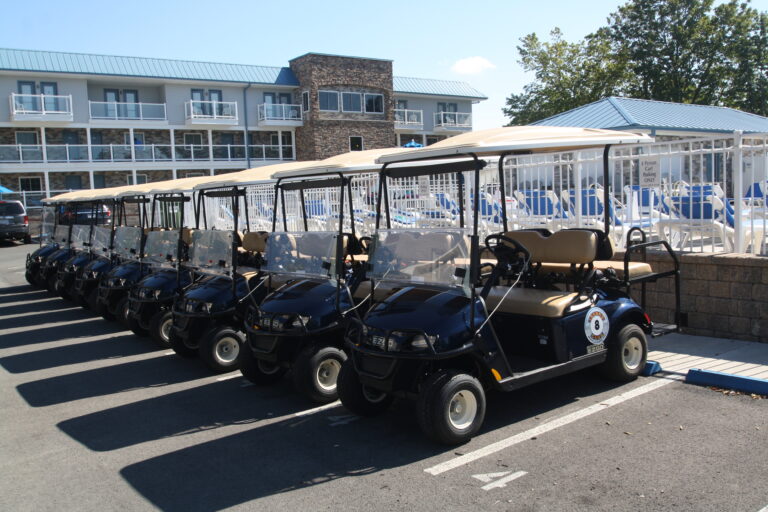 Island Club Rentals offer private golf cart rentals specifically to guests staying at the Island Club and Put-in-Bay Condos.
With a little over a 1000 golf carts available for rent and over 10,000 people visiting on any given day, reservations are strongly recommended and is available online. Larger Golf Carts in the 6 & 8 passenger golf cart configurations sell out very quickly as they are very limited in quantity.
Overnight rentals are available for those staying at a Put-In-Bay Hotel, Vacation Property or other bay lodging option.  Drivers must be at least 18 years of age, have a valid driver's license and sign a rental agreement.  Licensed motor vehicle is the classification for a golf cart.  Therefore, the cart has taillights and turn signals.  In other words, all normal traffic laws apply.
Your Golf Cart Connection!
Golf Cart Depot and Island Club Golf Carts are motor vehicles on South Bass Island and driven on public roadways just as cars do. It's the best way to get to all the things to do in Put-in-Bay. They come in 4-, 6-, and 8-passenger configurations rented hourly, daily or overnight. Golf Cart manufacturers include Club Car and EZ-Go. All carts feature tops, windshields, headlights, turn signals and seat belts and are fully licensed and inspected.
Golf Cart Depot rents by the hour, day or week and is one of the only overnight rentals on the island. All Put-in-Bay golf carts from The Golf Cart Depot are gas powered models. Furthermore, gas powered carts are faster, run for days on a single tank of gas, and do not get slower as the day goes on (as electric golf carts do). In fact, electric carts were only designed to run for a couple rounds of golf and are usually not as durable as commercially built gas-powered golf carts.
Book Your Golf Cart Today!
The Golf Cart Depot is on the corner of Catawba and Delaware Ave in the heart of downtown Put-In-Bay island.  Moreover, it is just a short walk from the Put-in-Bay Ferry Dock. Golf Cart Coupons are available.  Also, many of the best Put-In-Bay Attractions are nearby.  So, the fun is within close reach.
Keep in mind that rates may change with weekend and weekday rentals.
Reservations are Ideal and you may BOOK NOW online by visiting islandclub.com. Call 216-898-9951 for more details and information.
Frequently Asked Golf Cart Rental Questions
Are hourly golf cart rentals available on the island?
Hourly golf cart rentals are available during the Put-in-Bay tourist season. 4 person carts rent for $12.00 an hour. 6 person carts are $18.00 an hour. Meanwhile, 8 person carts are $22.00 per hour.
How old do you have to be to rent a golf cart at Put-in-Bay?
To rent a golf cart on Put-in-Bay you must be 18 years of age.  All renters must have a valid driver's license with them at all times.
How much is an overnight golf cart rental at Put-in-Bay?
Overnight rentals on Put-in-Bay differ between each golf cart company.  The golf cart depot offers 4 person overnight rentals for $90.00. For a 6 person golf cart an overnight rental will cost $115.00.
Are the Golf Carts on Put-in-Bay electric or gas powered?
There are a few places where electric golf carts are available however the majority of the island's golf carts are gas powered. Gas golf carts run a little faster and won't run out of gas whereas electric golf carts lose their charge much quicker.
Can I bring my own golf cart to Put-in-Bay?
Bringing your own golf cart to Put-in-Bay is allowed if your golf cart is legally licensed and registered.  Any vehicle brought to Put-in-Bay without proper registration will result in hefty fines and possible jail time.
Did You Know?
Gas powered golf carts on Put-in-Bay get more than 35 miles per gallon!