Put-in-Bay is blessed with abundant natural beauty, and there are so many great green spaces for visitors to enjoy. But maybe you'd like to go a step further. Maybe you'd like to make the night sky your ceiling, and the cool grass your pillow.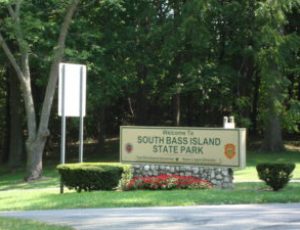 South Bass Island State Park is a 33-acre state-owned park on South Bass Island in Lake Erie. It is a scenic landmark offering visitors incredible views of the Lake and surrounding islands and access to Lake Erie for swimming, fishing, and boating. The large wooded campground and family lakeside picnic area offer a quieter atmosphere…
More Information
Quick Info:
1523 Catawba Avenue, Put-in-Bay, OH, 43456
I'll be honest, that's not for me. I'll have air conditioning any day. But if you want the great outdoors to be your hotel room, read on to find out how you can make your Put-in-Bay camping dreams come true!

Camping Tip #1: Choose Your Campsite Carefully
Do your research to determine which campsite really fits your needs. Pick a beginner-friendly destination for your first time. Choose one that has a bathroom nearby, not remote, and located inside of the park. Choose a site that is a bit less overwhelming.
Ask Yourself These Questions Before Making a Decision: Do you have a family? Do you have a dog? Are bathrooms important to you? What about showers? Or, are you looking to be a bit more remote in the middle of nowhere? Do you prefer woods or an open space? Consider these questions and then pick a site that can accommodate you.
Camping Tip #2: Get a Tent That Fits Your Lifestyle
Tents come in all types of sizes and shapes. But, don't just pick one that looks the most visually appealing! You're going to want to analyze what each offers. Also, be sure not to cheap out on your tent. Durability, functionality, and comfort all play a role when choosing a tent.
Pick a tent for 2 more people then what is actually sleeping within it. That way, you'll feel like you have enough space for you and your things. However, if you are looking to eventually get into more backpacking, you're going to want to look into light, compact options.
Camping Tip #3: What Season Do You Plan On Camping?
Camping for beginners can be most intimidating due to a lack of understanding of what kind of weather warrants specific types of equipment. Depending on where you live, picking which season you choose to partake in your first camping experience is vital to your overall satisfaction.
Do you prefer warm or cold weather? What is your favorite season? We personally love camping in the fall. The colors of the leaves are changing and it's much cooler weather (but, not too cold!). Be careful with camping in summer: We live somewhere with warm temperatures, and being stuck in a tent when it's hot outside is NOT fun, especially when you're a beginner!
Camping Tip #4: Choose Your Sleeping Bag Wisely
Do you get cold easily? Some prefer a much warmer sleeping bag and others prefer a cooler one. Think about what the temperature is going to be when you go, and then choose a sleeping bag that will accommodate the lowest possible temperature at night. You do not want to feel cold or uncomfortable while you're sleeping!
Camping Tip #5: Know How to Pitch a Tent
Pitching a tent isn't any type of rocket science, but it's always best to come prepared. Instead of having no idea how to pitch the tent when you get to the campsite, practice at home! Practice will definitely make camping for beginners a bit less stressful!
Camping Tip #6: Bring the Essential Camping Gear for Camping Beginners
Camping beginners shouldn't forget all the little (and big) things that will make your camping experience as comfortable and rewarding as possible. Headlamps, flashlights, and cooking materials are just a few items you'll need. If you'd like to read more information about what gear you're going to want to have, check out the State of Ohio DNR site!
Camping Tip #7: Before Pitching Your Tent, Remove Debris
If you're camping in a heavily wooded area, chances are there will be twigs, sticks, and rocks around you. Make sure to clear the spot you plan on pitching your tent before pitching it. Otherwise, you risk damaging or slicing your tent open!
Camping Tip #8: Plan Your Food
You're going to want to have your meals planned ahead of time (breakfast, lunch, and dinner). This way, you can guarantee that you'll have enough food to last you the duration of your camping trip.
Camping Tip #9: Start Simple & Don't Get Complicated
Starting simple during your first trip makes camping for beginners a much easier process. Maybe consider just an overnight trip for your first camping experience. That way, you can really identify what you need to make your next camping trip a bit more comfortable.
We'd also recommend staying close to home and not partaking in a backpacking trip for your first time. Staying close to home allows you the flexibility to grab something you may have forgotten.
Camping Tip #10: Enjoy Your First Camping Experience!
Camping has become such a fun experience for us to do as a couple! We love to appreciate the outdoors, especially for overnight trips! Camping for beginners will be just as rewarding and we hope that our camping guide and camping tips for beginners will help you enjoy camping while being as comfortable as possible!