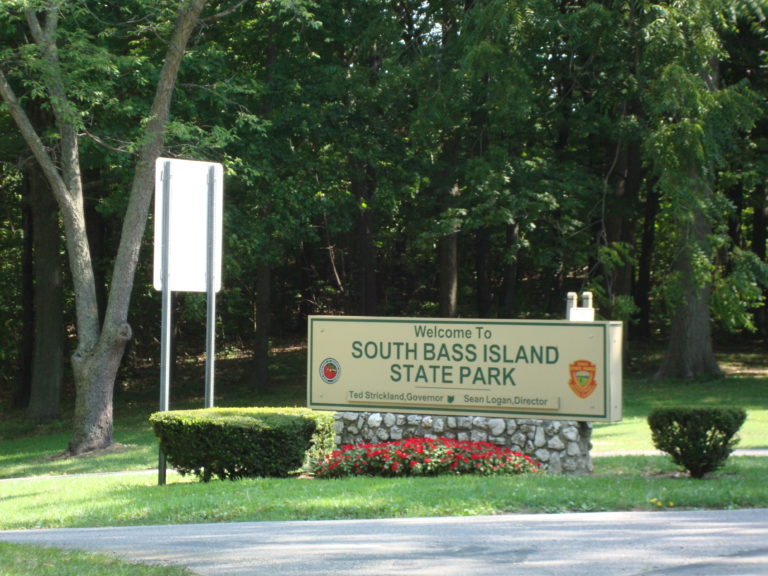 South Bass Island State Park is a 33-acre state-owned park on South Bass Island in Lake Erie. It is a scenic landmark offering visitors incredible views of the Lake and surrounding islands and access to Lake Erie for swimming, fishing, and boating. The large wooded campground and family lakeside picnic area offer a quieter atmosphere than the raucous entertainment of downtown Put-In-Bay.
A boat launch ramp near the picnic area provides boaters access to Lake Erie. If you don't have your own boat, watercraft rentals are available next to the ramp including power boats, fishing boats, kayaks, and jet skis. Enjoy the view of Catawba and Port Clinton in the distance.
The campground itself offers over 100 sites. Electric sites and some full-hookup sites have 50-amp service. Sites are walk-in only in April. For stays May 1 through mid-October. There are also 4 cabents, combining the amenities and features of both a cabin and a tent. These are available for three-night-minimum stays from Memorial Day until mid-September. You can reserve a camping space online or by calling (866) 644-6727.
Put-in-Bay Beaches
SBI State Park is home to one of the most popular beaches in Put-in-Bay Ohio.  Here, swimmers can enter from the small rocky pebble shoreline and swim in the waters of Lake Erie with the other Lake Erie Islands in the background.  The shoreline at this beach is perfect for a relaxing stroll with someone you love. There no better vacation destination for a weekend getaway than Put-in-Bay Island.
Testimonials
Alex W: "Beautiful and secluded park, good quality facilities and quiet grounds. The roads are narrow, but kept in good condition. Driving large campers or trailers through certain parts of the park may prove to be a bit of a challenge. I'd love to come back!"
Baubi H: "Had the best week with my husband and a couple friends. Spent a lot of time wandering around the island just taking it all in. There's so much to do. Lots of shops and restaurants. Great views of the lake. The campsite was in a decent location and I slept like a rock all weekend. Best weekend ever."
Rob H: "This is a clean and beautiful park with a nice playground and plenty of open green space for families to picnic or just lay out and enjoy the sun. Right next to the water with jet ski and kayak rentals. Cabins are available with a small shop for some of the things you may need when staying."
Ravi D: "Awesome place for camping. Words can not explain the beauty of this place. Our tent was right near the cliff with a beautiful view of lake Erie. Full hook up sites, electrical and water hook up sites and RV sites available, but away from the cliff. A quite place with lot of green foliage, clean restrooms/shower area, hot water, fish cleaning area and  great park rangers make this place one of the best. Surprisingly there were no mosquitoes except for harmless fish flies/mayflies. The only way to access this park is via a ferry ride to South Bass Island."
Put-in-Bay Thing to Do
With tons of upcoming events there is always something to do on the island. Perry's Victory and International Peace Memorial is must visit Put-in-Bay attraction for any first timer. Stop by Lake Erie Islands Historical Society after to learn about Oliver Hazard Perry and the Battle of Lake Erie. One of the biggest Put-in-Bay events of the summer are the reenactments. Looking for something for the whole family? Head to Perry's Family Fun Center for some mini golf and the Perry's Cave across the street. The Butterfly House is another great family activity. Put-in-Bay Airport offers helicopter tours from where you can see Middle Bass Island, Kelleys Island, and even Cleveland. A Put-in-Bay vacation is perfect for all ages!
Whether you are arriving on the Miller Ferry or the Jet Express, the fun is just a short golf cart rental ride away. Grab an island guide as you disembark either Put-in-Bay ferry. Need a bite to eat? Head to one of the best Put-in-Bay restaurants Upperdeck found the Boardwalk. Try their delicious walleye while enjoying the view of the Great Lakes. Being a hotspot for bachelor and bachelorette parties, Put-in-Bay has one of the best nightlife experiences in the Midwest. The best Put-in-Bay bars are found around Derivera Park. Done at the bars and need a ride back to your Put-in-Bay hotel or Island Club rental home? Wave down one of the many Put-in-Bay taxis roaming the area to get a ride back to your vacation rental. Whether you are from Toledo or Sandusky, the Key West of the North is the ideal weekend getaway!