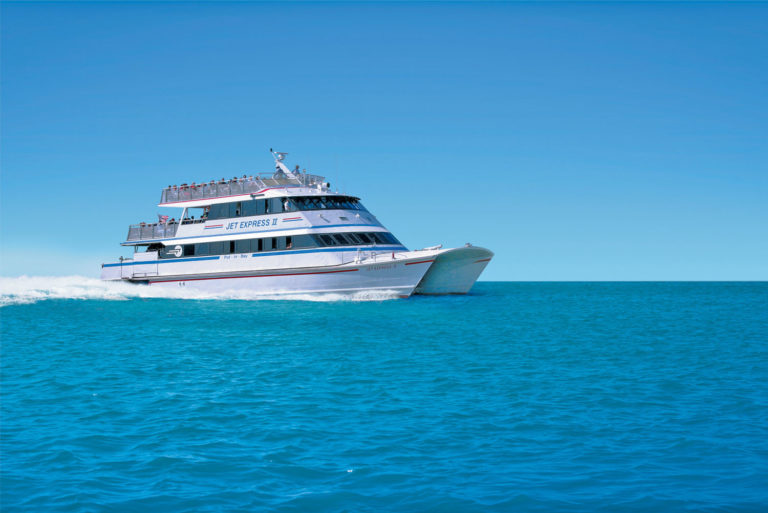 Ferry Services to Put-in-Bay
The Jet Express offers high speed ferry services to Put-in-Bay.  This vessel is primarily designed for passengers and light freight. They are the only service to provide late night service to Put-in-Bay. The Jet Express departs from downtown Port Clinton Ohio and Sandusky Ohio. Additionally, they offer inter-island service to Kelly's Island. The Jet-Express travels at 42 mile per hour.  So, it is the fastest way to Put-in-Bay. Children under 5 ride free. CLICK HERE FOR SCHEDULE INFORMATION
Why choose the Jet Express for Ferry Services?
The Jet Express offers passengers a stylish and interesting way to come to Put-in-Bay.  Their dual hulled catamaran slices through Lake Erie with ease.  Along the way, passengers get to see nearly all of the Lake Erie Islands.  There are even Canadian islands to be seen along the way.  Also, there are multiple seating options.  Guests can ride in air conditioned comfort in the main cabin.  Otherwise, the more adventurous types can enjoy the upper deck. Here, the expansive views and open air are sure to delight.  So, for style and comfort, the Jet Express is an easy choice.  Lastly, their late service is very convenient.  Visitors not wishing to stay on the island can still get a taste of the legendary nightlife.
Get more bang for your vacation dollar when you ride the Jet-Express from Sandusky Ohio or Port Clinton Ohio. With every paid ticket, Jet-Express passengers receive a value packed coupon sheet.  This contains savings at many of the best Put-in-Bay Things to Do, Dining and Shopping options. Discounts include $5.00 of golf carts and mopeds, Kids Eat Free in many restaurants, discounts on attractions, and much more!  So, be sure to request your money saving coupons when you purchase your Jet Express ticket.  Also, you may now purchase tickets on-line! Simply visit the Jet Express website and place your order today!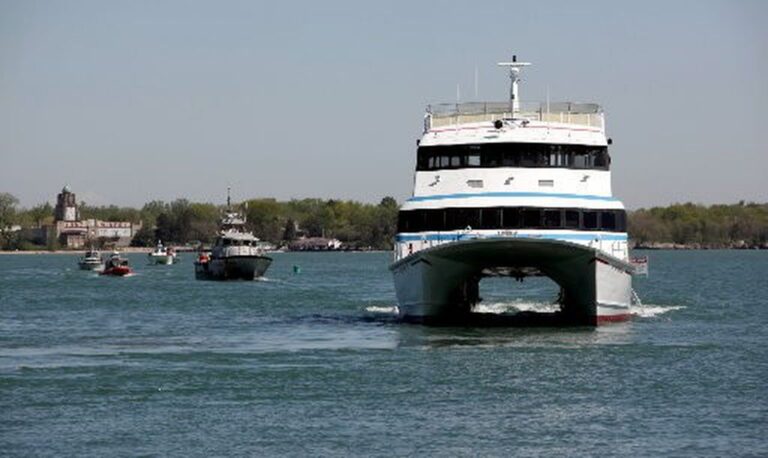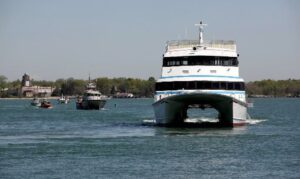 Testimonials
David A: "This is a fantastic way to get to Put in Bay or other nearby Islands. The staff is always very professional. The service is great. The scenery well on this boat is awesome and it's a very comfortable and safe ride. I have used this service multiple times when I don't have my boat with me. I recommend this place to everyone."
Nina C: "My family and I (ages 2-60 years) rode the Jet Express Ferry Services just yesterday. We absolutely loved it! Easy on/easy off, and we got to exchange our tickets for a later time, because our dinner time ran over. Very clean and well kept! Also, I liked having the choice of which deck we would sit on (our choice of sun or shade). I would love to go back again!"
Kristi F: "I took my 3 month old on the Jet Express yesterday morning at 10:15. The line went fast to purchase the tickets and line was smooth to get on the boat. It was great! On the way back a male worker came over, sat with me and talked to my 3 month old daughter, she was getting a little fussy. He talked to her and she ended up smiling and laughing! I appreciated that so much!"
Tonya P: "First time taking the grand kids and they loved the boat ride. We got the package deal that included the boat ride and golf cart rental for the day. It was the perfect visit, everyone had a great time and it was a beautiful ride to the island."