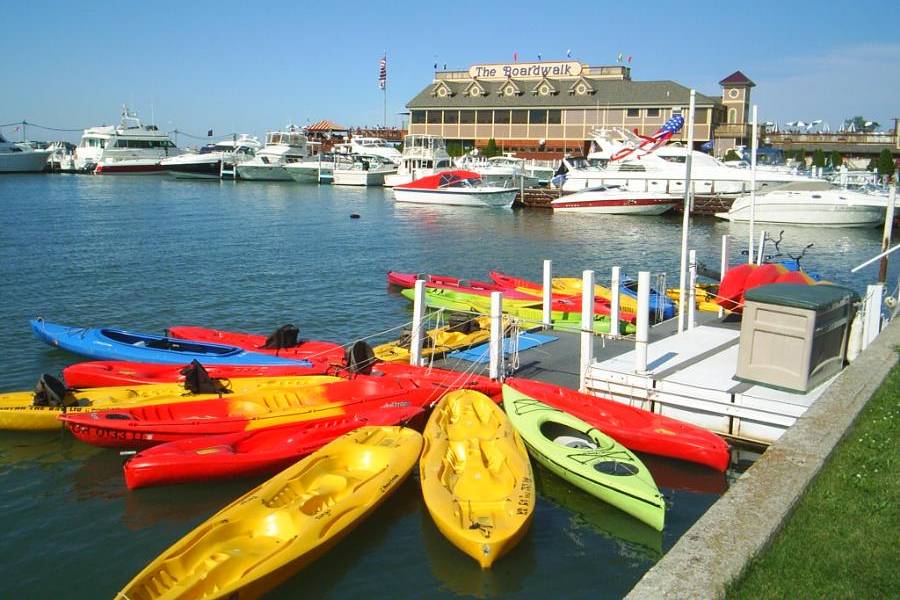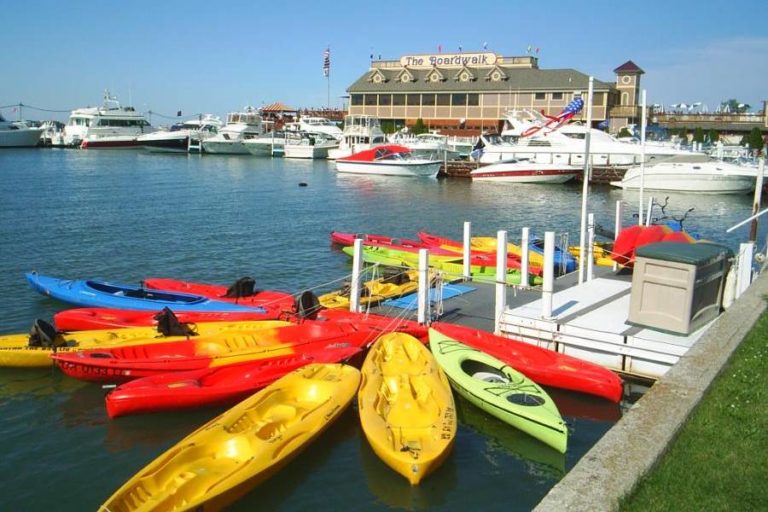 Kayak the Bay is a watercraft rental service on Put-In-Bay.  Here, guests can rent watercraft and see incredible views of downtown Put-In-Bay.  Also, incredible vistas of Perry's Victory and International Peace Memorial is visible from the water.
Kayak the Bay Location
The location of this activity is on Bayview Avenue, near Oak Point State Park.  So, just head North down Catawba Avenue and turn left at the Boardwalk Restaurant.  After passing the Put-In-Bay Winery, Crew's Nest and Miller Marina, the kayaks are just around the corner.
There are both sit in and sit atop kayaks available for rental.  Also, the company has a large number of vessels, so groups are welcome and encouraged to take part.  They will even setup a guided tour.  This will ensure your group will get the most of the experience.  Furthermore, the guides will point out areas of interest during the paddle.  There are many beautiful sights to see from the perspective of Lake Erie.  The limestone cliffs of Gibraltar Island are sure to delight.  The Ohio State University owns this island.  Here, they conduct freshwater research that aids in preserving the Great Lakes for future generations.
Also, a great thing to see is the famous Benson Ford Ship House.  This unique home was formerly a ship owned by the grandson of Henry Ford.  The ship is now on a large cliff overlooking the water.  Craftsmen cut the vessel and crafted it into a home.  More importantly, a kayak is an amazing way to take in views of this home.
A trip to Put-In-Bay isn't complete without taking part in one of the great attractions.  Kayak the Bay is a fun activity that is unique and fun.  Here, guests can immerse themselves in sights from a special perspective.  So, grab some friends and head down to the water for a journey you won't soon forget.
Testimonials
Chase W: "We had a great time kayaking during our stay at Put-in-Bay. We elected to take a long tour of the island and paddled until we couldn't paddle any more – about 4 hours. Vikki was very personable and was able to tell us how long it would take to get where we wanted to go. Prices are fair and we would go again."
Omar D: "I absolutely had a wonderful time kayaking the bay. The instructor was so nice and caring. I would definitely go back and would recommend kayaking to everyone! Great work out to burn the calories before all the drinking too!"
Bill M: "I came up on the 4th of July this year for the sole purpose of hitting the water in a kayak. Been planning it since last year! All I can say is thank you! By offering your service you made my trip very enjoyable. I just wish I had more time to explore."
Annie T: "Kayak the Bay was great! I had never been kayaking before and the lady gave good instructions before we headed out. So I felt that I knew what I was doing along with my 3 other family members. She also showed us pictures and where to go to get the best kayaking experience. I also thought the prices were reasonable, and the hospitality was great. My family and I enjoyed the kayaking experience and are already planning to do it again."
After a long day of exploring Put-in-Bay in a kayak, some rest will be in order. Reserving a Put-in-Bay Cabin is a great respite.  Here, the comforts of home beckon guests to relax and unwind.  So, set the watches to island time and watch the worries fade away. Besides, with so much to do on the island, you may want to spend and extra night so you can get the full island experience! Make sure you book fast because weekends tend to fill up fast in the summer. The sooner you book, the sooner you can get on a Put in Bay ferry!