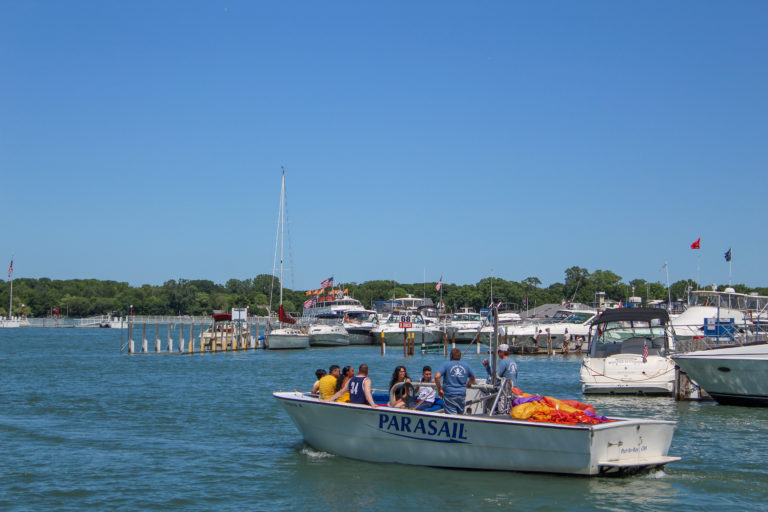 Put-In-Bay Parasailing offers the most unique view of Put-In-Bay.  Let them strap you in for a ride you won't soon forget.  Rise way above Lake Erie for stunning views of Perry's Victory and International Peace Memorial.  Also, take in the incredible views of downtown Put-In-Bay.
Put-In-Bay Parasailing Location
This operation is based out of the Boardwalk Restaurant complex.  The Boardwalk is located on Bayview Avenue.  This is just a couple of blocks from the Jet Express terminal.  Near the front entrance, a Put-In-Bay Parasail representative can be found.  Furthermore, after making arrangements with them, the boat leaves off the Boardwalk dock.
Put-In-Bay Parasailing Cost, Info and More
The cost for parasailing is $80 per person.  Each flight last ten minutes.  Guests can choose to fly either high or low in the air.  Also, this will determine whether they get wet or stay dry.  Groups can go together and watch the excitement.  Also, for a small fee riders can have their trip video recorded.  This would be a great gift to take home.  Watching would remind one of the fun times at Put-In-Bay!
Testimonials
Sam F: "Had a great time, my 9 year old couldn't go when I did due to wind. They called me later that day when the wind died down and he had a blast. They were very helpful and superb job."
Taylor W: "Put in Bay can be expensive, and we all know it. So I was willing to shell out some money while I was there, so I thought parasailing would be the way to do it and I don't regret it whatsoever! At $80 a person (which I researched to be a steal in the area) and no charge to have someone in the boat with you, it was really worth it!! The crew was super funny, and nice. They were very generous with the time in the air and explained everything perfectly! Would recommend!"
Brian T: "Jason and the crew were accommodating, professional and fun! This was my son's first time parasailing and he loved every minute of it. We planned to originally parasail on a Thursday, but Jason advised that the weather wasn't ideal – so we were welcome to come back the next day or get a refund. We returned on Friday and were so glad that we did! My son enjoyed his time above Lake Erie and I enjoyed new views of the islands. Highly recommend!!"
Logan H: "I wasn't too keen on the idea of parasailing, but was talked into it, and boy am I glad I went! Jason did a great job of explaining exactly how the process would work, why part of the harness felt loose (you wind up sitting on it), and he made sure to ask me if I wanted him to dip my feet in the water. To get started all I did was sit down on the boat's deck and let the wind do the work. Parasailing was actually quite serene and scenic – it was a great way to see the bay. Yes, parasailing is a little pricey but it will be the highlight of your trip."
About
This company was originally started by a Cleveland business man.  He noticed how people were enjoying the activity in Florida.  So, he brought it to the North Coast.  Today, Captain Jason Hall is in charge.  He is in a native of Port Clinton.  Since 1992 he has been operating the business.  In Winter he escapes like many snow birds to Fort Myers, Florida.  Here, he continues doing what he loves.  That includes sailing, kite surfing and all things aquatic.
When planning a trip to Put-In-Bay, there are many options.  With the large variety of activities and things to do, Put-In-Bay parasail is a fun choice.  So, get your adrenaline rush with these guys.  Come on and get high.  You know you want to!