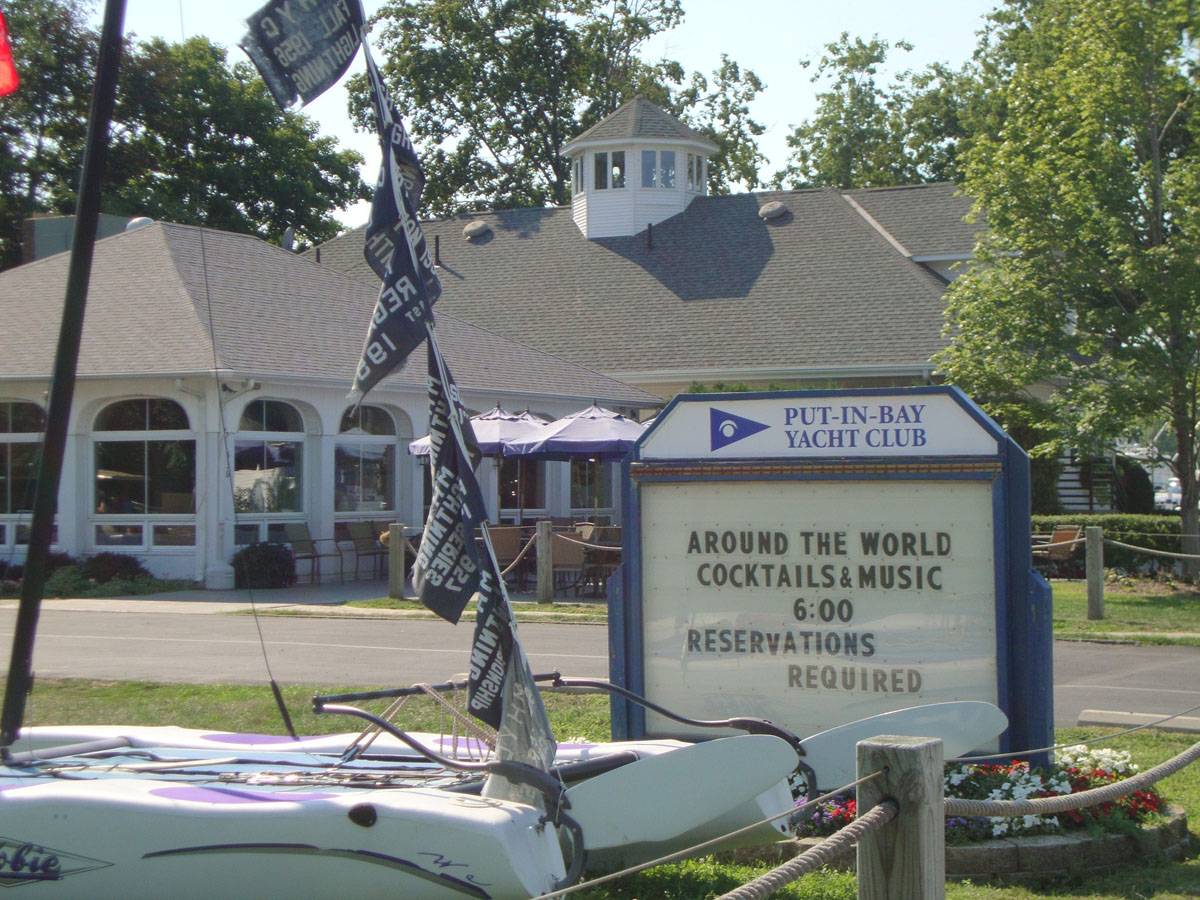 The Put-in-Bay Yacht Club is a private social organization that promotes boating on the island.  This includes sailing, power boating and all aquatic sports.  So, this is the group for those who love Lake Erie.
Put-in-Bay Yacht Club History
This yacht club is one of the oldest on Lake Erie.  Originally, the club began as the Put-in-Bay Yachting Association on February 13, 1886.  The first commodore was Valentine Doller.  The main intent of forming the club was to further promote the Inter Lake Yachting Association, or ILYA.  Each summer the ILYA holds regattas for both adults and children.  So, Put-in-Bay businessmen formed the club.  Initially, meetings were at various boat houses.  Then, in 1923 the club gained their first clubhouse.  The former owner of the Bay View House, Jack J. Day, sold the current day property to the association.  Soon, the club built the first club house.  Additionally, social events flourished with the new pavilion.  Also, the club once had a large dock.  However, the rising waters and winter ice destroyed it over time.
Following World War 2 there was a surge of cottage owners.  Consequently, interest in the club grew immensely.  In response, a ladies auxiliary formed in 1949.  Also, sailing and swimming programs became available in the early 1950's. Then, in 1953 a galley and shower facilities were added.  As time progressed through the 1960's and 1970's, the club house was expanded and improved.  Improvements to facilities continued through the 1980's with a major renovation.  Then, in 2001 the Friday dinners began.  This has been pivotal in building the club and the social aspects.
Become a Member of the PIBYC
Joining the club is easy.  For just $295, people can join as a Regular member.  This permits the individual to take part in club activities and use their great facilities.  Also, it gives more options when docking a boat at Put-in-Bay.  So, for a great social scene and awesome people, join the PIBYC today!
Testimonial
Thomas H: "We had our 2 day company meeting. The ladies at the club cooked excellent breakfast and lunch for us. Great experience."
Vicki C: "A very fine place, with very clean rest rooms and shower area, you really don't know what they have unless you tour it. And the people there are so nice, and proud of their club."
Sue F: "We had fun and the Member Appreciation Day was very well thought out! Thank you so much! Bartenders were delightful and thank you Barb Chrysler for all your help in the gift shop!"
Kari F: "Put-in-Bay Yacht Club was a fantastic host for our first JBW this week. We were welcomed into their club and treated like members vs visitors. Can't wait till next year!
Phil V: "A great club, great bar, fun people in a beautiful setting!"