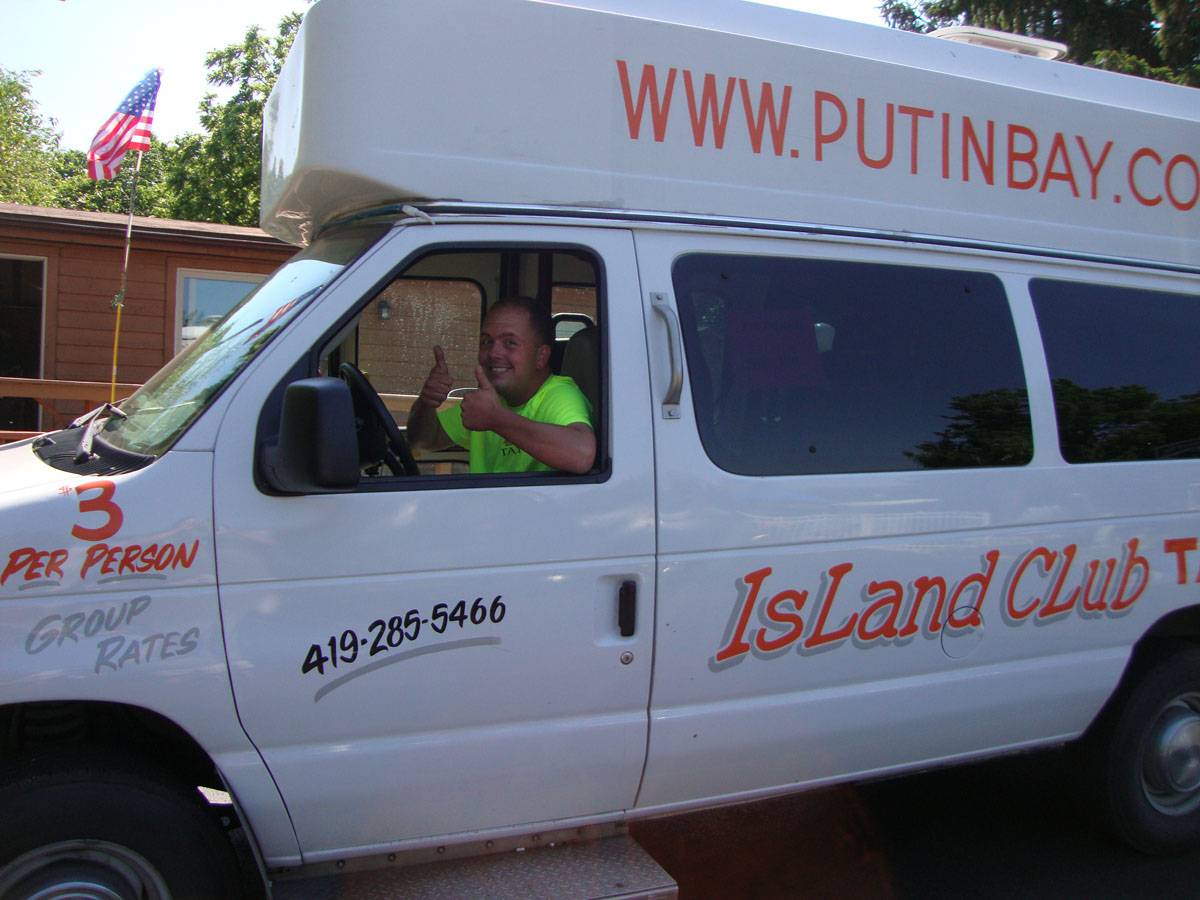 Island Club Taxi Service in Put-in-Bay Ohio is the island's preferred transportation provider. We want your visit to be a pleasurable experience.  Our drivers strive to give the best service with a smile possible. To get a ride now, call 419-285-5466! Staying at the Put-in-Bay Condos? Call 419-285-2227 for a Put-in-Bay Condo Taxi!
Island Club Taxis specializes in weddings, conventions, groups, school groups, business meetings, family reunions, and tours.  We've even been utilized for weddings.  This has included transport of the bridal party, too and from the reception and ferry transport.  Let us do the planning for you and make your event worry-free! To make arrangements for your group or just to ask questions about our special group services, contact us via email at reserve@putinbayreservations.com or call 216-898-9951.
Serving the Put-in-Bay Community for Over Two Decades
Our taxi service has been serving Put-in-Bay and South Bass Island since 1997. As members of the Put-in-Bay Chamber of Commerce, the company and its drivers volunteer our time to many worthwhile events on the island.   Furthermore, our drivers are pillars of the community.  They strive to bring good to the island.
The Island Club Put-in-Bay Taxi fleet is comprised of 15 passenger vans.  Each is adorned with our famous Island Club logo. So, just look for the palm trees and orange lettering.  Our drivers are friendly and professional.  Moreover, most of them have many years of experience as island cab drivers.
Nearly all hotels alert guests of the lack of parking on the island.  This is especially true in the downtown area. Most of the bars and attractions are located here. Island Club Taxis will meet you at the ferry boat of your choice.  Moreover, they will handle all of your luggage and camping gear for you. Our normal business hours are 7:00 AM to 3:00 AM, seven days a week during the season.  Contact us via email at reserve@putinbayreservations.com for further information on Island Club Taxis, or call 216-898-9951.
From the Miller Ferry to downtown Put-in-Bay, our taxi service covers the entire South Bass Island. Though Put-in-Bay golf cart rentals are decent transportation options, the best way to get around the island once you have had a drinks. Our Put-in-Bay taxi service will pick up from the Put-in-Bay Airport, Put-in-Bay Ferry, and even the Jet Express. We can take you to your Put-in-Bay hotel or Island Club home rental within minutes. There is no better way to traverse this great island.
Testimonials
Steve S: "We had such an amazing experience with this taxi service. Tim (aka Coconut) was not only always early, but always friendly and went above and beyond to make sure we had a great time, knew where we were going, and even called a friend of his to see if he could arrange a tour for us. We are from Cleveland our group could not recommend this service and Coconut enough!"
Jaron C: "Andy picked me and my buddies up from the boat he helped with our luggage and was super cool. His cab was really clean and the ac was cranked, which was nice. Most cabs don't have ac over there and when they get crowded it gets so hot and uncomfortable. I definitely recommend his services. He drove us around all weekend long and was always met our transportation needs. Never had to wait longer than 15 minutes for a ride. The best cab driver I've had on Put-in-Bay."
Adam B: "We went over to the islands last weekend and had Andy pick us up. My mom really liked him and he gave us good recommendations on things to go see, places to eat, and different trees on the island. Every time he gave us a ride he helped us pack it too. Keep cheering for the Browns, maybe one day you'll see a Chip."
Emily S: "Spent the weekend in Put-in-Bay and it was AMAZING!!! Stayed at the Island Club, it was so pristine and welcoming. Used the Island Club taxi and Zach was my driver, he was the friendliest guy, knew exactly where to go, played great music, had a clean ride, and never kept me waiting. I highly recommend/insist on using Zach to get where you're going while you're there. Can't wait to go back!!"
Island Club Taxi Service Contact Number
When you are on the island, call the taxi direct at 419-285-5466 for service!