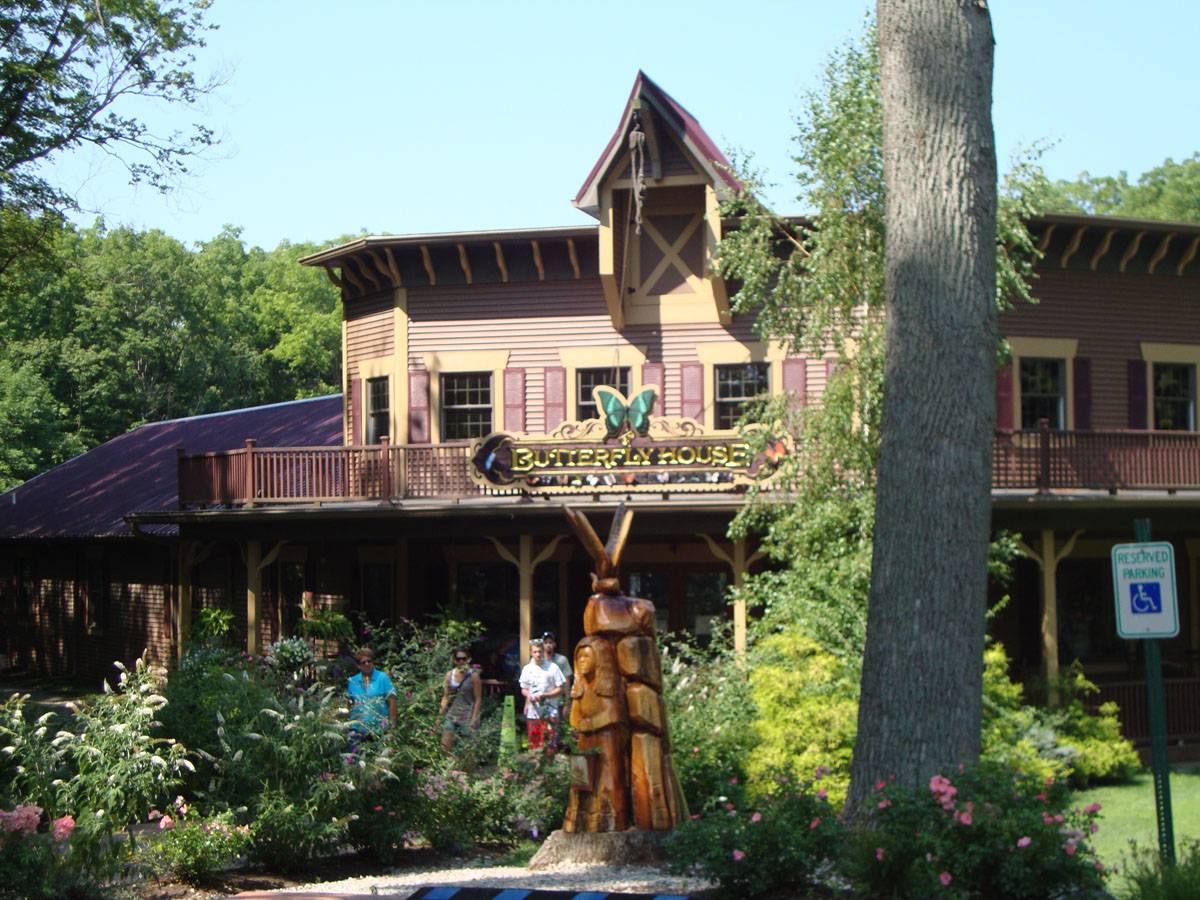 Since 2004, the Butterfly House at Put-in-Bay has been an enjoyable family attraction for many visitors. The location is within the Perry's Cave and Family Fun Center, which boasts several other notable attractions such as Gem Stone Mining and the War of 18 Holes Miniature Golf Course. Guests can stroll around the over 4000 sq. ft. space, while in the midst of hundreds of butterflies. There are pathways and secret passages in the garden that are sure to delight kids of all ages. Over 50 species of butterflies from all around the world grace this majestic space. Additionally, there is a gift shop that features figurines, jewelry, garden items and more butterfly inspired items. Also, butterfly specimens in glass and other lovely nature inspired items are available for your perusal. Take home a memento to commemorate your stroll through this unique island offering!
The Butterfly House is one of the featured attractions of the Island Fun Pack. This package includes discounted transportation aboard the Miller Ferry, as well as transportation to the downtown Put-in-Bay area by the Downtown Bus. Once at the bus depot, guests will be able to board the Island Tour Train, which provides an informative tour of the island with stops at several notable attractions. These attractions include the Butterfly House, Perry's Cave, the War of 18 Holes,the Lake Erie Islands Nature & Wildlife Center and Heineman's Winery. Therefore, this is an excellent option to see many great attractions at a discounted rate.
Admission Price
Adults: $8.00
Children 6 to 12: $4.50
Children 5 and Under: Free
Hours of Operation
Memorial Day – Labor Day   10:00 AM – 6:00 PM
Off Season Hours – 10:00 AM – 5:00 PM
Butterfly House Phone Number
419-285-2446
Testimonials
Trisha D: "Such a lovely way to spend time on the island, especially if you are not a drinker!! Friendly staff always willing to talk with you and give education on these beautiful creatures. It is an absolute MUST that you look where you are walking as you are in their home/habitat and if you have rambunctious kids its probably best that you keep them outside of this sanctuary. Peaceful and a good way to rest and connect with nature. Definite recommendation while visiting Put-in-Bay!"
Amanda M: "My husband and children have never visited the islands on Lake Erie, Put-in-Bay was perfect for their first time. Our main point of interest was the Butterfly House. Easy to get to right off the ferry, I recommend using a golf cart to get there. The attraction sits amongst a slew of other fun things for the family. As the sun was hot, I was thankful for the shade as we parked! Bathrooms conveniently situated. The front porch of the Butterfly House had a bunch of rocking chairs and benches, to rest your feet and enjoy the day. Inside is one of the most awesome gift shops, highly dedicated to butterflies obviously, but everyone could find a souvenir. While quaintly sized, this butterfly house was so active with these colorful insects, over 50 varieties! The staff was so lovely and welcoming, and willing to answer EVERY 3 and 5 year old's questions. Looking forward to going back and sharing the other attractions another time."
Andrea B: "Well worth the price of admission to me. Very cool experience, even though I was in a hurry to get through because I needed to catch the ferry. I wish I could have spent more time. Maybe next trip!"
Get the most out of your Put-in-Bay adventure and stay the night! This will afford you the best chance to see all that Put-in-Bay has to offer. Reserve Your Lodging Now!
Other Put-in-Bay Attractions
Whether you are from Cleveland or Toledo, South Bass Island has something for you. From the Civil War reenactments to Pyrate weekend, Put-in-Bay Island offers upcoming events all summer long. Put-in-Bay Ohio is perfect for anything from a bachelorette party to a family weekend getaway. Getting to the island is real easy. The island offers two Put-in-Bay ferries. The Jet Express has ports disembarking from Sandusky and Port Clinton. Make sure to grab an island guide as you depart from the port. The Miller Ferry is the other and it disembarks from Catawba. Though not recommended, if you wish to bring a vehicle to the island the Miller Ferry offers this option. You can even fly into Put-in-Bay Airport.
To truly enjoy your Put-in-Bay vacation make sure to get a Put-in-Bay golf cart rental. Golf carts are the preferred method of transportation on the island. Put-in-Bay taxis are another great option. Looking for a place to stay? You will have plenty of Put-in-Bay hotels and Put-in-Bay lodging resort options. The best Put-in-Bay vacation rental homes are found at the Island Club. The Island Club is a favorite for boaters looking to catch some walleye. Looking for a lakeside view of the Great Lakes? The Put-in-Bay Condos are the perfect vacation destination for you. Visit Put-in-Bay today!
With Put-in-Bay events all summer long, there is always something to do on the island. Perry's Victory and International Peace Memorial is must for any visit. To learn about Oliver Hazard Perry and the Battle of Lake Erie head to the Lake Erie Islands Historical Society. South Bass Island State Park is perfect for campers. Looking for something a little more extreme? Jet skis and kayaks are available to rent. You can even take helicopter tour at the airport. From the sky you can see Middle Bass Island, Kelleys Island, and even Cedar Point.
Looking for the island nightlife? Look no further than Derivera Park. Located downtown Put-in-Bay you will find the best Put-in-Bay restaurants and bars around it. All of which are within walking distance. Grab a bite from the Boardwalk and head to some of the best bars in the Midwest. Come find out why Put-in-Bay is called the Key West of the North.