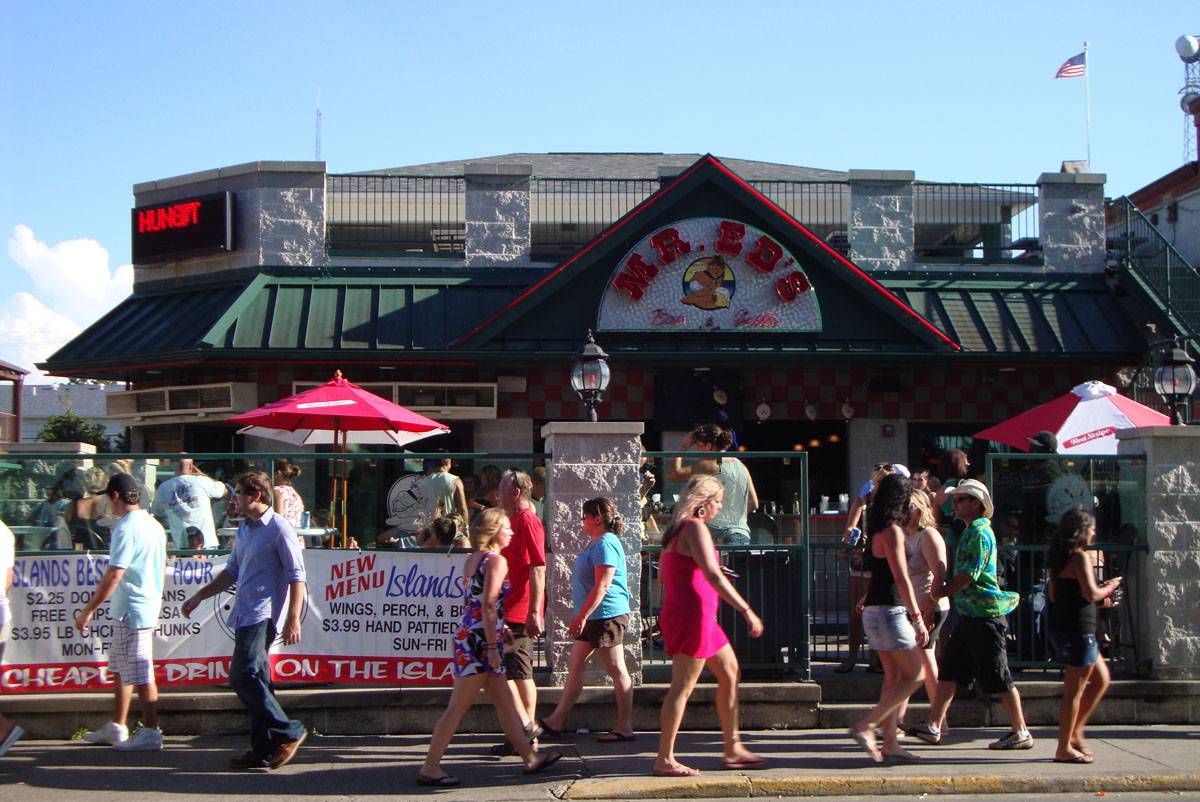 Mr Ed's Bar and Grille is a crowd favorite at Put-in-Bay.  This famous Put-in-Bay hotspot is not only one of the best places to grab a drink, it's also the new home of Cameo Pizza. Cameo offers their specialty pizzas, chicken wings and more out of Mr. Ed's kitchen. Diners can eat inside the bar, or opt for lunch on the outdoor patio.  So, at Mr Ed's Bar and Grille there are options for everybody.  
The location of Mr. Ed's is ideal, on the main street of Put-in-Bay.  Furthermore, the Delaware Avenue block has the majority of the shops, restaurants and attractions on the island.  Moreover, there are several different areas to enjoy at Mr. Ed's.  First, the main floor bar features live entertainment nightly.  Here, guests can grab an incredible pizza and cold drink and enjoy some of the best entertainment on Put-in-Bay. 
The fun continues on the front patio.  Here, guests can enjoy the lake breezes while listening to quality acoustic acts.  Furthermore, when the sun goes down, the fun continues on upstairs in the Green Room.  The Green Room is the rooftop bar with a night club feel.  More importantly, DJ's spin tunes into the wee hours of the night.  So, dance under the stars to the latest hits with the lively crowds.
Cameo Pizza's menu covers all the bases when you're talking about pub food. They've got over a dozen specialty pizzas. Their chicken wings can be tossed in around a dozen different sauces. Paired with a cold beverage, this is a lunch not to miss.  So, for hot eats and cold drinks, Mr. Ed's Put-in-Bay is here to serve.
Mr. Ed's Featured Menu Items
Chicken Wings
Baked Subs
Bosco Stix
Monumental Nachos
Another great feature of Mr. Ed's is the attached Commodore Resort.  Here, guests will find exceptional accommodations with an ideal location.  Also, the Mist Pool Bar is onsite.  Mist is a wildly popular high energy swim-up bar.  Here, the latest tunes are spun by disc jockeys, and tasty beverages abound.  So, be sure to include Mr. Ed's Bar and Grille for Put-in-Bay excursion.
Testimonials
Brittany S: "This is a very cool place. I came here to watch a band and the service here was very good even though they can get really busy. Also the staff are a cool group of people. If you haven't gone here in a while they no longer have their own Mr. Ed's kitchen. They moved Cameo's (the popular pizza place) into Mr. Ed's instead of serving their own bar food. It's still really good, but that is just a change I noticed between the year that I had not been there."
Kim M: "My favorite place on the Island and that includes The Mist pool/pool bar when the weather is warmer. Wonderful staff and they make you feel like family! Come out and enjoy the awesome bands and DJ's when you hit the Island, this is a "MUST" destination."
Andrew C: "Actually some of the best food on the island. Services varies as it does everywhere on the bay. So treat your server like a human and service is good. Great live music and enough video screens for sports events. Quick trip here from our rental house with Put-in-Bay Taxis, and no DUI!"
Kelly A: "We were there on at noon and stayed till 3:30. Chris Donley was the entertainment and he was more than awesome! I had the walleye BLT and it was okay, one girlfriend had the lettuce wraps, they were awesome, other girlfriend had the tenders which were good. The service was terrific! Our waitress was extremely attentive and very friendly! She was very quick to see when we were running low on drinks and quick to bring them! We have been bay'ers for 27 years and have seen Mr. Eds go through a lot of changes! Keep up the good work!"