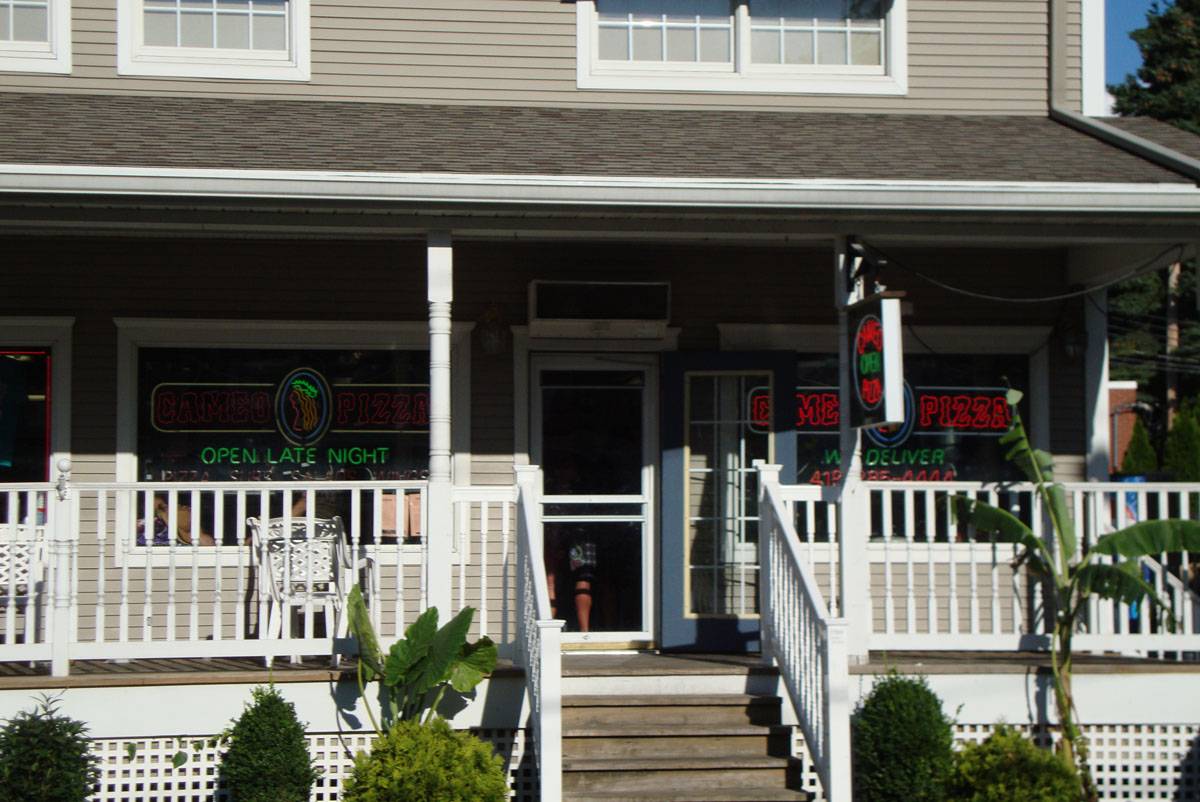 Cameo Pizza of Put-in-Bay prides themselves on using fresh ingredients. The crust and sauce is fresh, made daily.   So, diners can expect a fresh and tasty pizza every time.  Additionally, Cameo's offers subs, wraps, salads and more.  There is a reason this has become a staple of Put-in-Bay.
The location of this favored eatery is in downtown Put-in-Bay on Catawba Avenue.  Put-in-Bay Town Hall, the Put-in-Bay Police Department and the Lake Erie Islands Historical Museum are just steps away.  Guests can opt to visit this location for carry out service.  Otherwise, delivery service is available.  Delivery hours plunge deep into the night during peak season, so there is always time to enjoy a Cameo pizza.  Late night service is available up to as late as 4 AM at the busiest of times.
Cameo Pizza History
The Cameo Pizza tradition began back in 1936.  Then, Mama Lococco was serving family and friends from her Monroe Street home in Sandusky, Ohio.  The tasty offerings were of the Old World Italian style.  Quickly, word spread about the authentic and fresh food that she was preparing.
From these humble beginnings, this establishment has continued to be family owned and operated. Fresh tasty food, exceptional customer service and strong family values are the cornerstones for this business. Furthermore, the quality and care taken to make each pizza is very evident.  Daily, the crust and sauce is made.  Always, they adhere to Mama Lococco's recipes. Additionally, pizzas come with 100% real cheese from edge to edge.  So, this is pizza as it was intended.  Fresh, fast and tasty!
Cameo Pizza Menu Highlights
Chicken Bacon Ranch
Philly Cheese Steak Sub
Chicken Club Wrap
Hawaiian Porker
A trip to Put-in-Bay would not be complete without trying some of the local offerings.  Therefore, Cameo Pizza has become interwoven with the island.  Many guests are sure to have a hot pizza before leaving the island.  Make this part of your island tradition.  Come to the bay and get a piece.
Testimonials
Kimberly A: "This place has the best pizza on Put-in-Bay the owners are great people very friendly and their staff is very respectful and make it a point to ensure the customer is happy I've been getting pizza for 4 years from this place and I'd recommend it above anywhere else on the island to eat."
Rita C: "Fantastic service! I have some specific food allergy issues and they nailed it accommodating me during their busiest time on a Saturday night!"
Mike H: "Put In Bay is the island and Cameo Pizza is the Oasis that saves your life after a long night of partying or hell, even when you're just hungry! Cameo Pizza is not only good Pizza, it's GREAT pizza!!  Over the course of my life I've eaten a lot of pizza and the formula these guys have created is a million dollar recipe.  The crust is not too thin and not too thick and perfectly crisp.  The sauce is just the right consistency and flavor and the cheese and pepperoni you can tell is of grade A quality. When you order a whole pizza rather than cut it in triangles like normal pizza, they cut the round pizza in small square pieces giving it it's own charming unique flare.
If you buy it by the slice, it's traditionally cut and rightfully so since you want your slice to be bigger than 2 pizza rolls. The pizza is a bit pricey, but what do you expect being on a secluded island. The slices are fairly priced though. We ate here multiple times on our visit and whether you are sober or completely trashed, it is delicious. Everyone's enthusiasm mirrored my own regarding this pizzas quality and flavor. I can't stress to you enough how good this pizza is. Even if I didn't live on the islands but I lived close by I'd catch a boat over every once in awhile just to have it. Go to Put in Bay, party hard and by any means, get yourself some Cameo Pizza!"