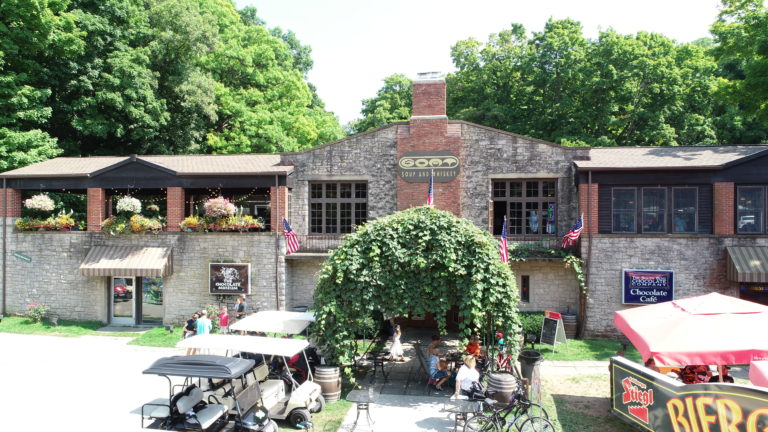 The Goat Soup & Whiskey on Put-in-Bay is a choice eatery and pub.  Priding themselves on fresh and local ingredients, this is a must visit location.  The scratch made soups and carefully crafted cocktails are just a portion of the fabulous offerings. So, stop in and see what the buzz is about.
Goat Soup and Whiskey Location
The Goat is on Catawba Road between Mother of Sorrows Catholic Church and Heineman's Winery.  This location is less than one half mile to downtown Put-in-Bay.  Also, surrounding this property is the beautiful Coopers Woods. Coopers Woods is a tract of wooded land that has remained natural for generations.  Lovely walking trails grace the space.  Wildflowers and wildlife alike are teeming here.
Goat Menu Highlights
As evidenced in the quirky name, the Goat is well-known for their scratch made soups.  Soup selections vary daily.  For an excellent lunch, try the Rose Platter.  This option gives diners a choice of two homemade soups, a side salad and fresh bread.  Also, hearty sandwiches, salads and pastas complete the lunch menu.
However, nothing compares to the popularity of the Goat's signature offering: Perch Tacos.  Fresh Lake Erie Yellow Perch are lightly breaded and fried, paired with cabbage and pico de gallo and served on hot tortillas.  Lastly, a zesty citrus sauce completes the dish. Most importantly, food critics from around the country have praised this local favorite.
Dinner options extend to other culinary delights.  Duck Breast, Liver & Onions and a selection of steaks are notable menu options.  Regardless, diners will notice the attention to detail.  So, meals here are both delicious and memorable.
Testimonials
Gregory F: "This turned out to be our favorite restaurant during our three day stay in Put-in-Bay. It doesn't draw the same drinking and loud crowd that you find in almost all the other local restaurants. Probably the nicest of the restaurants in town with a wide variety of menu items. There is a covered upstairs outdoor seating area and an indoor seating area available as well as a bier garden and chocolate store. One-Stop shopping for all of your vices."
Cheryl D: "I've only been to the island 3 times now, but in my short amount of experience, I can say The Goat is my favorite place to eat on the island! The Ruben cannot be beat. They serve a nice selection of drinks, my favorite is the blueberry Mojito, best I've ever had anywhere! The service has been great and they have nice options for sitting, outside and in. I plan on making Put-In-Bay a regular vacation spot and I will always make it to The Goat to eat!"
Heidi T: "This is my favorite restaurant on Put-in-Bay. The seating either indoors or on the covered deck is scenic and relaxing. The fish tacos and the pierogi are my favorite dishes. Of course, the soup is usually wonderful and they have many choices. The mixed drinks are amazing! The mint or basil Mojito is so fresh, getting it with crushed berries is even better. The Bloody Mary is killer. I have always been pretty impressed with their service. We usually come as a group of anywhere from 8 to 15 and they handle it very well."
Final Thoughts
The Goat Soup & Whiskey is the perfect spot for a casual lunch, memorable dinner or just to grab a drink.  Therefore, the attention to detail and use of local ingredients make this a Put-in-Bay Restaurant worth checking out. So, stop in and get your Goat on!