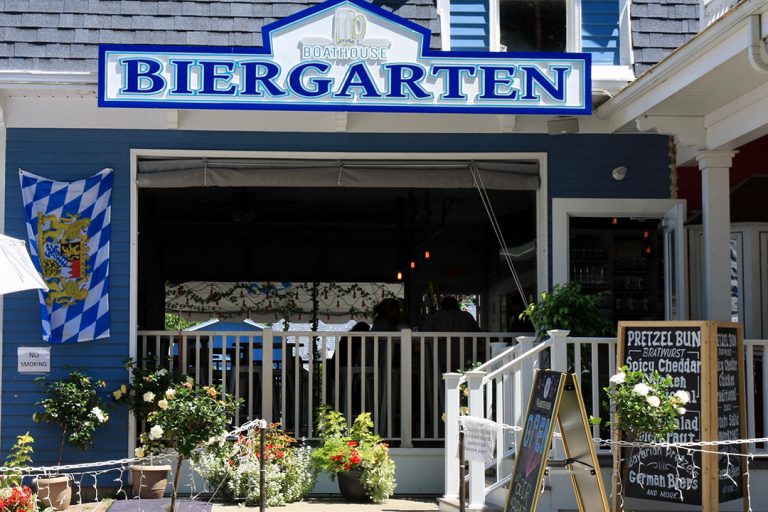 The Biergarten at the Boathouse is a new and great addition to the Put-in-Bay Bar Scene.  Here, guests can choose from a fine selection of German beers and food.  Order an authentic German bratwurst and wash it down with a stein of authentic brew.  Other food choices include Bavarian pretzels and savory potato cakes.  A comfortable outdoor seating area is in the rear, beckoning guests for relaxation.
Biergarten at the Boathouse Location
Downtown Put-in-Bay is home to the Biergarten.  Furthermore, this is the first pub guests will encounter upon disembarking the Jet Express.  So, for the quickest beverage off the boat, this is the go-to spot.  Also, the beautiful DeRivera Park is across the street.  The rest of the great Put-in-Bay Bars and Attractions are very accessible from here.
Testimonials
Trent M: "Very friendly and helpful staff, great Biergarten (beer garden) atmosphere. Good food and nice selection of German beer's. Outdoor tables front & back, plenty of indoor seating as well. Yes, I did enjoy my visit!"
Allison D: "The bartenders Jake and Jeremy know how to make an excellent drink, and how to have a good time. Definitely make Biergarten at the Boathouse a stop on your Put-in-Bay bar crawl!"
Richard S: "We were pleasantly surprised by the authenticity of this stylish joint. The beer is imported from Warstein Germany and the food was incredibly German. It is a great place to go and get a German bier, Numberger and kraut. Their pretzels and bier cheese are amazing too."
Ashley D: "The manager of the place was very personable! The environment was great during the day! We loved the bloody Mary's, playing mega jenga and cornhole on the back patio. The music is very chill unlike throughout the rest of the island. I also got massively eaten up by mosquitoes sitting at the bar, but that was my own fault because I didn't have bug spray!"
Taylor K: "The environment of the Biergarten is the place to be. Everyone is enjoying the amazing German beer and even better brats! The back patio is even better as they have this relaxing environment with lights and picnic tables. They even have giant jenga which is always a good time!"