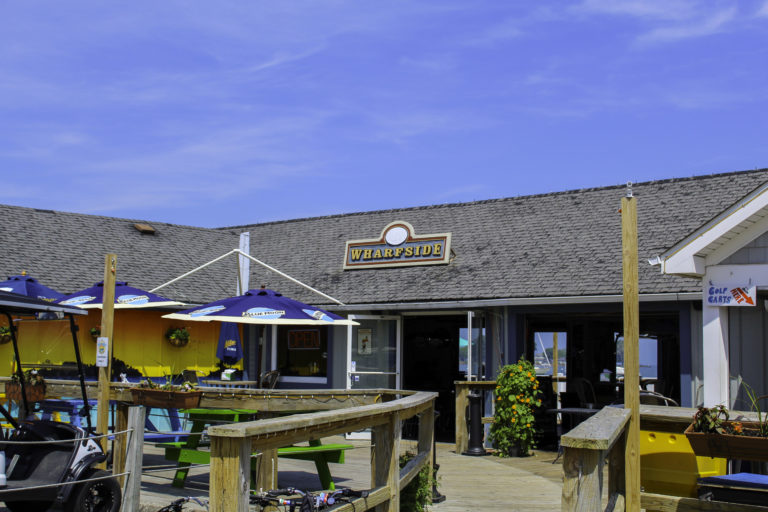 The Wharfside has the location for lake lovers.  Their waterfront location in downtown Put-in-Bay makes this shop very convenient.  Snacks, drinks and other pleasantries are for sale.  Also, State of Ohio Fishing Licenses are available for purchase.  Lake Erie is universally known as the Walleye Capital of the World.  Guests come to the island with hopes to catch that trophy fish.  Wharfside has tackle, bait and other accessories.  So, they are sure to satisfy all anglers.  Additionally, there is beer, cigarettes and other party supplies.  So, the convenience and location of Wharfside make it a favorite among Put-in-Bay guests.  Sail in to the Wharfside.  Sail out with all the necessities.
Topsy Turvey at the Wharfside
Within the Wharfside building is Topsy Turvey.  Cuban and Reuben sandwiches are the most popular selections.  Also, a fine selection of craft beers and spirits is available.  Signature drinks include a Bloody Mary and Brandy Alexander.  The outside terrace is an excellent location to watch the sunset and enjoy one of these great beverages.  Additionally, the location is just steps from the Sonny S Ferry.  The Sonny S provides ferry service to Put-in-Bay's sister island, Middle Bass.  Also, the historic Lonz Winery and the State of Ohio Marina are on Middle Bass Island.  Also, from the Wharfside terrace guests can see Gibraltar Island.  The Ohio State University owns this outcropping.  More importantly, they have conducted research on the Lake Erie Islands for over 100 years. This research has been pivotal in preserving the Great Lakes.
Stunning views and delectable food make Topsy Turvey a lunch hot spot. So, don't miss out on one of the best kept secrets on Put-in-Bay.  Cold drinks, hearty sandwiches and a view you won't soon forget. Stop in on your next trip to Put-in-Bay.
Testimonials
Dan M: "Found this place because we couldn't find another place that didn't have a wait. Wow!!!! The best breakfast on the Island. Huge breakfast sandwich and great location. I can't for the life of me understand why the place wasn't more busy. I have been coming to the Island for years and it was my first visit. My biggest mistake was waiting so long to visit. Would highly recommend and have now made this my first stop whenever we arrive."
Jeffrey T: "Hidden gem on Put in Bay. Down the street west of the Boardwalk Restaurant. Great food, great service, and a decent craft beer selection. Be sure to have a super tasty Brandy Alexander while there!! Right on the water and marina with great views. Feels like a bar in the Florida keys. Not super busy on Saturday afternoon, that is part of being a hidden gem!! A must stop for me every Put-in-Bay visit!"
Kevin W: "The only dive bar on the water at Put-in-Bay. The food menu has really good unique items. I am drawn to the Cuban sandwich, which is one of the best. For drinks you have to try their Brandy Alexander! Sitting outside next to the docks is awesome. No complaints every time we stop there. Do yourself a favor and try it out for drinks or food."
Why Not Stay?
Getting acclimated with a day trip is a great introduction to the island life.  However, staying the night is the best way to experience what the island has to offer.  Fortunately, there are many Put-In-Bay lodging options.  Still, some lodging options cannot compare to having the comforts of a vacation home rental.  Private rooms, a fully equipped kitchen and additional space are great perks.