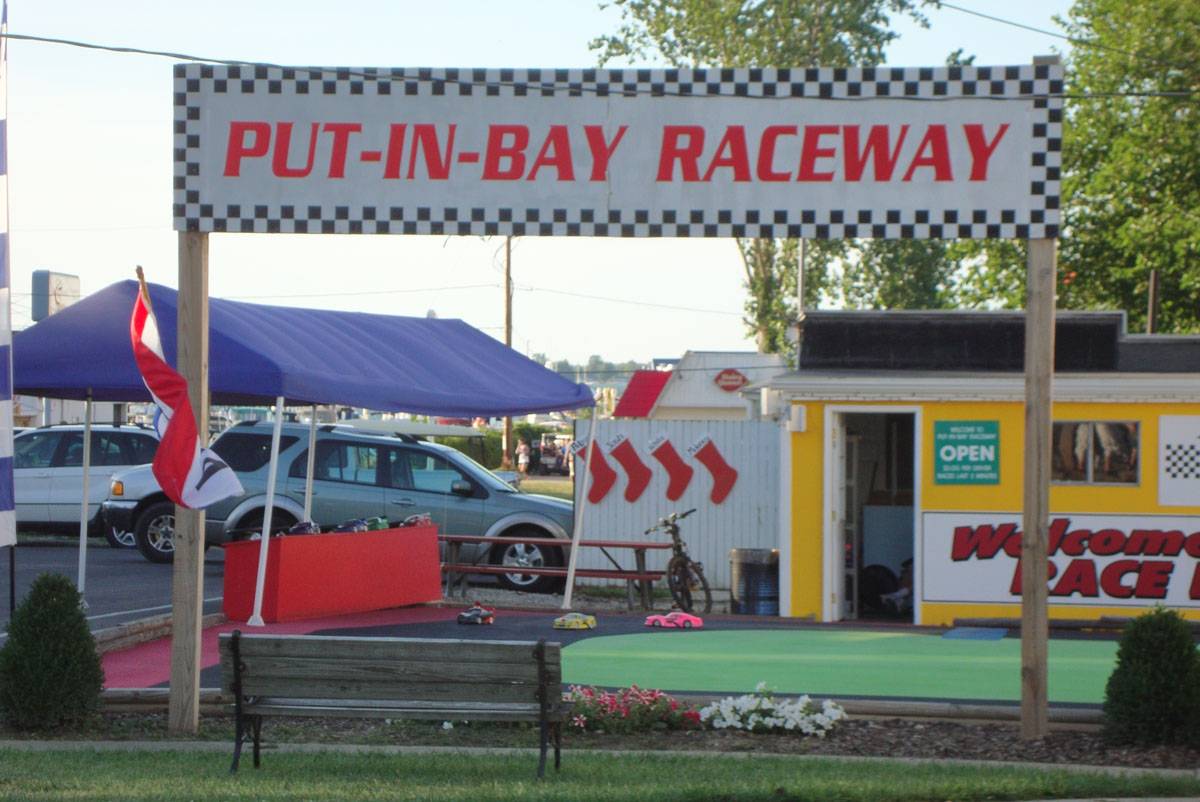 The Put-In-Bay Raceway has the racing action to get your blood pumping.  Racers can challenge their friends to some laps around the track.  So, start your engines for this exhilarating time!
Put-In-Bay Raceway Location
The raceway is located in downtown Put-In-Bay near the Boathouse Bar and Grill.  Also, the Jet Express and Perry's Monument are just a few steps away. Downtown Put-In-Bay is home to most of the attractions, dining and shopping on the island.  So, the Put-In-Bay Raceway can be incorporated into a day trip easily.
The cars on this specially designed track go up to 50 MPH.  So these cars travel faster than any vehicle on Put-In-Bay.  The highest speed limit for any road on the island is 35!  Still, the speed is safe here as it is contained within the track.  Racers can squeal in excitement as their cars whiz past.
Why Put-in-Bay?
With so many great vacation locations in Ohio, why choose Put-in-Bay?  First, the richness of history and culture are worth experiencing.  Many people aren't aware of the importance of Oliver Hazard Perry.  Without his successful efforts, Michigan, Ohio and more may have went to the British in the War of 1812.  Moreover, his will to win mirrors our country's fervor.  Also, today the island is teeming with interesting residents.  Come and see for yourself.
Second, the nightlife is nothing short of legendary.  When most think of the island they think of one thing: party!  With over 40 bars, the island has something for everyone.  From dance clubs to country bars, everyone is accounted for.  Third, there are great attractions for all ages.  Bring the family, as there are numerous family activities.  Take a stroll through the whimsical Butterfly House or a leisurely ride on Kimberly's Carousel.  Regardless, guests leave happy and excited to return.
With so many things to do in Put-in-Bay you may want to stay an extra day to take in the full island experience! Check out the lodging available on the island to see what option is best for you. Check out the Put-in-Bay resort, Island Club rentals, hotels, and condos! No matter where you stay, you are bound to have a great time! Make sure you book fast because weekends fill up fast in the summer! The sooner you book, the sooner you can get on a Put-in-Bay ferry.
Whether it's a day trip or overnight stay, Put-in-Bay is the right choice.  Challenge your friends to a race at the Put-in-Bay Raceway.  Otherwise, just relax and set your watch to island time.  The troubles will simply fade away!