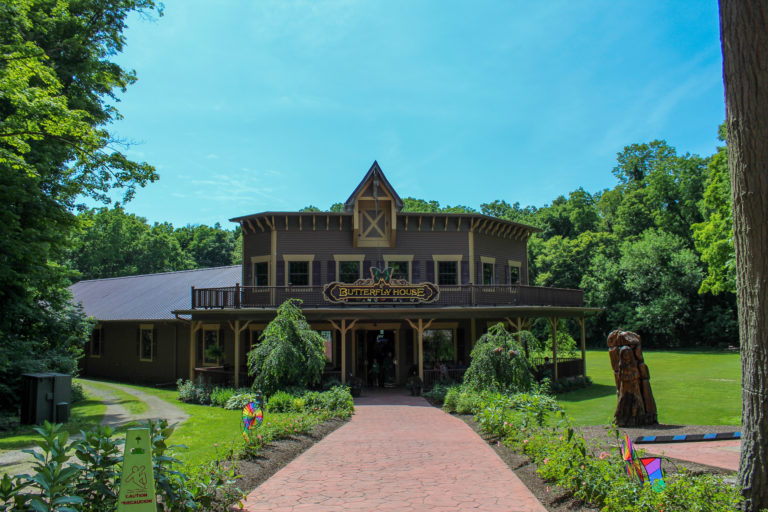 The Butterfly House on Put-in-Bay is a magical place for the whole family.  Step inside and get surrounded by butterflies. Also, take in the lovely grounds inside this favorite island attraction.
Perry's Cave and Family Fun Center is home to the Butterfly House.  Furthermore, this complex includes many other great activities on Put-in-Bay.  Moreover, guests can opt to purchase a package to do several in one visit.  Also, the Put-in-Bay Tour Train makes stops here. The tour train is a great way to see a large portion of the island.  Most importantly, the guides tell guests about island life.  Also, they expand upon the rich history of the Lake Erie Islands.  So, the Tour Train is worth checking out.  Choose from other great activities at Perry's Cave and Family Fun Center.  Below is a list of other fun options.
Perry's Cave and Family Fun Center Attractions
War of 18 Holes Miniature Golf
Rock Climbing Wall
About Butterfly House
The Butterfly House completed construction in 2004.  The space covers over 4000 sq feet.  Moreover, this aviary is carefully put together with plants that butterflies prefer.  Additionally, there is lovey music playing within the structure. So, guests can basque in the lovely environment.  Furthermore, there are even secret walk ways, that guests can discover in their journey.  Overall, there are over 50 different species in the facility.  So, kids will see many different kinds.
Types of Butterflies Seen Here
Mocker Swallowtail
Green Peacock Swallowtail
Cattle Heart
Owl Butterfly
Atlas Moth
Blue Longwing
Pricing, Hours and Phone Number
Cost
Adults: $8
Children (6 to 12):$4.50
Children (5 and under): FREE
Hours of Operation
Memorial Day – Labor Day       10 AM – 6 PM
Spring and Fall                         10 AM – 5 PM
Phone Number
(419) 285-2446
Done with the fun at Perry's Cave and need a ride to the boat?  Island Club Taxi is ready to help! Call them at 419-285-4FUN!
Testimonials
Trisha D: "Such a lovely way to spend time on the island, especially if you are not a drinker!! Friendly staff always willing to talk with you or give education on these beautiful creatures and people it is an absolute MUST that you look where you are walking as you are in their home/habitat and if you have rambunctious kids its probably best that you keep them outside of this sanctuary.The price of admission is definitely reasonable, especially for being on the island! Peaceful and a great way to rest and connect with nature. Definite recommendation while visiting Put in Bay!"
Amanda M: "My husband and children have never visited the islands on Lake Erie, Put-in-Bay was perfect for their first time. Our main point of interest was the Butterfly House. Easy to get to right off the ferry, I recommend using a golf cart to get there. The attraction sits amongst a slew if other fun things for the family. As the sun was hot, I was thankful for the shade as we parked! The bathrooms are conveniently situated. The front porch of the Butterfly House had a bunch of rocking chairs and benches, to rest your feet and enjoy the day.
Inside is one of the most awesome gift shops, highly dedicated to butterflies obviously, but everyone could find a souvenir. While quaintly sized, this butterfly house was so active with these colorful insects, over 50 varieties! The staff was so lovely and welcoming, and willing to answer EVERY 3 and 5 year old's questions. Looking forward to going back and sharing the other attractions another time."
Jack H: "My husband and I recently visited and were pleasantly surprised by the amount and variety of butterflies in the green house. The butterflies were very active and we had a few land on us. The enclosure was definitely hot in the heat of the day, but the experience was worth the sweat and the AC in the gift shop was heavenly. The gift shop is also lovely with lots of cute gifts and decor items. Also not to be missed are the comfy chairs on the porch. The best photos of our trip were taken here."
The great attractions of Put-in-Bay are not to be missed.  Moreover, this is no exception.  Furthermore, the sheer delight of walking through with butterflies scurrying about is undeniable.  So, you and yours will be overjoyed with this unique experience.