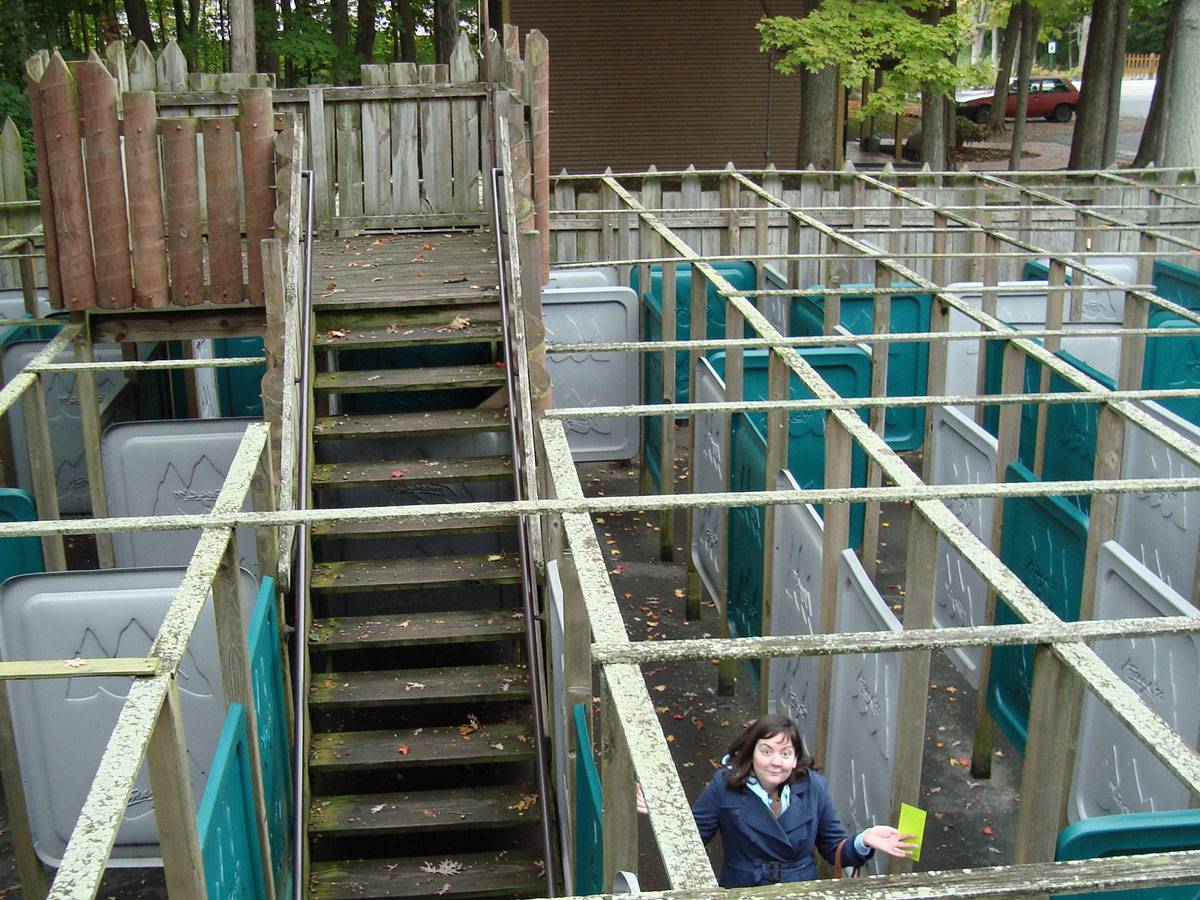 Fort Amaze'n is a challenging maze located at Perry's Family Fun Center.  Here, guests can try their best to make it through the maze in good time.
Fort Amaze'n Location
This fun Put-in-Bay Attraction is on Catawba Avenue.  Heineman's Winery and Crystal Cave is right across the street.  There are several other great things to do at this location.  Moreover, Perry's Family Fun Center has activities for all ages.  Options include Perry's Cave, the Butterfly House and Gemstone Mining.  Moreover, families can opt to purchase a combination pack of attractions.  This affords the opportunity to participate in several activities for one low price.
Upon entry, participants use a passport to record the time they enter the obstacle.  Then, they make their way through the twists and turns.  Lastly, upon completion guests can mark their times again.  Now, guests can see who can complete the maze in the fastest time. The obstacle can be tackled as a team.  Otherwise, guests are on their own to find their way to the exit.  Regardless, there is much fun to be had.  The challenge of the twists and turns makes for an enjoyable outing.
Fort Amaze'N Pricing and Hours
First Attempt: $5
Additional Attempt: $2.50
Children 5 and Under: FREE
Open May thru September
Monday thru Friday 10 AM – 8 PM
Open October: Weekend Only 11 AM – 6 PM
Testimonials
Adam K: "This place is fantastic. Rent a golf cart and head straight to Perry's Cave. The miniature golf course is top notch. I would never have imagined how much I would have enjoyed the Butterfly Building. Do not skip this. it is beautiful and totally worth the money. Oh and the maze is surprisingly difficult. Overall it's a great experience."
Ashley A: "There's so much to do here. We always visit when we're in Put in Bay. Perry's has so much to do. Our favorites are definitely the cave and butterfly house. There's also a maze, a climbing wall, gem mining, and a small antique car building. If you're looking for activities while on the island then you definitely want to stop here."
Leonard C: "We enjoyed the tour to the cave. The tour, led by a local expert, was very informative and we learned lots about caves and the local history about Perry's Cave. We also enjoyed gem mining, miniature golf, Amaze'n Fort and the Butterfly House. The fun center has lots to offer for everyone."
Jayson W: "Perry's Cave and Family Fun Center is a place you can easily spend several hours. There are a lot to do with the maze, mini golf, huge gift store and the Perry's Cave which is a MUST DO! We did the Cave tour for the first and it is almost like something you would see out of a movie. Everything here is very affordable and the staff is very friendly and helpful. Always love visiting while on Put in Bay."
Coming to Put-in-Bay for a visit is a must do.  There are so many things to do and see while visiting.  Moreover, a richness of history and tradition are worth experiencing.  Guests can utilize many great resources in planning their trip.  From finding out Put-in-Bay Ferry schedules to upcoming entertainers, the information is vast.  Moreover, there are great Put-in-Bay websites waiting to assist.  Furthermore, there is a great variety of Put-in-Bay Lodging choices.  So, get your adventure planned today.  You'll be glad you did!