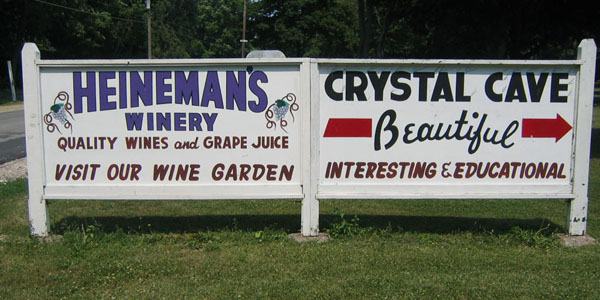 The Crystal Cave Gift Shop has spelunking and wine inspired gifts.  Inside, browse among the many varieties of Put-in-Bay wine.  Pick out a unique here from their eclectic selection.
Crystal Cave Gift Shop Location
This shop is located within Heineman's Winery.  Heineman's was founded in 1888 by Gustav Heineman.  He immigrated to the United States from Germany and settled on Put-in-Bay.  Today, the family continues the grape growing and wine making traditions.  They make the wine they sell!  Stop in for a taste of the islands.  For more family fun, Perry's Cave and Family Fun Center is located across the street.  Both are stops on the Put-in-Bay Tour Train trek around PIB.
What You Will Find at the Gift Shop
Once at the gift shop, you'll find all sorts of collectible items and souvenirs of the cave itself. Given that Crystal Cave is considered to be the largest geode in the world, the gift shop is full of replica geodes, posters, and more. In addition, the gift shop is also home to the Heineman's Winery where bottles of wine, wine glasses, postcards and other wine souvenirs can be purchased. As a result of both the Crystal Cave and Winery being located next to one another, the establishment sees a significant amount of visitors every summer season on the island.
Other Things to Do Nearby
-Perry's Cave and Family Fun Center (located directly across the street)
-The Butterfly House
-War of 18 hole mini golf
-Fort Amaze'n
-Gemstone Mining
-The Chocolate Museum
-The G.O.A.T. Soup & Whiskey
-Joe's Bar & Grille
-Swipe Right Pizza
With so Many tings to do neaby Crystal Cave and Heineman's Winery why not stay a few nights? Consider staying at some of Put-in-Bay's best resorts! We recommend places like the Island Club Home Rentals, Put-in-Bay Condos, Bird's Nest Resort and The Commodore Resort. Click here to scroll through all your lodging options.