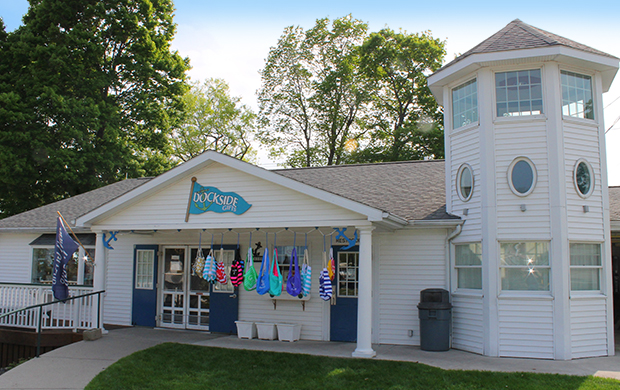 Dockside Gifts offers a fine selection of options.  These choices range from apparel to fine home decor.  Also, they have cold drinks, coffee and snacks for purchase.
Dockside Gifts Location
The location is very convenient at the Miller Ferry Lime Kiln Dock.  This dock, located on Put-in-Bay, is the entry point for thousands of guests each year.  Nearby, guests can opt to visit the beautiful South Bass Island Lighthouse.  Just around the corner, take in the sweeping views of Lake Erie from the multi-tiered deck.  Once snacks and drinks are in hand, grab a ride from Island Club Taxi.  Generally, there are positioned in the taxi lineup across the street.  If not present, simply call 419-285-5466 for fast and friendly service.
Downtown Put-in-Bay
Put-in-Bay Winery offers a variety of their own wines in a beautiful setting. Enjoy a tasting and tour of their historic building. Relax in the lovely garden with a cold glass of Pink Catawba.
Looking for something more substantial? Hooligans Irish Pub serves up plates stacked high with delectable and filling dishes. Known for their Irish fare, dig into Fish 'n Chips or a Shepherd's Pie. Wash it down with a Guinness or a glass of fine Irish Whiskey. After your workout on the SUP board, you definitely deserve it!
All done with your fun on the island and need a ride to the Ferry Boat?  A Put-In-Bay Taxi is ready to serve you.  Just call them at 419-285-5466 for a quick pick up.
The Boardwalk is an island favorite. Whether you boarding with friends or family, your group will find something here. Really five restaurants in one, choose from a quick bite of bearded perch on the lower deck or relax on the Upper Deck with a glass of wine and a spectacular view!