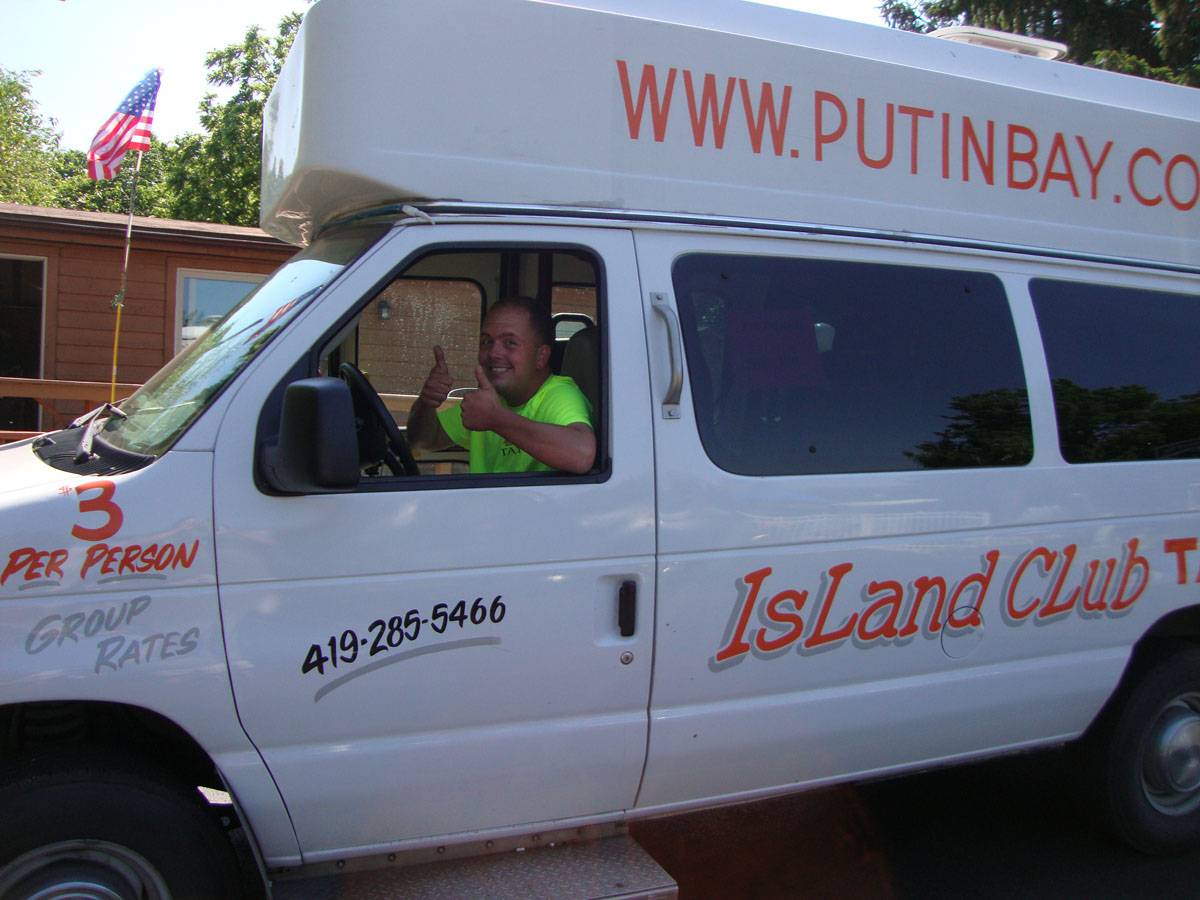 Island Club Taxi – 419-285-5466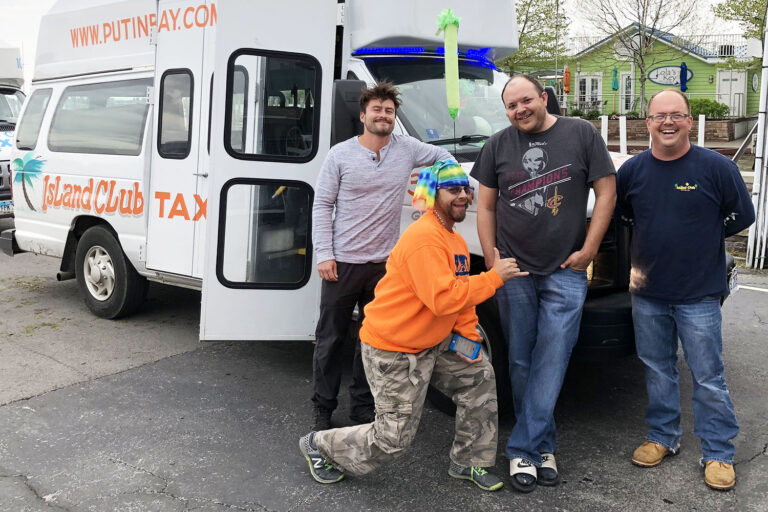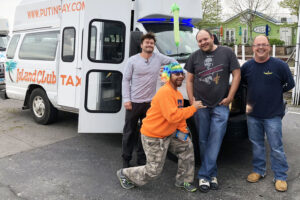 Island Club Taxi Service on Put-in-Bay is the island's preferred transportation provider. We want your visit to be a pleasurable experience.  Our drivers strive to give the best service with a smile possible.
Island Club Taxis specializes in weddings, conventions, groups, school groups, business meetings, family reunions, and tours.  Island Club Taxi has been utilized for weddings.  This has included transport of the bridal party, to and from the reception and ferry transport.  Let us do the planning for you and make your event worry-free! To make arrangements for your group or just to ask questions about our special group services, contact us via email at reserve@putinbayreservations.com or call 216-898-9951.
Island Club Taxis has been serving Put-in-Bay and South Bass Island since 1997. As members of the Put-in-Bay Chamber of Commerce, the company and its drivers volunteer our time to many worthwhile events on the island.   Furthermore, our drivers are pillars of the community.  They strive to bring good to the island and well respected Put-In-Bay Taxi Service.
The Island Club Put-in-Bay Taxi fleet is comprised of 15 passenger vans.  Each is adorned with our famous Island Club logo. So, just look for the palm trees and orange lettering.  Our drivers are friendly and professional.  Moreover, most of them have many years of experience as island cab drivers.  Nearly all hotels alert guests of the lack of parking on the island.  This is especially true in the downtown area. Most of the bars and attractions are located here. Island Club Taxis will meet you at the ferry boat of your choice.  Moreover, they will handle all of your luggage and camping gear for you. Our normal business hours are 7:00 AM to 3:00 AM, seven days a week during the season.  Contact us via email at reserve@putinbayreservations.com for further information on Island Club Taxis, or call 216-898-9951.
Island Club Taxi Service Contact Number
When you are on the island, call the taxi direct at 419-285-5466 for service!
Put in Bay Condo Taxi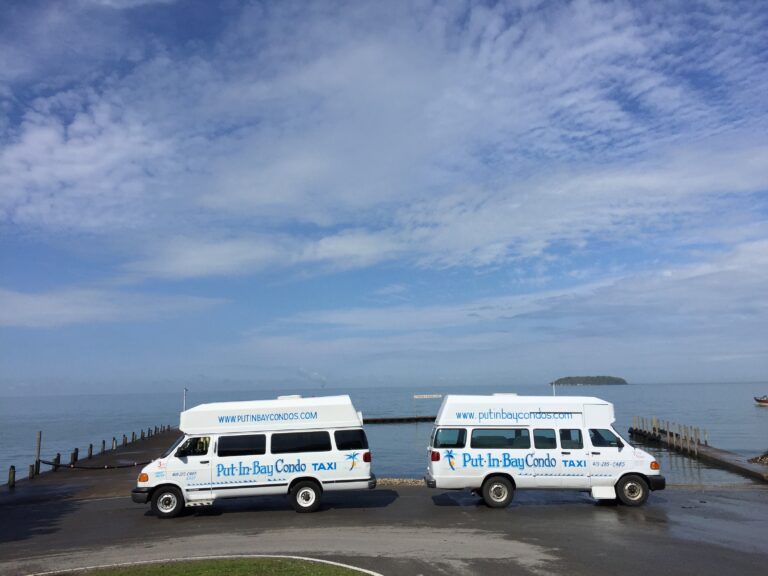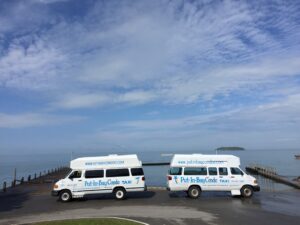 The Put in Bay Condos is a favorite place to stay on the island of past guests.  With exceptional views of Lake Erie and ample space for large groups, it is easy to see why this is an excellent Put-In-Bay Lodging choice.  Onsite, guests can opt for a golf cart rental.  Otherwise, there is the outstanding Put-In-Bay Condo Taxi Service ready to fulfill all of a guest's transportation needs.
PIB Condo Taxi will pick up from the Miller Ferry, the Jet Express, the Put-In-Bay Airport, all Put-In-Bay Hotels including the Put-In-Bay Resort and Bay Lodging Resort,  and,  In fact, they service the entire South Bass Island, from Island Club Home Rentals to the Islander Inn Put in Bay.  They are your Put-In-Bay Ohio taxi go-to.
The white vans can be found with a distinctive blue palm tree on each side.   Their friendly and informative drivers are ready to be your personal concierge of fun.  With many years of experience, they can assist in pointing out the very best Things to Do and Put-In-Bay Restaurants.
When you need a ride and your address is Put-In-Bay, Oh 43456, Call Putinbay Condo Taxi @ 419-285-2227.
Tony's Taxi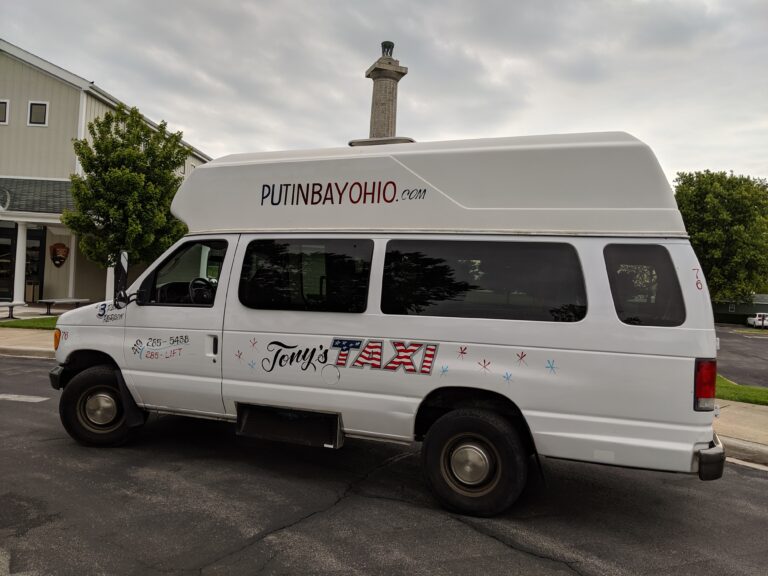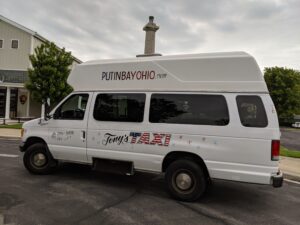 The newest cab company on the island is Tony's Taxi.  This company wants to become the best transportation provider in the Lake Erie Islands.  With great drivers and late model vans, this goal will be very achievable!  Look for the patriotic paint job during your next visit to the island.
Tony's Taxi provides direct transport to downtown Put-In-Bay with comfortable 15 passenger vans.  Guests can ride in comfort while listening to great music.  Additionally, we are proud to have access to the Island Club Rentals family of properties.  Here, we specialize in catering to large groups.
This company also can pick passengers up from the two Put-In-Bay Ferry Boats.  Those departing from the Miller Ferry Catawba Dock can call ahead for pickup at the Lime Kiln dock on Put-In-Bay.  This lead time is perfect to ensure a driver can be waiting personally for such guests.  Oftentimes, the Put-In-Bay Golf Cart Rentals near the docks can sellout.  No Worries!  Tony's Taxi can get you to a golf cart rental elsewhere on the island.  Furthermore, they have golf cart partners who they know have carts available.
Call Tony's Taxi for All of Your Put-In-Bay Taxi Needs at 419-285-5438.
Make Your Put-In-Bay Taxi Reservations
A Put-In-Bay Taxi is useful for a day trip.  However, this is even more true when staying overnight!  A late-night ride in an island cab may not be one you soon forget.  With the fun antics of fellow guests, quirky drivers, and the light-hearted nature of the island, you'll be glad you came.
Research the best Put-In-Bay Hotels, Waterfront Condos, and Put-In-Bay Home Rentals.