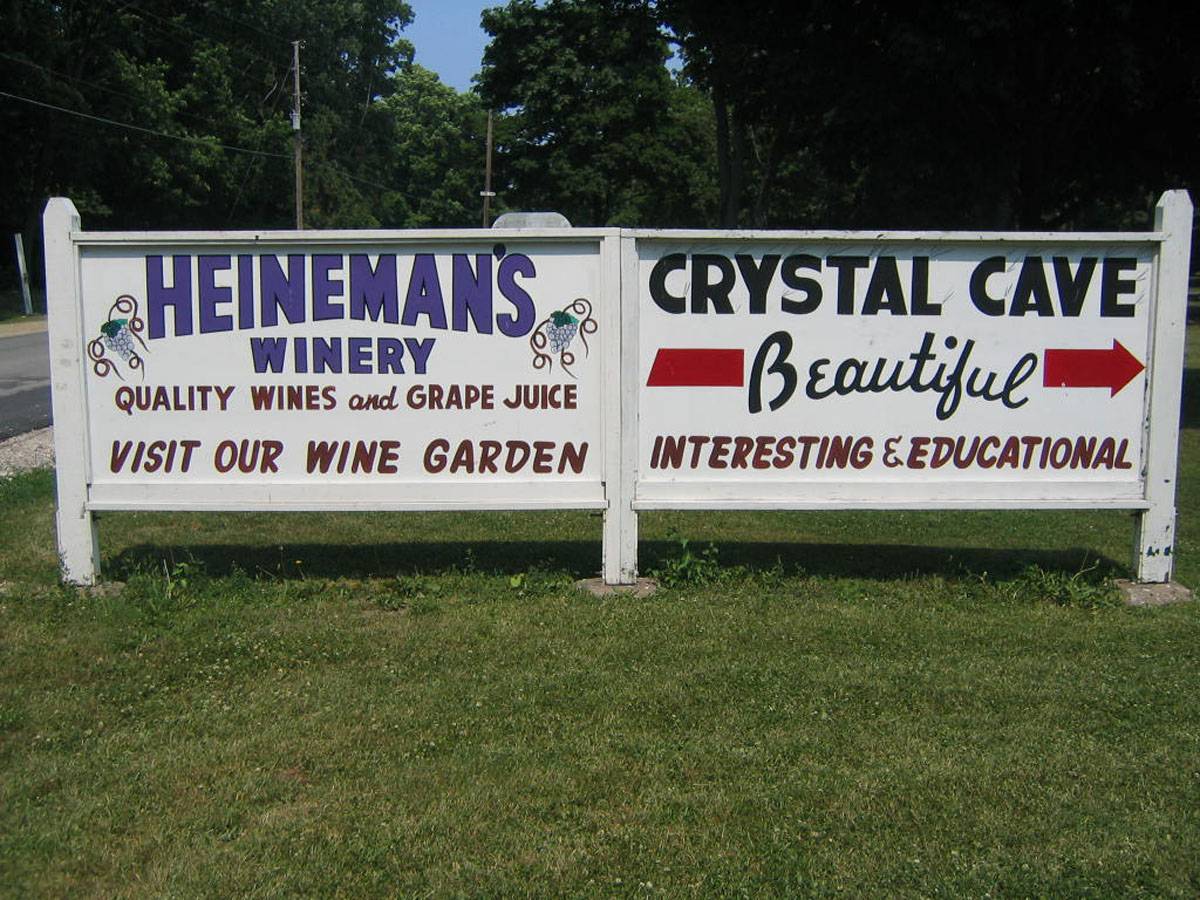 Crystal Cave is a geological treasure on Put-in-Bay.  It is home to the World's largest geode.  Strontium sulfate lines the walls of this beloved cave.  The site is surely one not to miss out on.
Originally, workers discovered the cave while digging above in 1897.  They were working 40 feet above when the Earth fell into the cavern.  Today, the cavern is much larger than what these men discovered.  The crystals were once harvested to aid in the production of fireworks.  Consequently, the cave grew in size.  Now, the crystals in the cave range from 8 to 14 inches.
An interesting aspect of Crystal Cave is how it prevented Heineman's Winery from closing.  During Prohibition, it became increasingly difficult to stay open.  Fortunately, the Crystal Cave tours helped to keep the business afloat.  Interestingly, there were many more wineries on the island prior to Prohibition.  However, they did not have a tourist attraction like this to aid them.  Consequently, the other wineries were forced to close.  Thankfully, the great island tradition of wine making continues with the Heineman family.
Crystal Cave Location
This interesting cave is located beneath the historic Heineman's Winery.  The winery is the oldest family run winery in Ohio.  Since 1888, they have been producing island wines.  The location is at the intersection of Catawba Rd and Thompson Avenue.  Moreover, Perry's Family Fun Center is across the street.  Here, there are many fun things to do in Put-in-Bay.  The War of 18 Holes Mini Golf, Gemstone Mining and more await guests.
Crystal Cave Tours
Tours offered 7 days a week from early May to late September
Cost: $8 Adults  $4 Children Aged 6 through 11
Monday – Saturday Tours Begin at 11 AM; Sunday Begin At 12 PM; Tours Conclude at 5 PM Daily
Testimonials
Nathanael M: "Very cool. I thought the winery would be a waste after seeing the cave, but no, the cave was incredible and the winery tour was interesting and informative. The included glass of wine (or juice) was delicious. Multiple award winning wines from a vineyard where they still pick the grapes by hand because they have to, machines wont fit!"
Ian P: "A small little cave with crystals all over the place. The name definitely does it justice! For a small amount of money, you can go on a cave tour and winery tour and get a sample of one of the wines they make there. Great deal."
Lauren B: "It's a huge celestite geode you can walk in! I'm a rock hound, so I wish it was a longer experience. They had to drag me out to go to the wine tour. It's a small space and they pack it tight. You'll find it interesting if you aren't a rock person, but one short walk through and you'll be good. Be prepared for stairs. No touching!"
Adam R: "A very cool place to visit. This is a cave that is also the worlds largest geode. There is also Perry's Cave right across the street. Both are very cool places to visit and have very reasonable prices. It's a short trip by ferry. The Island is pretty big for walking. You can ferry your car, motorcycle, or bikes. Taxis are available as well as golf cart and bicycle rentals. Plan on spending a full day and remember to find out when the last ferry leaves the Island to the main land. Have fun!"
A trip to Put-in-Bay wouldn't be complete without a stop at Crystal Cave at Heineman's Winery.  This geological wonder must be seen for one's self.  Moreover, the history of the property is worth a visit alone.  Stop in and see this great thing to do in Put-in-Bay!