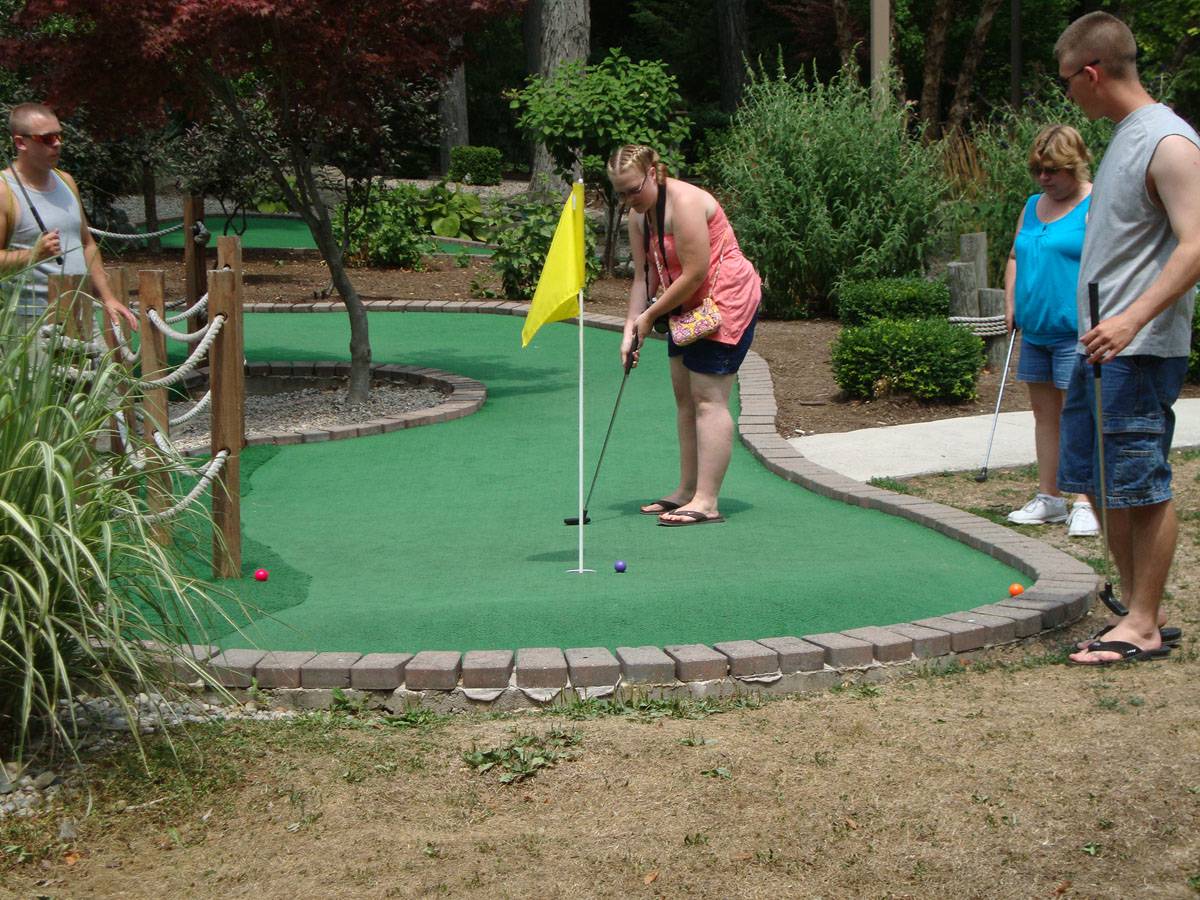 The War of 18 Holes Miniature Golf is the only course on Put-in-Bay.  Here, guests can challenge friends to a round.  The course is both beautifully manicured and challenging.  Stop in and see if you can step up to the challenge.
War of 18 Holes Location and Other Attractions
The War of 18 Holes is at the Perry's Cave and Family Fun Center complex. This great Put-in-Bay Attraction is located on Catawba Avenue.  Also, Heineman's Winery and Crystal Cave is right across the street.   Here, guests have a wide selection of fun things to do for the family.  This includes Gem Stone Mining, the Butterfly House, Cave Tours and Fort Amaze'N.  First, Gem Stone Mining requires the purchase of a bag of rough mix.  Then, participants can use the mining sleuth to uncover precious gems and fossils.
Second, the Butterfly House is whimsical and relaxing.  Guests can stroll through the beautiful space, all while watching beautiful butterflies flying about.  Third, the Cave Tours give insight into the famous Perry's Cave.  Here, Oliver Hazard Perry collected water to give to his troops.  Last, Fort Amaze'N is a challenging maze with twists and turns throughout.  Guests can challenge friends to see who can make it through fastest.
War of 18 Holes Course Info and Cost
While passing through this course, players have the chance to learn about the Battle of Lake Erie.  Facts line the well manicured walkways, giving insights to days passed on Put-in-Bay.  Also, the tree lined course will be a nice reprieve from the Summer sun.  Beautiful hostas, rhododendrons and azaleas are notable flowers than are enjoyed.  There is a lovely covered bridge and walk thru waterfall.  These will surely be highlights with the little ones.  The cost to play is $8 per adult.  Children that are between 6 and 12 are $4.50.  Fortunately, children 5 and under are absolutely free!
So, for a fun and challenging time, check out the War of 18 Holes Mini Golf.  A sunny afternoon spent with friends and family will make memories for a life time.  See you on the links this Summer at Perry's Family Fun Center!
Testimonials
Joe A: "We had a great time at this complex. Get the 3 attractions deal it's worth it. For our 3 attractions we did the cave tour, putt-putt, and the butterfly house. The cave tour is pretty accessible as cave tours go. There are a lot of steps. I don't think my 3 yr old could handle them yet but 4-5 years should do okay with minimal assistance. The temperature in that cave is heavenly on a hot day. The putt-putt course is well maintained and challenging. (We lost a ball in a water hazard and had to retrieve it.) The butterfly house is lovely and reviewed separately. One thing to note all beverages on the complex are sold through vending machines that do not take debit / credit cards. Drinks are not sold at the snack counter or gift shop."
John A: "My wife and I made sure to check this place out as it is one of the top attractions on the island. Not only is there a large cave to check out but it has an 18 hole mini golf course, a butterfly house, car museum, a maze, a giant gift shop, and a few other smaller activities. What a cool place! The butterfly house itself could be a separate attraction on it's own. We have been to several butterfly conservatories and this was one of our favorites. The variety and health of the butterflies were top notch. The gentleman that worked there was full of information. The women working in the gift shop were very polite and offered us an umbrella to take with us since it was raining that day. The cave was very cool! Our tour guide was really passionate about caves and was full of information about local caves on the island and general knowledge of geology. We wrapped up our visit with 18 holes on the mini golf course. The course was challenging and the design and decor were five star. Thank you "Perry's Cave" for a wonderful experience!!"
Bill T: "We didn't go into the cave, but we had a great time panning for gems, and playing putt putt golf. For $9.50 you get a huge bag of sand, and pan for the gems inside. They give you a card showing the different gems you might find. All of the kids in our group found lots of cool gems. The putt-putt golf course is beautiful and really fun. Adults and kids had a great time."