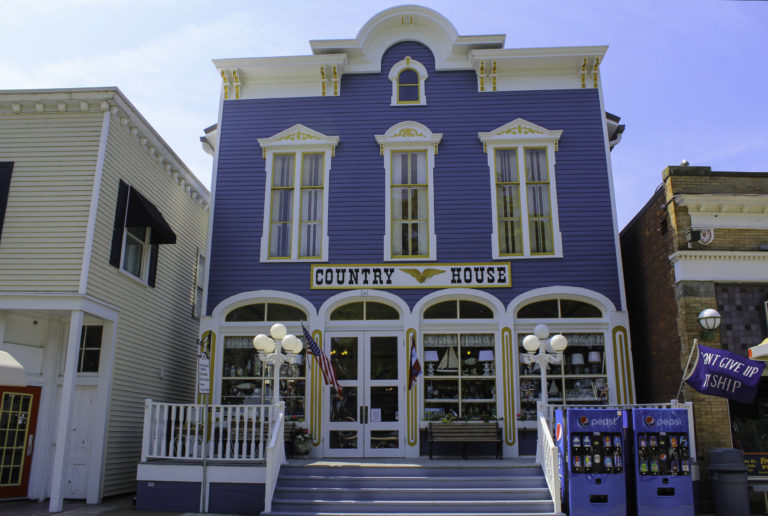 The Country House is in the heart of downtown Put-In-Bay. DeRivera Park is right across the street.  Beginning in the 1850's, Jose DeRivera began to develop South Bass Island into the tourist destination it is today.  Special gifts line the shelves of the Carriage House.  Therefore, this shop is a must stop! Neat coffee mugs, post cards, key chains and picture frames are just a few of the wonderful offerings.  Also, Vera Bradley purses are on display, as the Country House is an authorized reseller.  More noteworthy, local authors and artists works are proudly sold. Bob Adamov, a renowned local author, has held book signings here.  Adamov has written many excellent mystery novels that are set on South Bass Island.
Commemorate a trip to the Lake Erie with a great memento.  Be sure to save time to browse the unique and eclectic stores. So, stopping here will offer you a great chance to take home a piece of the rock.  The Country House proudly supports the local arts and culture of South Bass Island.  Supporting the arts is certainly a worthy endeavor.  Book signings are held by island authors on occasion.
Testimonials
Becky G: "Always visit your store, when we go to the island. My favorite store, on the island. Always a neat, and colorful collection of items. Stuff, you can't find anywhere else. Staff is friendly, store is always clean, and neat. Can't wait to visit next summer."
Christina Y: "My favorite store. I have never had a bad experience here. Lovely shop"
Country House Brands
Tervis Tumblers, Vera Bradley
There are other great shopping opportunities by checking out the Mariner's Locker, Misty Bay Boutique and the Bucket Shop at the Roundhouse.  Fortunately, these shops are a short walk from each other.
Other Put-in-Bay Attractions and Things to Do
Whether you are visiting for a family getaway or a bachelorette party, Put-in-Bay Island has something for you. With plenty of upcoming events there is always something to do. One of the most popular Put-in-Bay events is Pyrate weekend. Just a short drive from Toledo and Cleveland, Put-in-Bay Ohio is perfectly located for everyone. Kelleys Island and Middle Bass Island are nice but South Bass Island is by far the best of the Lake Erie islands.
There are many great Put-in-Bay hotel and vacation rental options on the island. If you are looking for a lakeside view the best option is easily the Put-in-Bay Condos. If you are looking for a rental home look no further than the Island Club. The Island Club is a favorite for boaters coming to visit to catch some walleye. Put-in-Bay opens on April 1st and Put-in-Bay lodging fills up quickly. So make sure to book you Put-in-Bay vacation as soon as possible.
Looking for something to do with the family? Start at Perry's Family Fun Center. There you can check out their maze and mini golf. Once done there head across the street to Perry's Cave and collect geodes. The Butterfly House is a must for any family getaway. Perry's Victory and International Peace Memorial is another must for any first visitors. Civil War reenactments happen right next to the memorial. To learn more about Oliver Hazard Perry and the Battle of Lake Erie stop by the Lake Erie Islands Historical Society. If you are looking to get out on the water South Bass Island State Park offers jet skis and kayaks to rent.
Looking for the best Put-in-Bay restaurants and bars? Take a Put-in-Bay taxi or Put-in-Bay golf cart rental and head downtown put-in-Bay. There you will find many great food and bar options all found around Derivera Park. Come find out why Put-in-Bay has some of the best night life in the Midwest. Its not call the Key West of the North for no reason.
Getting to the island is very easy. There are two Put-in-Bay ferry options. The first is the Miller Ferry which disembarks from Catawba Island. You can bring your vehicle on this ferry. The second option is the Jet Express which disembarks from Sandusky and Port Clinton. You cannot take your vehicle on the Jet Express. Visit Put-in-Bay today!