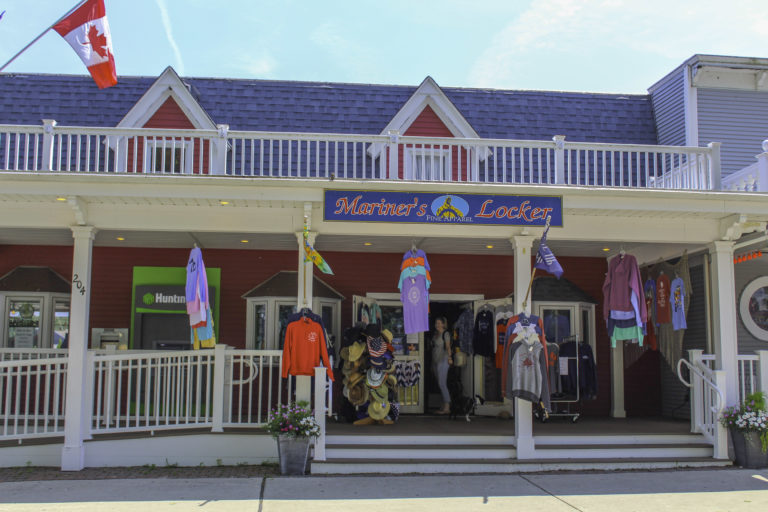 Mariners Locker is the island's original men's clothing store and the closest store to the downtown Ferry. Shoppers can find our store located on Hartford Ave in downtown Put in Bay. The shop is located between the Boathouse Bar and Grill and The Boathouse Cart Rental, The Jet Express Ferry, one of two main island ferries is located only a few minutes walk from the store. The store contains a large selection of fine clothing for both men and women.  Clothing, shoes, T-shirts, sweatshirts are some of the variety of popular brands you can find at Put in Bays Mariners Locker. As with most South Bass Island clothing stores, you will find a wide variety of Put in Bay Branded souvenir products as well. Our island customers can find an outfit from a fishing trip to a casual night out.
Are you visiting Put in Bay with a certified shopaholic?  No problem you can stop next door and have a beer at the Boathouse, rent a golf cart on the other side at Boathouse Cart and Bike Rental, or rest your bones on a Derivera park bench while your shopping friends go about their business. Island guests can use an ATM machine located just outside in case they run out of cash. If your day is just begun and you do not want to carry around your purchases, there are lockers outside the public bathhouse in the park. We hope you enjoy your stay on the Island and find time to visit Mariners Locker.  If you have any additional questions, please feel free to contact us at 419-285-7005.  See you at the Bay, shopping at Mariners Locker.
Mariners Locker Brands
Sperry, Columbia, Old Guys Rule
Clothing Style
Casual, Night out, or fishing trip.
Not finished with your Island shopping click here
If you'd like to know about Put-in-Bay hotels and lodging options, visit Put-in-Bay Ohio.
Testimonials
Mira B: "Helpful staff, great dresses! High-quality LuLu B clothing, stylish, comfortable, colorful! Other brands & styles too. Check out the sweatshirt blankets! Perfect for cooler days on the island!"
Sally S: "Excellent service and great customer assistance. Loved the selection of clothes, hats, and shoes. Left happy!"
Brenda F: "Beautiful dresses for summer! Unique and colorful cover-ups, purses, and much more. Friendly and helpful service."