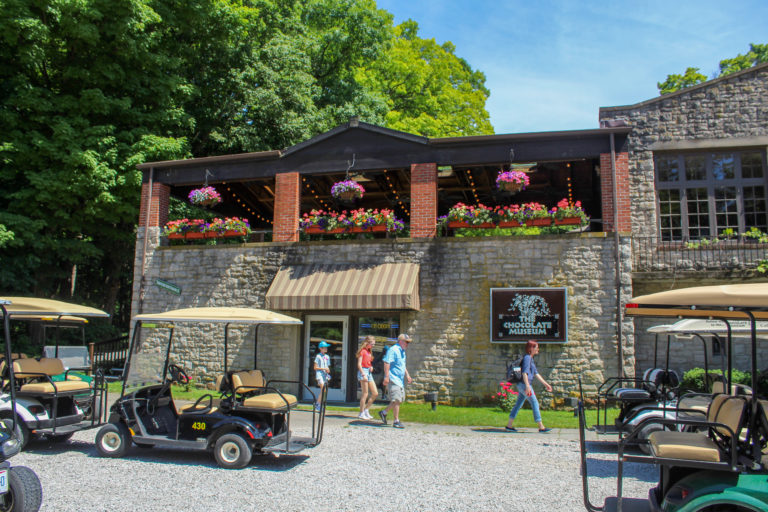 The Chocolate Cafe and Museum is one of the tastiest attractions on Put-in-Bay.  Here, guests can learn about the process of making this favorite treat.  Also, guests can browse the antique memorabilia inside the store.  Moreover, exhibits and displays are quite interesting.  Indulge in tasty chocolate and gain knowledge on the process of production.
Chocolate Cafe Location
Finding this store is easy.  The location is on Catawba Avenue, beneath The Goat Soup and Whiskey.  Furthermore, the cafe is situated between the Put-in-Bay Churches and Heineman's Winery.  The downtown Put-in-Bay scene is about a mile away.
There is a great variety of sweet treats.  Options include 32 different flavors of Toft's ice cream, pastries and cakes.  Also, there is a fine selection of chocolate.  Interestingly, chocolate ranks as one of Americas favorite flavors.  The traditions of this special treat go back over 2000 years.  Central and South America was the first place that chocolate was grown.  So, take a tasty bite of history on your next visit!
Chocolate Cafe Chocolate Selections
Chocolate Covered Favorites
Melt Aways
Truffles
Solid Chocolates
Creams
Gift Bags and Boxes
Sugar Free Items
Testimonials
Scott M: "Have you ever asked yourself what would it be like to watch Charlie and The Chocolate Factory on endless repeat trapped on an island of highly drunk people in golf carts? Well this is a place where you can get your answer! If you stop by definitely grab some of the chocolate cover blueberries and settle in for 4 showings of a small child inheriting a capitalist chocolate empire because his food had paper in it."
Ross S: "The options for food, coffee types, and chocolate drinks were numerous. They also had a chocolate museum that was small but not bad to look through for a couple minutes."
Crystal L: "Taylor, one of the gentlemen working, was phenomenal. It was a cozy little place and the drinks were great. These guys know their coffee and their chocolate. We will definitely be back!"
Damon J: "Great place for your sweet tooth. We had the 6 layer cake with vanilla ice cream. When we ordered the ice cream Brandon said they were all out, which was sad. Sierra over heard him tell us that. She without hesitation went to the freezer of a places to look for more ice cream and there it was!!! She went over an beyond in my mind. She was fun and pleasant. She is a great young worker."
Maddie C: "We spent the day of our anniversary touring put in bay. We came on this shop and thought it to be quite cute. The little museum area was fun. They have quite an array of chocolate and other sweets. We got a coffee and the lady put melted chocolate from the tempering pot directly into my mocha!! Heavenly cup of coffee. We will go back on our next visit."
Another notable feature is the breakfast offerings.  Moreover, each day the cafe grounds coffee beans fresh.  Step inside, and take in the enticing aroma.  Breakfast choices include hearty breakfast sandwiches, bagels, muffins and more.  Paired with a fresh coffee, this is a great place to start the day.
A trip to Put-in-Bay and the Lake Erie Islands is a great way to spend a Summer day.  However, the fun continues when the Put-in-Bay ferries stop for the day. With so much to do on the island, spending an extra night may be the best way to get the full island experience!  So, staying on the island is a great way to see it all.  Moreover, there are a great number of lodging options available.  Research and reserve yours today!  Many popular dates sellout, so it is advised to plan accordingly. The sooner you book, the sooner you can get on a Put in Bay ferry!