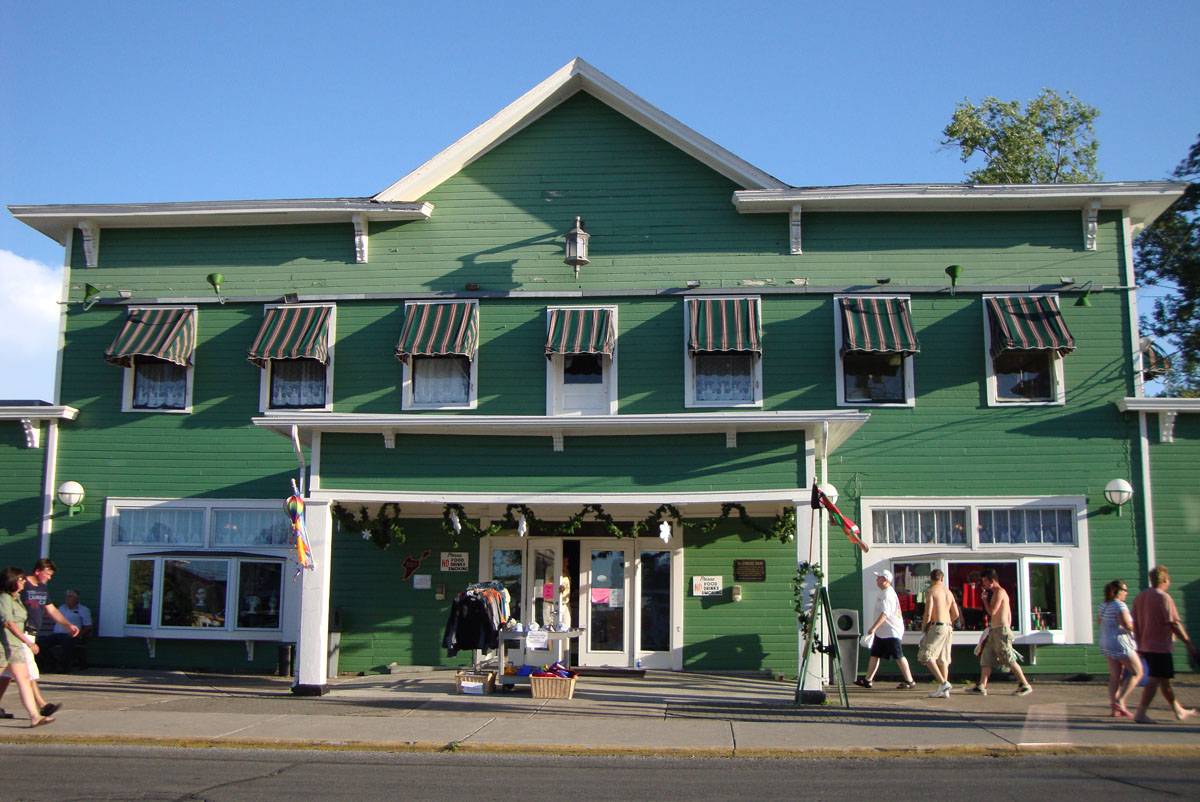 The Carriage House is one of Put-in-Bay's largest souvenir shops.  This impressive building is very prominent in the downtown Delaware Avenue strip. The bold green façade is inviting and intriguing, so one can't help but stroll in.  Located across the street from the Boathouse Bar and Grill, and adjacent to DeRivera Park, the location is both convenient and accessible. Carriage House is just a short walk from the Jet Express dock, so a prime location.
Inside, there is the largest and most comprehensive gift shop on Put-In-Bay.  Also, they proudly carry over 600 items that bear the Put-In-Bay name. These items vary from shot glasses, Frisbees, hats, trinkets, and much more.  Additionally, they have a vast selection of collectibles, toys, clothing, accessories, and a variety of other items.  There is something for everyone at the Carriage House.
Carriage House Attractions
Next to the Carriage House is one of the many gems of Put-In-Bay, Kimberly's Carousel.  This beautiful hand-crafted carousel was constructed by Allen Herschell in 1917.  Most noteworthy, all of the horses are original. The local favorite horse is named "Petey the Perch." More information can be found about this unique attraction and more that South Bass Island has to offer here.
Testimonials
Martin L: "My ride on the carousel was one of the most magical moments of my life."
Paula G: "Nothing beats the Carriage House for last-minute birthday gift shopping!"
Final Thoughts
Taking home a memento after a fabulous time on the Lake Erie Islands is a must.  Merely the sight of your Put-In-Bay t-shirt shot glass, or hat will bring back those great Summertime memories.  Therefore, stopping at the Carriage House is a must to find the perfect gifts.  With such a vast selection and variety, this shop is a must-stop shop.  Don't miss out on this Put-In-Bay shopping mecca.
Most of all, there's no better way to experience all that Put-In-Bay has to offer than to stay the night!  Furthermore, the way to stay is in your very own vacation home.
Other Put-in-Bay Attractions and Things to Do
With plenty of upcoming events, there is always something to do in Put-in-Bay Ohio. Whether you are looking for a family getaway or a place to host your bachelorette party Put-in-Bay has it. Getting to the island is very easy. There are two Put-in-Bay ferry options. The first is the Miller Ferry which disembarks from Catawba Island. This ferry allows you to bring your vehicle. The other ferry option is the Jet Express. The Jet disembarks from Port Clinton and Sandusky. You cannot bring your vehicle on the Jet Express. Once you have arrived to the island make sure to grab an island guide. There will be golf cart rentals and Put-in-Bay taxis available at both ports once you have arrived.
Looking for a place to take your family? Perry's Family Fun Center is a great place to start. Check out their maze and mini golf course. Once done there across the street to Perry's Cave and collect geodes. The Butterfly House is a must for all family visits. Another fun family activity can be found at the Put-in-Bay Airport. There you can take a helicopter tour and see Kelleys Island, Cedar Point, and even Cleveland. Kayaks and jet skis are also available to rent on the island. Perry's Victory and International Peace Memorial is must for all first time visitors. One of the most popular Put-in-Bay events is the Civil War reenactments that happen right next to the memorial. TO learn more about Oliver Hazard Perry and the Battle of Lake Erie head to the Lake Erie Islands Historical Society.
The food and nightlife on Put-in-Bay is some of the best in the Midwest. Head downtown Put-in-Bay to find the best Put-in-Bay restaurants and bars. The cool thing about downtown is everything is within walking distance around Derivera Park. Make sure to check out the Boardwalk where you will find one of the best restaurants Upperdeck. Try their famous lobster bisque while enjoying view of boaters coming and going from the Great Lakes. Come find out why Put-in-Bay is called the Key West of the North.
The island offers many great Put-in-Bay hotels and Put-in-Bay lodging options. If you are looking for a lakeside view there is no better option than the Put-in-Bay Condos. Another great option on Put-in-Bay Island is the Island Club. These vacation rental homes are perfect any size group. Put-in-Bay opens April 1st and is a popular vacation destination so make sure to book as soon as possible. Visit Put-in-Bay today.