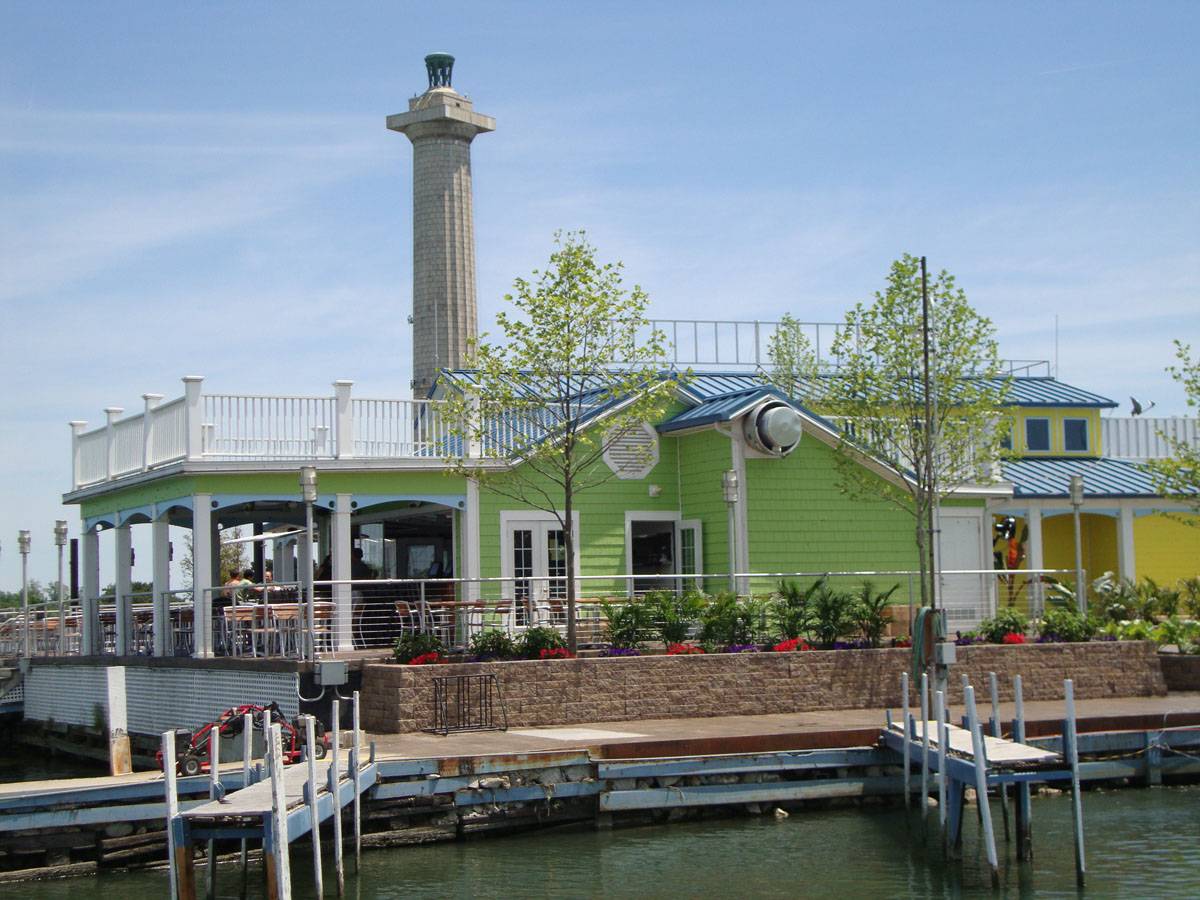 Park Place Boat Club is the island's newest marina. The former Put-in-Bay Marina and Fox's Dock have combined under new ownership.  From spectacular views to top-notch service, we are truly the gateway to Put-in-Bay. The Park Place Boat Club is a private club. Members can to make advanced reservations for docks. Transient non-member docks are accepted on a first come, first served basis.  Also, this is also based on availability for only Monday through Thursday.
Finding this boat club is a breeze.  Moreover, the location is prime on the waterfront of downtown Put-in-Bay.  Just look for the brightly colored buildings of The Keys complex.  Also, Perry's Victory and International Peace Memorial is within view.   Boaters will enjoy the close proximity to the majority of the Put-in-Bay Attractions, Shops and Restaurants.  Also, taxi service is very accessible.  So, for a visit to the Winery or Joe's Bar, getting there is convenient from the boat club.  Be sure to say hello to Jim, a long time worker on these docks.  He is very helpful and eager to ensure boaters enjoy their stay.

Park Place Boat Club Amenities and Features
Our waterfront locations offer several amenities for patrons arriving by boat. There are multiple slips and docks available for boats up to 50′ at our Park Place Marina Location. Most importantly, Park Place Boat Club Members receive first priority at any of our docks over all Non-Members. Also, as part of The Boardwalk family of restaurants (including The Boardwalk, The Upper Deck, Hooligans, and all the great spots of The Keys), our members enjoy incredible discounts at these fine establishments and many more!
So, lock in your status as a Club Member. The benefits are outstanding as docking on Put-in-Bay can be limited.  Also, the perks really are worth it.  Set sail for the island and set anchor safely at the Park Place Boat Club.
Testimonial:
Andrew B: "I'm am so grateful for the woman who answered the phone today around 2:00pm. On probably the busiest weekend ever, I arrived for an afternoon visit and didn't have any reservation for a dock, not knowing I needed one. Everyone was full and thankfully this friendly woman who answered the phone had compassion for me, given I was a brand new boater, and only had a golf cart reservation but not a dock one. She allowed me to park my 20-footer boat in their office space for four hours, even when they were full. Thank you so much for turning what could have been a terrible ending to a short stay at Put-In-Bay to a wonderful beginning on my first boat trip to the island!"
Linda O: "Members pay to join a club and have weekend docking opportunities. During the weekdays, transient boaters can come in if space is available. It is more expensive, but there is no rafting off. Docks are wooden, floating and are in good condition. Wifi signal is strong and the shower/bathrooms are clean and roomy. There is a gift shop that also sells coffee and a restaurant attached to the marina. There is a great unobstructed view of the Peace Monument from your boat. All Put-in-Bay shops and restaurants are an easy walking distance."
Alycia R: "We love Park Place Boat Club! We spend a lot of time at Put-in-Bay and this is the best place to go! We have been members for 3 years and the staff is amazing! It is close to town but far enough away for some quiet if you'd like. The facilities are extremely comfortable and clean. The dock hands are very knowledgeable and helpful. The Keys is right there for great food, spectacular drinks, and live music!"