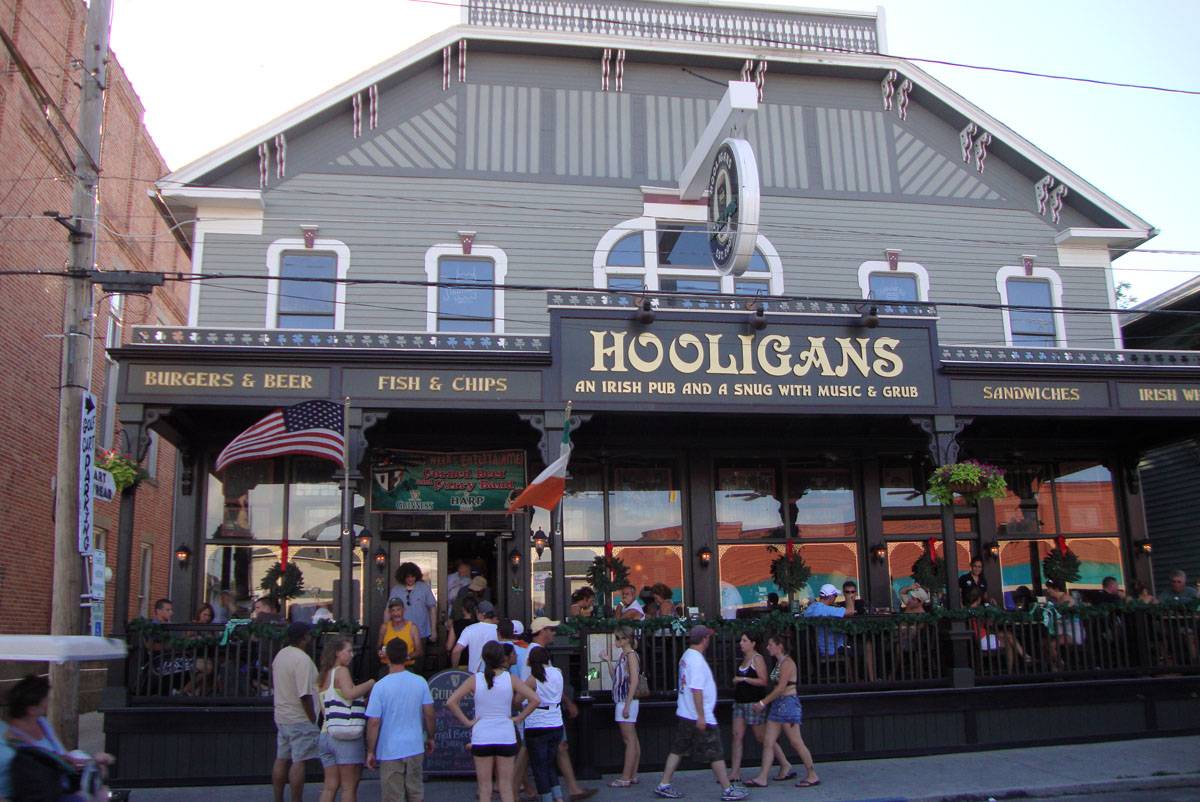 Hooligans Irish Pub is a lively eatery on the magical isle of Put-in-Bay.  Here, patrons can get the taste and feel of "The Emerald Isle. The Irish hospitality is worthy of a visit. Most importantly, the staff strives to provide an excellent dining experience.  Stop in for a pint.
Hooligans Location
The location of Hooligans is on Catawba Ave.  Furthermore, the Put-in-Bay Town Hall and Put-in-Bay Police Department are directly next door.  So, from this location guests are close to the action.
Inside, the interior is beautiful. Impressive wood working is found throughout.  The rich woods and Irish themed decor set the mood for a memorable experience.  There are multiple seating areas available.  Moreover, diners can choose the main dining room for table side service.  Otherwise, guests can opt to sit at the bar.  Lastly,  the lovely outside patio is a great option. From this vista, guests will have a front seat to the action. Catawba Avenue is oftentimes very busy, with golf carts whizzing by.  People watching at its finest.
Hooligans Menu Highlights
No one leaves Hooligans hungry.  Menu options include many hearty and savory dishes.  First, there are excellent appetizer choices.  Options include Hooley Cheese Dip, Soft Bavarian Pretzel Sticks and Irish Nachos.
Second, lunch options are sure to delight.   Salads like the Celtic Caesar and Griffin's Steak Salad offer diners a lighter option.  For a heartier lunch, try the sizable Reuben or Finns' Fish Sandwich.  Regardless, guests will leave happy and full!
Lastly, the dinner options are hearty. Try a traditional Shepherd's Pie, overflowing with meat and vegetables.  Additionally, options include Fish and Chips and Meatloaf. Therefore, the choice for good eats is clear.  Hooligans has the right stuff.
Testimonials
Sarah H: "The best BLT (and egg) I have ever eaten in my entire life. The bacon cooked well, good ratio of all ingredients, and the bread so perfectly toasted it melted in the mouth, I would highly recommend. The prices were fairly reasonable, and the waitress was very nice. The food was quick to come out and the atmosphere was very comfortable."
Megan K: "This place was great. Really enjoyed the pretzels. They took care of us. We were seated by an air vent and we asked if they could turn the air down. They tried but it was still cold. Next thing you know they are giving me a sweatshirt from their store! I recommend going there."
Ryan A: I absolutely love Hooligans. It's always a must visit each time I travel to Put-in-Bay. It's an Irish bar in theme, food and drinks. The food and service has always been phenomenal. Today our server was Tayler and she gets a major thumbs up. I usually order a Jameson and ginger ale from the bar, or the "Irish Wolfhound" drink. Everything on the menu is fantastic, from appetizers to entrees. My favorites would have to be the classic Reuben, their mashed potatoes, Bavarian pretzel sticks with cheese/bacon dip, and the Guinness burger."
Lisa P: "We went of Hooligan's because my daughter had a coupon from where she rented her golf cart. This place has great food and even better service! Our waiter was top-notch and took time to help with menu selection. The Irish pub themed restaurant has fun décor and it is very comfortable. The menu prices were a little high as is the norm for the restaurants on Put-In-Bay, but it was well worth it. I would recommend this to family and friends and would go again myself."
Plan Your Adventure
A trip to Put-in-Bay is always fun.  Moreover, the rich history is something that shouldn't be missed.  So, plan your trip today.  There are many resources available.  So, see you at the Bay!