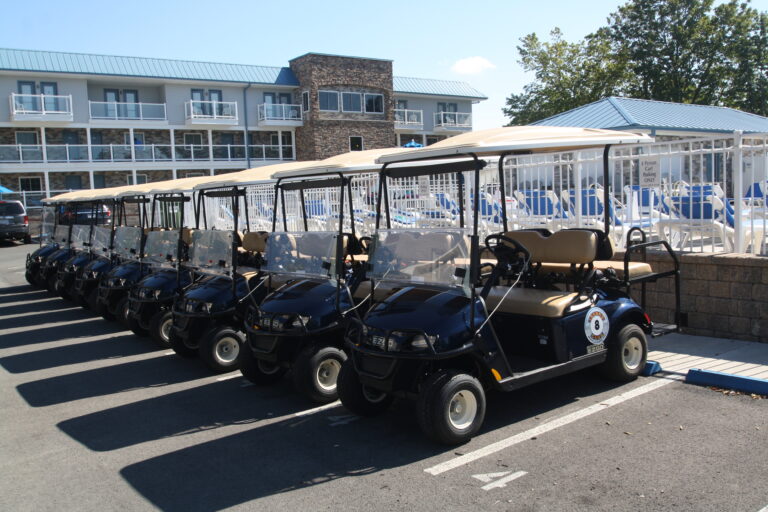 PUT-IN-BAY GOLF CART DEPOT
Our Golf Carts are available during the warmer summer months of the year. We have high quality brand new Yamaha Golf Carts that rent out hourly, daily, and overnight. With more than 9 miles of paved mostly flat roadways, riding a golf cart is a fun, easy way to explore the Village of Put-in-Bay and the rest of South Bass Island.
Our 2 person electric carts are a fun and quick way for couples to cruise the island for the day. If you're bringing the kids, our 4 seat electric will be a big hit also. Our carts are super safe with retractable seat belts to keep your precious cargo safe and secure. Total relaxation with this smooth and quiet ride. All Put-in-Bay Golf Cart Depot carts are powered locally by Crown Battery, Fremont, Ohio.
Our 4 and 6 seat gas carts are your passport for overnight and weekend or all week long rentals. We have a newer fleet of Yamaha fuel injected carts that will enhance your visit to our island paradise. At over 35 MPG, running out of gas is never an issue for your multiple day or weekly golf cart rental. These carts leave all the others eating dust!
If you really want to step up your game, try one of our CUSTOM YAMAHA Adventurer Sports. These carts offer a 3 inch lift kit, sporty tires and wheels with a fold down back seat for hauling groceries or gear if needed. These are the finest rentals available on P.I.B., offering a great value in your overall vacation experience.
New for 2015, we are offering an ELECTRIC ASSIST BICYCLE for a new way to see the island. Get your exercise, but have some help along the way. These will be on a limited supply basis, so please call for info about both the Bicycles and the Golf Cart Rentals.
Put-in-Bay Golf Cart Depot is located on Catawba Avenue, just a short walk from the downtown ferry, next to the Reel Bar.
Reservations are recommended and may only be made online by visiting Put-in-Bay Golf Cart Depot. Call 419-779-5147 for more details and information.
---

ISLAND CLUB GOLF CART RENTALS
When visiting Put-in-Bay, golf carts, bicycles and mopeds are the primary method of transportation. PutinBayOnline recommends Island Club Golf Carts for all your golf cart and bicycle needs. We have convenient locations in downtown Put-in-Bay and also at the front desks of the Island Club and Put-in-Bay Condos.
Delaware Carts features four, six and eight passenger golf carts for rent.  Rentals are available hourly, daily, overnight or weekly. All of Island Club Golf Carts' rentals are gas powered.  Also, they are high quality Club Car golf carts. Gas powered carts run for days. So, they are much more dependable than electric powered carts.  These carts can last for merely hours. Gas powered carts run at a consistent speed all day.  Moreover, they do not slow down as electric carts do as the day progresses.
Island Club Golf Carts is also Put-in-Bay's only full time overnight cart rental. The main rental facility is conveniently located near the heart of downtown Put-in-Bay.  The location is inside the Island Club community. Also, the location is just a few blocks from the Jet Express dock.  Otherwise, a short 5 minute cab ride from the ferry. Rates are  below. Reservations are wise and are available by CLICKING HERE.
WEEKDAY RATES
4 Person golf carts are $70 per day
6 Person golf carts are $90 per day
8 Person golf carts are $110 per day
WEEKEND RATES
4 Person golf carts are $80 per day
6 Person golf carts are $100 per day
8 Person golf carts are $120 per day
Keep any cart overnight through 11 AM the following day for no extra fee.
All golf carts from Island Club Golf Carts are licensed and street legal. They all include proper safety equipment including headlights, taillights, turn signals, roofs and seatbelts.
---

Additional Golf Cart and Moped information:
When operating a golf cart or moped, please yield to any traffic that is bigger than you and let them pass. If you're riding a bicycle, please ride single file and to the side of the roadway.
Golf cart and moped operators should also yield to any larger traffic. Carts don't move that fast and can bottleneck traffic.  Examples include the downtown bus or taxis.  They are necessary to move people to and from the ferry services. If you decide to stop and sight see, be sure stop your cart or moped.  Next, move as close to the right shoulder as possible.  This will let larger traffic pass. Then, continue on your way.
Golf carts and mopeds are licensed vehicles on Put-in-Bay Island. Therefore, they are operated under the same set of laws as any other motor vehicle (automobile) in the State of Ohio. This means you must possess a valid driver's license and proof of insurance. Please do not let anyone operate your golf cart or moped unless they are a licensed driver.
Golf Cart and Moped Road Rules
Be aware of your surrounding traffic at all times.
Move to the side for larger and faster traffic.
Do not stop your cart or moped in the roadway, or on the edge of the road to sight-see.
Don't drink and drive!!!!
Do not drive onto private property. Put-in-Bay is mainly residential property privately owned by individuals.
Wear your seatbelts. Also, make sure your kids are wearing theirs.
Stay seated at all times until the golf cart comes to a complete stop.  Also, keep your seat belt fastened.
No U-turns.
Be considerate of island property owners. So, do not drive thru yards or on private roadways.
If you want to bring your own golf cart to the island, you must contact your local Ohio Bureau of Motor Vehicles to get your cart registered and licensed. Your cart must display an Ohio license plate from the Bureau of Motor Vehicles. Make sure you bring your registration along.