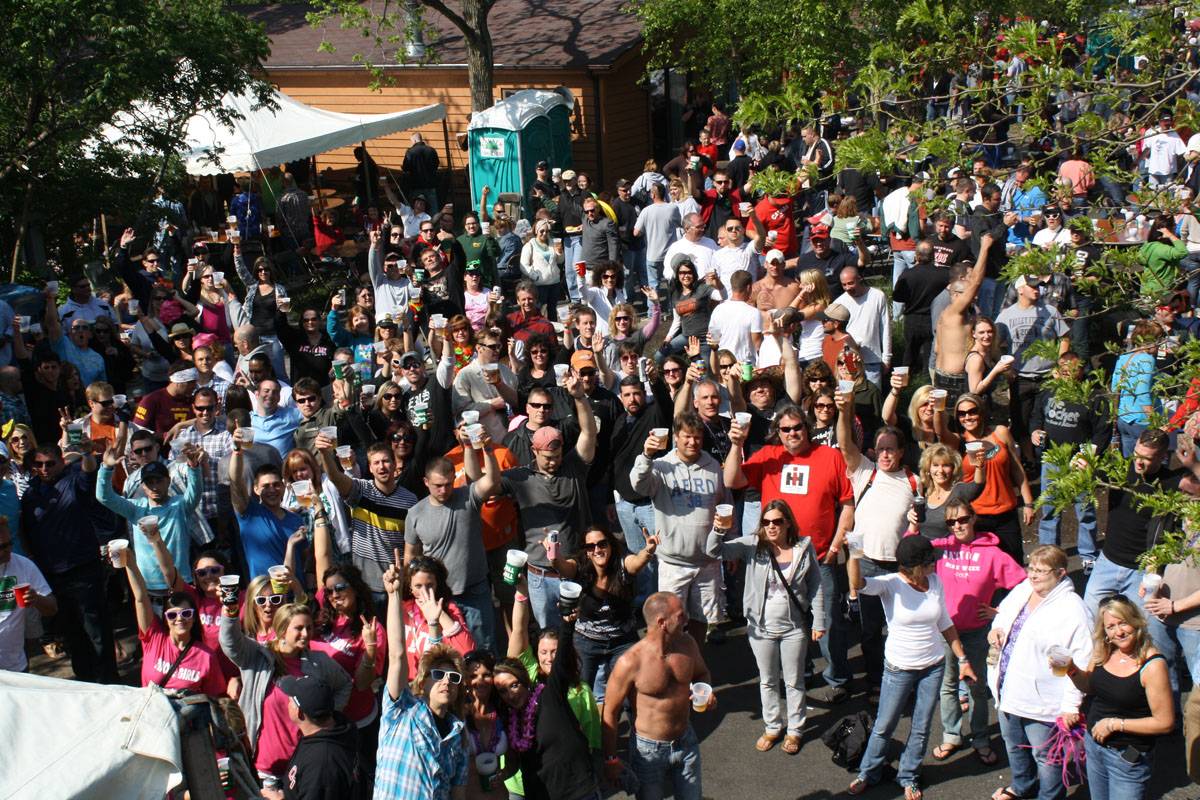 How far away is Put-in-Bay? Just far enough! Far enough to let you escape from boring strip malls. And fast food drive-thru meals. And those annoying 2pm budget meetings. And all the other hoopla, hype and "have-tos" of everyday mainland life. Here on Put-in-Bay, stress and schedules just sort of drift away as you look out on the sun-kissed waves of Lake Erie. And you can sit back, relax and re-charge in one of the most beautiful island settings on the planet, let alone the Midwest.
Party with us for Christmas in July. Try boating out around Gibraltar Island. Catch the Sonny-S ferry over to Middle Bass Island. Take a jetski tour of the historic downtown bay. Watch the annual Bartender Olympics. Hike out into the sunny parks. Play in our Soccer, Volleyball, Rugby and Corn Hole tournaments. Tour Heineman and Doller wineries to relax and unwind. Or just hunker down and enjoy the events and entertainment of our downtown bars and restaurants. In Put-in-Bay Ohio, you'll discover a million things that you and your family will want to do. And not one that you have to do. Here are the TOP FIVE SUMMER EVENTS AT PUT IN BAY…
Putinbay.com's 18th Annual Put-in-Bay Spring Fling Customer Appreciation Weekend!
May 05-06, 2017
Put-in-Bay likes to make sure that our guests know that we appreciate them staying with us on Put-in-Bay. There is no better way to show this than by throwing a huge party in their honor. We put together over 1600 people, 60 kegs of beer, bands, burgers, brats and more to kick off our season on PIB. This event is the brainchild of Paul Jeris, the proprietor of Island Club Rentals and the Put-in-Bay Condos. He wanted to show thanks for the guests that chose to stay with him. Initially, it was a handful of people standing around a keg and bonfire and has now morphed into the ultimate season-opener bash of the year. Friday features the musical stylings of Island entertainer JD Owen. The beer taps are open for your enjoyment as well as we hang out around campfires and enjoy the evening. On Saturday, we fire up the grills and cook up a blessed bounty of burgers, brats and hot dogs. JD Owen will rock down the house again, as will a premier feature band from Mr. Ed's Bar and Grille (check their entertainment schedule for the weekend to see who is playing). Be sure to book this weekend in advance as we often sell out for this date. We thank you for being our guests and we look forward to seeing you welcome in this Put-in-Bay season! Book your house or condo now at Island Club Home Rentals or Put-in-Bay Waterfront Condos or call 216-898-9951 to speak with one of their friendly reservationists!
URGENT UPDATE, 1/27/17: ALL HOUSES AT THE ISLAND CLUB ARE NOW BOOKED. THERE ARE A FEW PUT-IN-BAY CONDOS STILL AVAILABLE, BUT THEY ARE BOOKING QUICKLY
9th Annual Pyrate Fest Weekend at the Bay
June 22-25, 2017
Ahoy mates! This event has quickly became one of the most sought after weekends of the Put-in-Bay season. Be sure to deck yourself out in pirate gear, as many come to the island in full regalia with hopes to win one of the costume contests going on. The biggest contest is sponsored by Cayman Island Airways, the Cobalt Blue Resort, DiveTech and the Cayman Islands Convention and Visitors Bureau. The grand prize winner receives an all expense paid trip to beautiful Cayman. There are also a great number of family friendly activities throughout the weekend. The Pyrate Village sets up in DeRiviera Park boasting a variety of attractions and vendors. Guests can expect over 50 re-enactors discussing old cooking methods, tactics and all things pirate. Be sure to set sail for Put-in-Bay during the Pyrate Fest Weekend. Batten down the hatches for a Lake Erie adventure.
Fourth of July Fireworks
July 04, 2017
Put-in-Bay is an outstanding location to celebrate the independence of our great nation. With a plethora of Victorian charm, rich history and welcoming atmosphere, Putinbay is as American as apple pie. Lake Erie provides a beautiful backdrop the the annual Fourth of July Fireworks. This show is sponsored in part by many businesses across Put-in-Bay, including the operator of this website. Grab a seat on the break wall or on the lawn of Perry's Monument, and be prepared for a fireworks display you won't soon forget. Show your American pride by bringing flags and dressing in red, white and blue. Be sure to plan ahead as this is a highly sought after event. The Fourth of July Weekend is one of the best of the entire Put-in-Bay season. Let freedom ring at Put-in-Bay this year!
Christmas in July
July 21-23, 2017
Christmas in July at Put-in-Bay is a one of a kind experience. Out of all the great weekends of each Summer season, none have a bigger draw nor have the notoriety of this awesome weekend. Bars, boats and businesses are decked out with lights and displays of Christmas cheer. You are likely to come across Santa Clause himself on vacation from the North Pole wandering around Put-in-Bay. Be sure to grab some of the Christmas themed drinks and dining specials found at many of the local establishments. There is a parade that comes through the downtown Put-in-Bay strip complete with Christmas themed floats. Due to the overwhelming popularity of this weekend it is highly recommended that travel and lodging arrangements are made in advance. Come to Christmas in July at Put-in-Bay, you'll be glad you did! For rental home or waterfront condo rentals, please call 216-898-9951.
9th Annual Put-in-Bay Road Race Reunion
August 27-30, 2017
The Put-in-Bay Road Race Reunion pays homage to the races that were held on the island from 1952-1959 and again in 1963. These races, sponsored by the Cleveland Sports Car Club, were held on the roads of Put-in-Bay and consisted of over 100 small bore race cars. The drivers were all amateurs, giving those who wished to try out racing an opportunity to do so. Incredibly, there are no accounts of drivers or spectators being injured during the duration of the races. Now, to bring some of the original adrenaline back into the equation, racers compete on the grounds of the Put-in-Bay Airport. Spectators line the fence surrounding the strip and watch the cars whiz by. The roar of the engines can be heard reverberating across Put-in-Bay. This event is a must attend for the season. The number of cars has grown immensely over the course of the years of the reunion. The checkered flag will be waiving at the 8th Annual Put-in-Bay Road Race Reunion, join in on the fun.