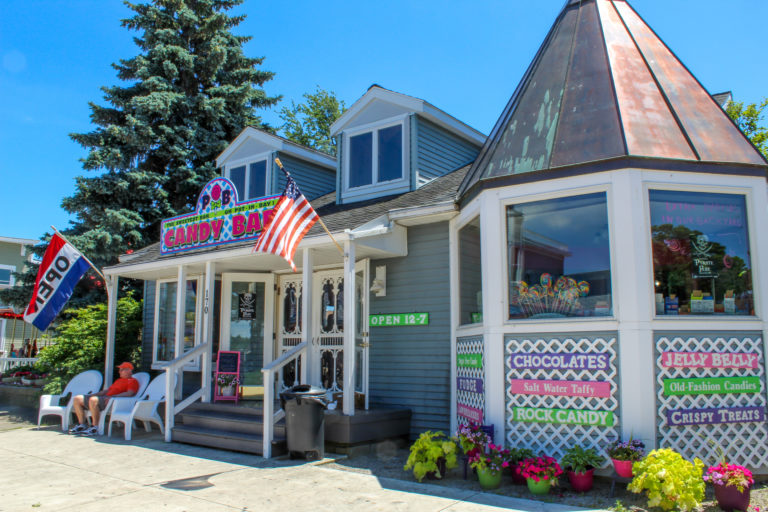 The Candy Bar is one cool candy store, selling 1/4 pounds of fudge, taffy, chocolate and novelty candy. Probably more types of unique candies in one store than you have ever seen. We have an ice cream shop that sells ice cream, shakes, sundaes, etc. and is available to enjoy on the outside patio. Remember all those candies you enjoyed as a child?  The Candy Store probably has it on the shelves.
Customers can find  the most well stocked unique Candy shops they have ever visited.
Candy Bar History
The Candy Bar is one of the oldest kids' bars on the island.
Old Fashioned Candy Brands
Testimonials
Connor O: "This is a very nice candy shop. It's a true dream for kids both young and old! They carry everything to satisfy anyone's sweet tooth. From packaged regular candy to the exotic candy-coated bugs. They have a huge selection of chocolate covered items and a large selection of fudge flavors also for those who like something a little colder on a hot day they serve a wide selection of ice cream."
Garry J: "My three year old daughter loved this store. The employees were very kind and patient with her. The fudge is great here, but don't miss the chocolate section either, I highly recommend the chocolate covered bacon! They also have lots of prepackaged candy, it's a great place to take little ones."
Larry W: "You can find everything at this candy store. Their prices are really good and they have a collection of sodas that are really weird flavors. Definitely worth a stop."
Need a place to stay
Furthermore, some great options for you to stay on the island are at Put in Bay Reservations
There are plenty of Things To Do at Put-in-Bay.