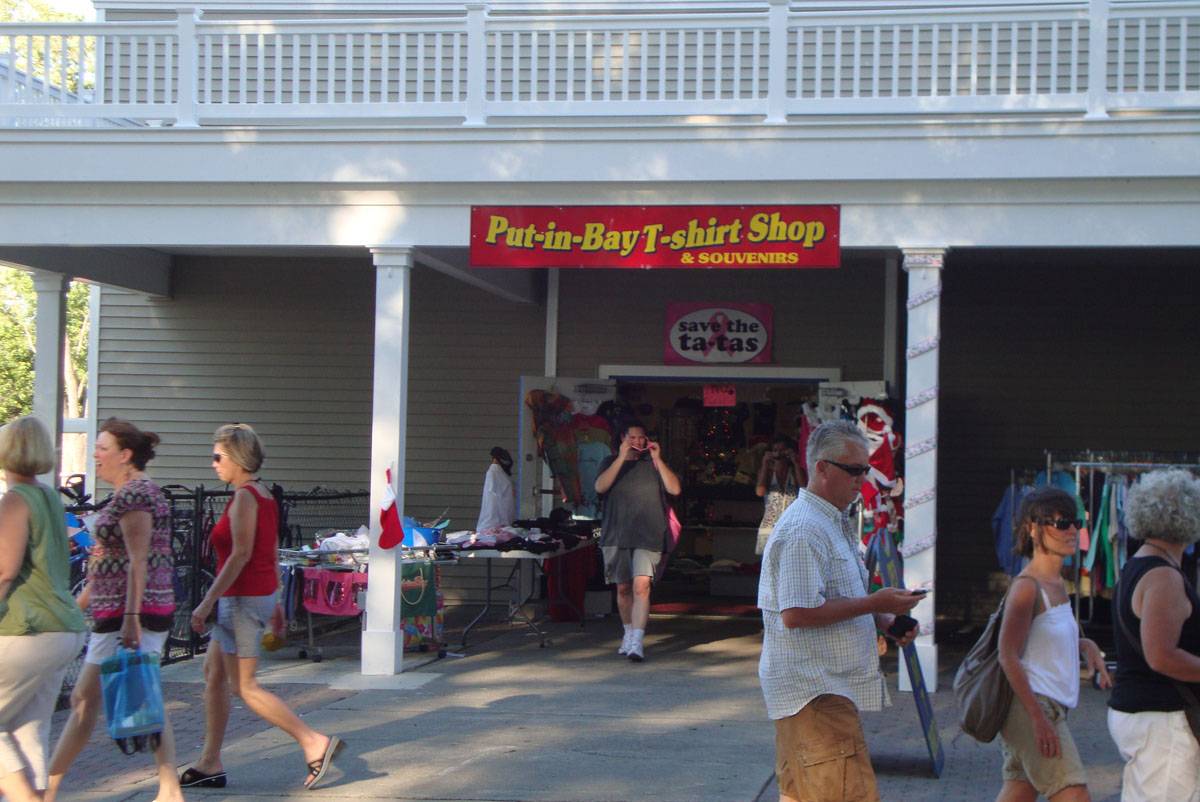 The Put In Bay T Shirt Shop has a fine selection of apparel and accessories.  Nearly all items bear the Put-in-Bay name so they make great souvenirs or gifts from the island. This is a great way to help you remember you trip to the island.  Take home a piece of the island with one of the many designs.  Moreover, this store offers more than just t-shirts.  Blankets, towels, toys and much more are in stock.  Hartford Avenue is the location for the store.  This is just steps from the Jet Express dock in downtown Put-in-Bay.  The location is very convenient.  So, stop in today to find a treasure.
DeRivera Park is adjacent to the Put-in-Bay T Shirt Shop.  This park is the perfect place for children to play.  There are multiple play areas that are designed for all age groups.  Therefore, all kids in the party will find a place to play.  Also, there are charcoal grills and tables in the park.  Enjoy the sweeping views of Lake Erie and the bustling downtown docks.  This is a preferred spot for a lovely picnic lunch.  So, be sure to pick up some unique apparel at the Put In Bay T Shirt Shop.  Then, show off the wares frolicking in the nearby DeRivera Park. Surely, wonderful memories are waiting to be made.
Testimonials
Tracy T: "I didn't have a large order, but it was important to me. I had a time frame and they bent over backwards to make sure I got my order on time. The customer service was great, from the beginning to the end. The design turned out just how I imagined and I was given a proof to approve. They kept in touch through the whole process, keeping me up to date. I would recommend this locally owned business to anyone needing their services, they did a great job!"
Chad S: "Great company with a lot of motivation and great ideas! If you have an idea and need some coaching and mentoring to design your shirt then contact Put-in-Bay T-Shirt Company."
Ellen B: "5 stars to Put-in-Bay T Shirt company and especially to Cody. She listened to my design request, communicated quickly back and forth with me until we had a design we both loved. I couldn't have asked for better service or quality of product."
Robin D: "This company is wonderful! Thanks Cody! Great quality products and fantastic service! They customized some things for me and did a perfect job!"
Kiel R: "Went in to get some stuff embroidered for work last minute and they had it done in 15 minutes! They went above and beyond to get my stuff taken care of! Thanks guys!"
Put In Bay T Shirt Shop Hours
May – September
Hours: 9 AM – 10 PM
Friday and Saturday Nights Open Later
Off Season
Hours: 10 AM – 5 PM
Still looking for other great shopping opportunities on Put-in-Bay?  Fortunately, there are numerous options.  Nearby, the Mariners Locker offers nautical inspired wares.  Additionally, the Misty Bay Boutique is within a short walk.  Here, an eclectic mix of offerings will excite.  Leaving the island with a special shirt or memento will be a sure conversation starter among friends. The fun can continue at home.
After a long day of exploring the shops of Put-in-Bay, some rest will be in order. Reserving a Put-in-Bay Cabin is a great respite.  Here, the comforts of home beckon guests to relax and unwind.  So, set the watches to island time and watch the worries fade away. Besides, with so much to do on the island, you may want to spend and extra night so you can get the full island experience! Make sure you book fast because weekends tend to fill up fast in the summer. The sooner you book, the sooner you can get on a Put in Bay ferry!