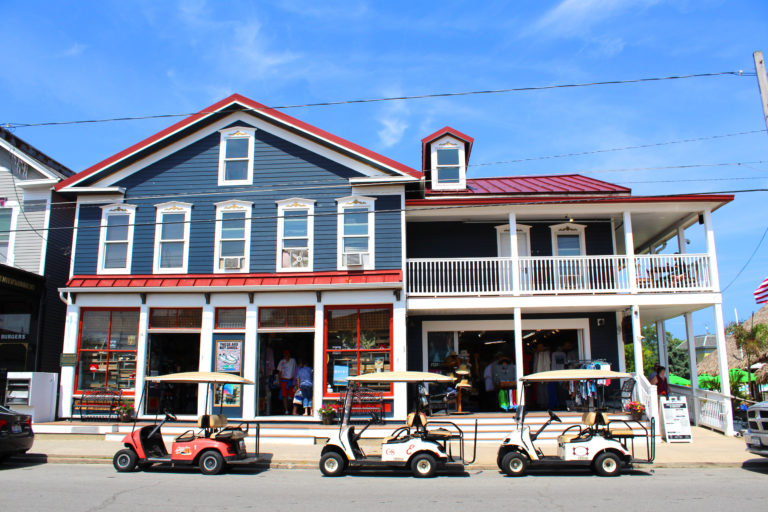 The Put In Bay Surf Shop is teeming with the hottest styles and trends. Awaken the inner surfer and grab some gear to complete the look.  Board shorts, swim trunks, shirts and accessories are only a few of the offerings. So, be sure to include this shop on a Put-in-Bay shopping excursion.  The choices and styles are sure to delight. The location on Catawba Ave is ideal.  So, guests can access this store from anywhere in the downtown Put-in-Bay block.
Mojito Bay is just a few steps from the Put In bay Surf Shop. This unique watering hole is a sure favorite of many island visitors.  The tiki hut structure fits so well on the island.  The bar has forgone bar stools, and instead offers guests swings to sit upon.  The drink features freshly muddled mojitos.  There are numerous flavors offered, and each is carefully hand crafted.  So, guests can have a different flavor on every visit. Additionally, live entertainment adds to the tropical feel of the Mojito Bay.  Local favorites like That Ally Girl and the Flying J's have graced the stage.
Put In Bay Surf Shop Brands
Quicksilver
Billabong
Roxy
Oakley
Rusty
Reef
Fortunately, the shopping selections on Put-in-Bay are quite unique.  Each store has its own flair and pizzas. So, all guests have a great selection to choose from.  Nobody should leave without a special souvenir. The Put In Bay Surf Shop is no exception.  Therefore, grab some board shorts and hang loose during your next island adventure.  Thus, put an island in your life!
Testimonials
Jessica F: "I needed to exchange a shirt and contacted them in the off season. They asked me to check back in April when they opened. I did and they had not forgotten me. They were so nice to work with and made it so easy!!"
Lonn C: "Put-In-Bay Surf Shop has incredibly kind and friendly people to help you!"
So, after a long day hunting down mementos , one should be quite spent.  A simple solution exists.  Stay the night on Put-in-Bay.  More importantly, stay in your very own waterfront condo. Sweeping views of Lake Erie and ample space make for an attractive option.  So, consider staying during the next trip to the islands.